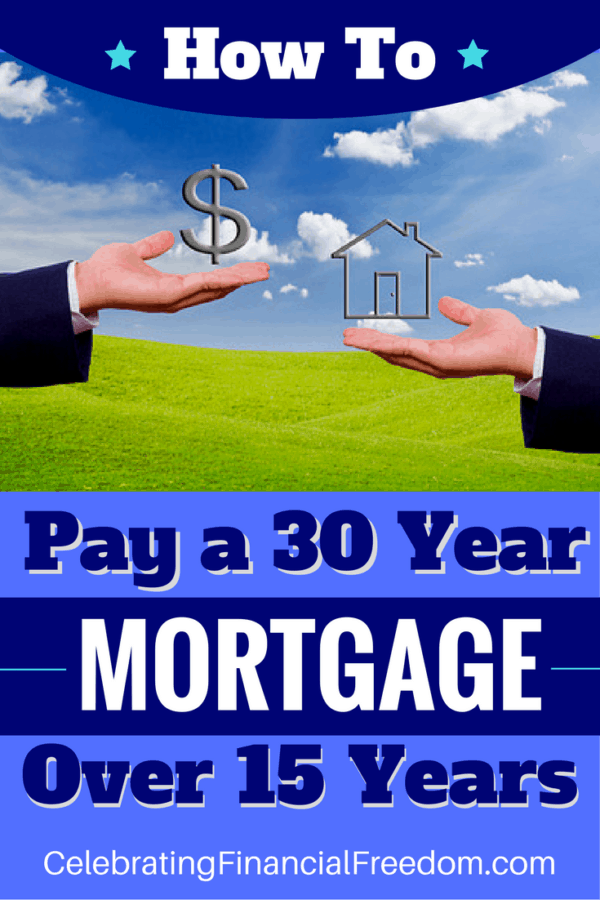 Today I have a guest post from Jonah Trenton. Hope you enjoy it. Don't forget to check out my take on what he has to say about a 15 year vs. 30 year mortgage at the end of the post.
Taking Out a 30 Year Mortgage Over 15 Years
Buying a house is a big step. Most consumers need to take out a mortgage in order to get the house of their dreams. That loan can be draining on your bank account, and worst of all, you will be paying it off for decades. Decades of interest adds up to a lot more than the initial cost of the home. However, taking out a 30 year mortgage and paying it off over 15 years could turn a long-term financial decision into a shorter financial responsibility that costs less in the long run.
Interest Over Principal
When you buy a house with a mortgage, your mortgage will be made up of principal and interest. Principal is the payments that are made toward the actual cost of the house. Interest is the extra money you pay to borrow for the principal cost. Depending on the interest rate, the interest can turn a moderately priced home into an extremely expensive one.
To demonstrate the amount of money you can save in interest by paying off your mortgage early, we will use 4% interest. It is an average mortgage interest rate, but rates can be much higher depending on your credit history and the current state of the economy.
With a 30 year mortgage for a house costing $200,000 at 4% annual interest after putting down a $10,000 down payment (5%), over 30 years your interest payments would total approximately $136,552.06. That is more than half of the total cost of the home. If you're interest rate is higher, you'll pay even more than that in interest over 30 years.
Manage all your financial accounts in one handy dashboard with Personal Capital- It's FREE!
A 15-Year Savings in Interest
Paying off your home loan in 15 years means paying a lot extra toward your principal. However, you won't be paying twice as much because you will be saving a lot of money in interest. Cutting 15 years off your repayment schedule will take thousands of dollars off the $136,552.06.
In order to pay off your home loan in 15 years, you would need to pay an extra $500 a month toward the principal. With the above 30 year scenario, your monthly payment would be $907.09 a month. As you can see, you aren't paying twice as much. If you pay $500 a month extra for 15 years, you will save a total of $73,689.54 in interest. That's more than one-third of the cost of the home originally. If your house costs more or your interest rate his higher, the savings would add up even more. You'd only be paying $62,862.52 in interest over the life of the mortgage instead of $136,552.06.
Decreased Interest Payments
Based on the fact that the extra amount of money you need to put toward your mortgage each month is close to half a full mortgage payment, interest payments decrease throughout the life of the mortgage. A mortgage payment schedule is often calculated differently from other types of loans, but you will save a lot in interest either way. If you can manage an extra $500, less or more depending on your interest rate and the total mortgage amount, you can cut 15 years off your mortgage.
Decreased Monthly Expenses
Not only will you be saving that much in interest, but after 15 years, you won't have to pay anything toward your mortgage. You won't pay principal or interest payments. In this scenario, that's an extra $1,300 a month that won't go toward the cost of your home. This money can be saved for other goals such as vacations and retirement. Many home buyers would have to wait until retirement to enjoy this luxury because they'd hit retirement in 30 years. Cut it in half and enjoy an extra 15 years of your life mortgage-free.
Whether you choose to pay off your mortgage 5, 10 or 15 years early, you'll save a lot of money in interest. Even adding only a few hundred dollars extra to your principal payment every year will cut down on the total length of your mortgage. Take the step to shave off years and save a lot of money.
Dr. Cabler's Take
Hi readers, "Dr. C" here. Just wanted to add some additional comments to this guest post.
Although taking out a 30 year loan and paying it off in 15 years is a valid strategy, I think in the long run it's better to just take out a 15 year loan and get it paid off in 15 years (less if possible).
The main drawback that I see is that when you take out a 30 year loan with the intention of paying it back over 15 years, that rarely happens in reality. Most people go in with good intentions, but paying that set amount extra every month is a hard habit to maintain, even if you have a great side hustle. It's just too tempting to use that money somewhere else.
If you just sign up for the 15 year to start with, then it's automatic. You don't have to force yourself pay extra, you just send in the payment and you don't have to have that debate with yourself about whether you can use that extra money somewhere else.
My Mortgage Tips
Here are my tips for mortgages to help you win in the long run:
Put down at least a 20% down payment
No more than a 15 year fixed rate mortgage
Payment should be no more than 25% or your take home pay.
Sticking to these guidelines ensures you can afford your mortgage long term and not pay more interest than necessary.
Hope you enjoyed the post. Any comments?
Check out the CFF Real Estate Page here