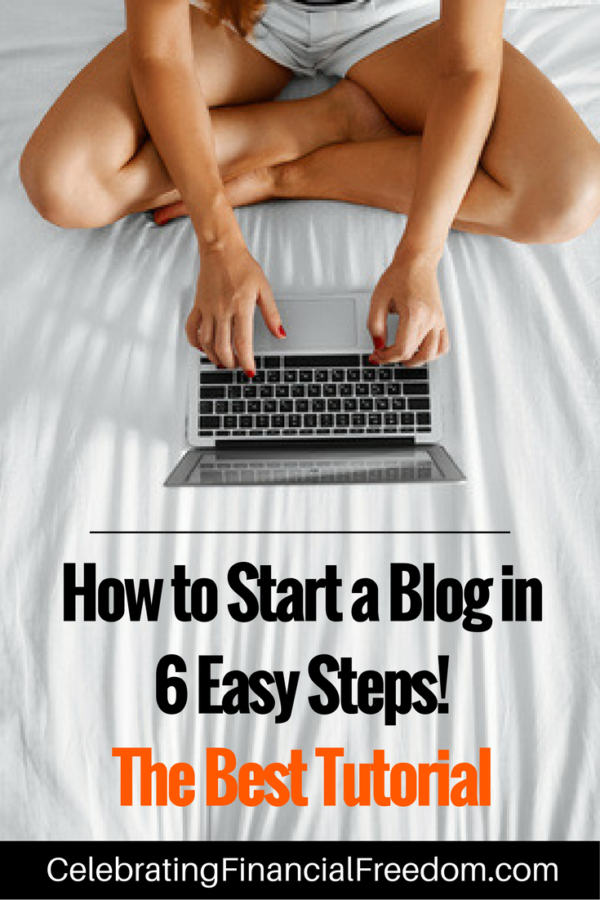 Starting a blog is a great way to connect with people across the world who share your interests. Whether you want to start a money making blog, a personal blog, or a business blog, creating a blog gives you the ability to spread the ideas you want from your own little corner of the internet- what a wonderful thing!
But what if you feel a little intimidated about starting your own blog? I remember when I started mine several years ago, I was totally freaked out by it! I knew it was something I really wanted to do, but I had no idea how to get started blogging. I wasted a ton of time trying to figure it all out, and it felt completely overwhelming.
I don't want you to have that experience.
That's why I put together this easy, 6 step tutorial for you. All you have to do is follow the steps below, and in just a few minutes you will have your own blog up and running, and even publish your first blog post!
I've also put together a FREE 7-day email course (you can sign up here or use the signup box below) that shows you how to start building an audience, growing traffic, and making money with your new blog.
Don't worry, starting your new blog is easy! Using the tutorial below, you will create your blog in just a few minutes without a lot of effort using Bluehost, the top hosting platform recommended by WordPress!
Nice to Meet You!
Let me introduce myself- I'm Dr. Jason Cabler, owner of the Celebrating Financial Freedom blog. Over the years I've grown CFF from zero to over 80,000 pageviews a month, and I will show you how to achieve similar blogging success through this tutorial and my FREE email course.
How to Start a Blog in 6 Easy Steps
To start setting up your blog, Just Click This Link (which will open up a separate window at Bluehost), then follow the directions below to get started.
This post will show you every step you need to start a WordPress blog and write your first post.
I'll start by pointing out that there are several options available as far as blogging platforms go. The most popular are WordPress.com, WordPress.org, Blogger, Squarespace, and Typepad. However, WordPress.org is by far the best. It's the platform that most serious bloggers use (myself included).
By the way, if you don't know the difference between WordPress.com and WordPress.org, you can click here to find out the differences.
When setting up your blog, you really don't need any technical expertise. Just follow these detailed instructions below and you'll be up and running in no time.
[tweetherder]How to Start a Blog- Everything You Need to Start Your Own WordPress Blog in 6 Easy Steps![/tweetherder]
Step 1: Choose Domain Name and Hosting Service
There are 3 things you'll need to start a blog:
An idea for your domain name
Your preferred payment method
20 Minutes or so…
If you already have a registered domain name there will be an extra step needed, which I'll cover later at the end of this post.
What is "Hosting":
Your hosting account is where all the files associated with your blog will stay. Your "host" is a remote computer where you rent space (very cheaply) so your WordPress blog files have a home. It's not hard to set up at all, so keep reading!
Hosting Services
There are tons of hosting services available, but the best one I've found is Bluehost. It's the hosting company I used to start my blog, and my experience with them has been excellent.
The advantages to using Bluehost to start a blog are:
Stellar 24-7 support
99.9% Uptime
Easy to use, even if you aren't a technical person
Unlimited Storage space
Very affordable- the longer term you pay for in advance, the cheaper it is. Hosting starts as low as $3.95/month.
Unlimited Bandwidth
Unlimited number of domains (meaning you can host more than one blog or website on one account)
WordPress recommends them– Bluehost currently hosts nearly 1,000,000 WordPress blogs
Unlimited email accounts
Values- Bluehost doesn't allow pornography, nudity, or graphic adult content on their servers. So if this aligns with your values, that's a huge plus (I know it is for me). Most hosting services will let just about any type of content on their servers, whether it's offensive or not.
30 Day money back guarantee- I've never had to use it, but I know people who have. They had their money back within hours of cancelling their service within the 30 day window.
Why I Recommend Bluehost
By the way, I am a Bluehost affiliate, which means I make a commission every time someone signs up for service using one of my links. However, this is not the reason I recommend them. Most all hosting services offer affiliate commissions. I recommend Bluehost because I've had a great experience with them and truly believe they are the best option out there for the beginning WordPress blogger. (see the list of reasons above).
I've always had excellent experiences with their customer service. Whenever there has been a technical issue, they've always been there to guide me through to a solution in a fast and friendly manner! I wouldn't use their service if I didn't believe in them, and I don't recommend products I haven't used, period.
Step 2: Sign Up For Hosting
If you haven't already, Go to the Bluehost home page and click the "Get Started Now" button as seen in the Pic below:
Then you will see a page with various plans available for purchase. As a beginning blogger, I recommend you go with the Basic or Plus plan. You can always upgrade later as your needs grow.
The next page will ask if you need a domain name or if you already have one. I'll assume you don't already own a domain name (if you do, I'll cover how to deal with that at the end of the post in the section titled "Extra Step: If You Already Own a Domain Name).
Enter the domain name you would like to have in the box, along with the extension that you want (.com, .biz, .info, .net, etc…) and click "Next"
On the next page, you will be asked to fill in your account info, then choose a package lasting from 12-36 months. The longer the plan, the cheaper it is per month.
Bluehost requires that you pay for your package in advance, but remember there is no risk, you can cancel within 30 days for a full refund if you need to.
I don't recommend signing up for any of the additional services right out of the gate. As a beginner, you really don't need them, and you can add them later when/if they are ever needed in the future.
Once you enter your payment info, check the "I confirm I have read and agree to the terms of service…" box. Then click the "Submit" button at the bottom of the page.
Step 3: Create Your Password
Now you will be asked to create a strong password for your blog so hackers can't easily gain access. Click the green "Create your password" button.
You can create your own password or click "Suggest Password" to have a password generated for you.
Click the checkbox "I have read and agree to Bluehost's Privacy Policy and Terms of Service."
Click the blue "next" button and your Bluehost account will now be activated.
Warning: It may take a few minutes for Bluehost to activate your account. If you get an error message, don't stress. You can call Bluehost support at 1-888-401-4678 and they will be glad to help.
Step 4: Login to Your WordPress Account
Once your account is activated, you'll see "Congratulations! You've successfully created a new password!"
Next, click the blue "log in" button to log in to your account using the password you just created.
Step 4: Pick a WordPress Theme
Once you log in to your account, you'll see this screen where you'll be asked to pick a theme for your WordPress blog. The theme you pick determines how your blog will look to the world.
Don't stress too much about your choice right now. You can easily change your theme any time you like. Just pick one for now and continue on with setting up your blog.
Once you choose your theme, you will receive the "All Done!" message.
Step 5: Create Your New Blog
Next, click the blue "Start Building" button to begin creating your new blog!
This will take you to your WordPress dashboard.
The welcome screen will ask you "what kind of site can we help you set up?"
Choose either "Business" or "Personal"
Now you can access your WordPress dashboard where all the magic happens!
This is where you can set up blog posts, pages, navigation menus, and such (we won't get into how to do all that here).
So now you are ready to make your site go live!
Next, click the blue "Launch" button…
Then you'll see "Let's launch your new website".
Enter a title for your site and a site description in the boxes. Don't worry, you can easily change it later if you like.
Then click the blue "Next Step" button.
Your site is now live!
Next, you'll be directed to your cPanel (control panel) which looks like this:
Your cPanel is where you can log in to WordPress, manage site files, and perform other back office functions you'll need to run your site.
Under "Welcome", click the URL of your site and your new website will open up in a new tab in your browser.
Your new website won't look like much at this point, but that's ok.
Next, from your cPanel, click the blue "Log in to WordPress" button.
When you login with the username and password you set earlier, you will be taken to your WordPress Dashboard (see below) that gives you complete control over what the end user sees.
Now it's time to write your first blog post!
Step 6: Write Your First Blog Post!
Let's write your first blog post! In the left sidebar, click on "Posts", then "Add New".
This will take you to the "Add New Post" screen.
Enter a title, then in the blank area below the title, write a blog post by typing in whatever you like. You can tell people why you decided to create a blog, what it will be about, or just say hello- whatever you want, it's totally up to you!
In the right sidebar, click "Publish" and your blog post will go live and be available for all the world to see!
If you want to see how your blog post looks to the reader, just click the "Preview" button in the upper right portion of the right sidebar
BOOM, you are now a blogger!!!
[tweetherder]How To Start a WordPress Blog (6 Easy Steps)- Write Your First Post in Minutes![/tweetherder]
Bookmark Your Blog
Now you'll want to bookmark your dashboard page so you will easily be able to return to it and login whenever you want. If you have already clicked out of your dashboard, you can get back to it by going to http://[the name of your blog]/wp-admin
Yeah baby! It's a pretty sweet feeling to finally publish your own blog… Congratulations!!!
Install a PremiumTheme
Once you get up and running, you should install a theme for your new blog. There are thousands of free ones, some good, and some not so good.
However, I recommend spending some money to buy a premium theme.
Why?
Because a premium theme:
Looks much more professional
Functions better- especially on mobile devices, which are what most people use now. Free themes don't tend to look right on cell phones and tablets.
Is more customizable
Tends to be less quirky and more straightforward to work with
I recommend StudioPress themes. Studiopress has dozens of beautiful themes that run on the Genesis framework, a remarkably clean and stable architecture, optimized to help you achieve the best rankings possible for your blog.
If you want a seriously professional looking blog that is highly responsive (works well on all devices), then I believe a StudioPress theme on the Genesis framework is your best bet.
Extra Step: If You Already Own a Domain Name
If you already have a domain name on another hosting service, all you need to do is point your domain name to Bluehost's servers.
Bluehost shows you how to do that at this link: https://my.bluehost.com/cgi/help/1
Be sure to read all the information carefully.
It can take 24-48 hours for the changes to take effect. Be patient. Once your domain shows up on Bluehost's servers, you can proceed with the rest of the steps to get your WordPress blog started.
Questions and Help
This should effectively get you through the process of getting your blog up and running.
If you have any general questions about how to start a blog, what you should blog about, writing, etc., please don't hesitate to contact me.
However, I'm not a tech geek, so any technical questions can be answered by Bluehost Support or WordPress Support Forums.
Thanks so much for using this tutorial to start your very own self hosted WordPress blog! I hope you enjoy blogging as much as I do and that it allows you to achieve bigger and better things in your life!