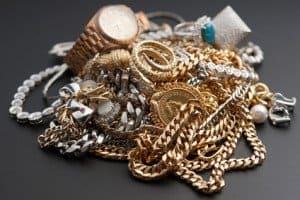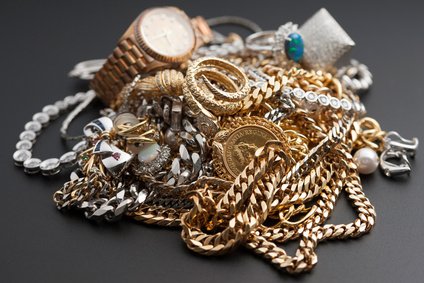 Have you ever wanted to sell your scrap gold jewelry for cash but were leery because you didn't know who to trust?  Read the article below and I'll show you what to look out for, and how to get the highest payout for your gold and other precious metals from one of the most trustworthy cash for gold companies anywhere.
Selling Scrap Gold- Who Do You Trust?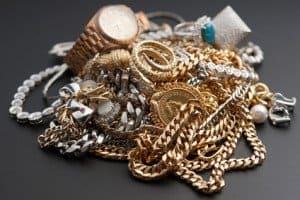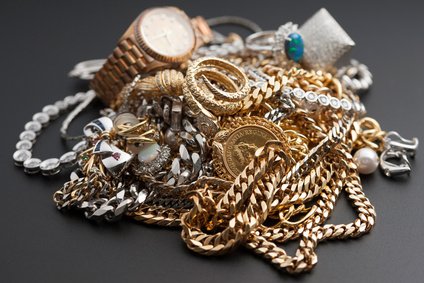 This entry in the "Money Making Ideas" series is, in my opinion, one of the easiest ways to make money there is.
You may have old gold jewelry that's broken or out of style, but never gets discarded because you know the gold and other precious metals still have value.
But you also know that getting cash for that gold scrap can be a process fraught with difficulty because you don't know who to trust.
There are literally hundreds of gold buyers who want your business.  Some are reputable and some fly-by-night, and it can be difficult to tell the difference between the two.
So you're left guessing, wondering if you will get a good deal or be ripped off when you take your gold scrap to one of these businesses.
Payouts for Gold Vary Widely
Payouts can vary widely, as you can see from this article at Kiplinger.com. The author performed an experiment by sending identical jewelry to nine cash for gold businesses.  She received payouts between 9% and 60% of the true value of the gold that she sent.
A couple of the vendors even went out of their way to not return her jewelry when she refused their payout amount.  One even said they lost the jewelry.
As you can see, selling your scrap gold can be a dicey proposition for several reasons:
There is usually little or no transparency
You don't have an accurate way of knowing what the gold is truly worth.
It's difficult to know if the business is trustworthy
What You Should Look For When Selling Gold
However, there are a few things you should look for when selling your scrap precious metals to ensure you get the best payout from a reputable buyer:
Look For Transparency-  A good gold buyer will tell you up front what percentage payout they are willing to give you.  If you ask what the payout percentage is and they are evasive, then be wary.
Know What You're Selling-  If you're getting rid of perfectly good heirloom or high end items such as Tiffany or Cartier, chances are it's worth more than it's melt value.  Sell these to a jeweler instead of a scrap buyer.
Know Who You're Dealing With-   Check their rating with the Better Business Bureau.  Obviously, if they have a lot of complaints and a low rating you should not do business with them.
Selling your scrap gold? Here's how to keep from getting ripped off #SellGold Scrap
Guesstimates Are Inaccurate
But let's face facts, even some of the better gold buyers aren't always accurate when estimating how much gold is in your scrap.  Most will weigh your gold and silver on a scale, estimate the precious metal content and give you a guesstimate of how much it's "worth".
In reality, they don't know exactly how much gold or other precious metals are in your scrap.  The result is that in order for them to make the profit they want, they can only give you a fraction of what it's worth according to their "guesstimates".
My Experience With Selling Precious Metal Scrap
There are a few good cash for gold businesses that are honest and have a relatively high payout, but it can be hit or miss depending on your local area.  However, I'd like to tell you about one in particular that has the highest payout I've ever seen, and about the special deal that is being made available to my readers.
As many of you know, I'm a practicing dentist.  During the course of my work I occasionally end up with scrap dental gold that I collect and send in for refining.
Garfield Refining Rocks!
I've been selling my scrap gold to Garfield Refining for about a decade now, and have never once been disappointed.
Here's why:
They're Honest-  There are no games being played here.  Garfield has had an A+ rating from the better business bureau since 1966.  That's the highest rating a business can get!
They've Been Around For 120 Years-  You don't get to be in business that long by being second rate.
The Payout is High-  I've never found another vendor with a higher payout (more about that in a minute).
They Not Only Pay For Gold, But For Other Precious Metals As Well-  Many items can contain silver, palladium, and platinum in addition to gold.  Garfield pays you for all of the precious metals your scrap contains.
Why They Are Different
One of the main differences is that Garfield is not your local storefront cash for gold operation, their business is precious metal refining. This means they do things differently:
They melt down your scrap precious metals at their own facility.
Then they assay your precious metal scrap to find out the exact weight of each type of metal in your sample, no guesswork involved.
Then they pay you for all the precious metals in your scrap, not just the gold content.
These procedures ensure that all your metals are accounted for and an exact amount is determined, not just an estimate.
Garfield will send you a report detailing how much of each metal was in your shipment, what the market price of each metal was when they received the shipment, and how much the metal was worth once it was assayed.
There is total transparency in their process.
How To Get a 90% Payout For Your Gold & Precious Metals
Garfield Refining and I have come together to offer my readers a special deal that you just won't find anywhere else.
When you send your precious metal scrap to them using one of my special mailing labels (available below), you will get a guaranteed 90% payout on the value of your scrap.
You will definitely not get that kind of deal at your local storefront gold buyer!
How to Get a 90% Payout For Your Scrap Gold (the best payout anywhere)
Here's How To Do It (Don't Worry, It's Simple)
When you have scrap jewelry and precious metal to sell, the first thing to do is send me an email and request one of the special shipping packets that Garfield has provided especially for me and my readers.
Your packet will contain a special bag to put your scrap in, a form to fill out with your name, address and payment information, along with a prepaid label for shipping.
All you have to do is put your scrap in the bag, fill out the form provided with your name, address, and how you wish to be paid.  Put your bag of precious metal scrap in a small box, slap on the prepaid shipping label, and send it to Garfield.
Using the prepaid shipping label means you will be able to track your shipment, and it will be insured against being lost or stolen.
It's that easy!
How You Get Paid
When you fill out the form included in your packet with your name, address, and payment info, you can choose to be paid via bank deposit, check, or with gold bullion.
Payment usually happens a few days to a week after your precious metal shipment arrives at Garfield.
Special Note
Please be aware that when you send in your shipment to Garfield that it will be melted down and assayed as soon as they receive the shipment.
You should never include:
Jewelry With Stones-  Stones will not be returned.  Remove all stones from the jewelry before shipping if you want to keep them.
Jewelry That May Be More Valuable-  High end items from designers such as Cartier, Tiffany, and others may be worth more than just the precious metal they contain if they are still in good condition.
Transparency Statement: I have an affiliate relationship with Garfield refining.  This means I receive a small commission when you use one of my mailing labels.  You still get a 90% payout, and your support goes a long way toward paying the expenses for this blog.
I only recommend products and services which I personally use and totally believe in, period.