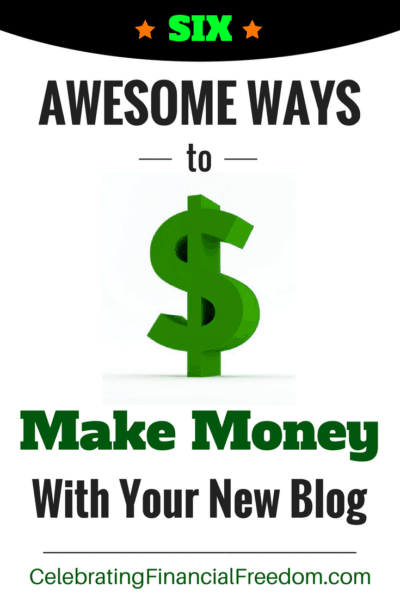 There are tons of ways to make money from blogging. In today's post I'll cover some of the most popular ways to earn an income from blogging. Plus I'll answer some of the most common questions about how to make money from your new blog.
How Much Money Can You Make Blogging?
This is kind of a loaded question. I know bloggers who make a few hundred dollars a month on the side, as well as massively successful bloggers who make well over $100k per month.
How much you earn depends on many factors, but all-in-all your earning potential with a blog is virtually unlimited!
Can a Beginning Blogger Make Money?
Yes, a beginner can make money blogging. However, even though there are plenty of ways to make money with a blog, it's highly unlikely you'll make a lot of money right off the bat.
First you have to know why you're starting a blog, and find your blogging niche
It takes time to build enough followers and traffic that cranks out the cash while you sleep, but the longer you keep at it, the more you'll make in the long run.
Blogging is definitely not a platform for getting rich quick, but if you get serious about your blogging goals and run it like a business it will grow over time. The sky really is the limit!
How Long Does it Take to Start Making Money?
That's another loaded question. Each blog is different just like individuals are different.
Some people start making thousands of dollars a month within a few months of getting started. Others have been at it for years and make little or nothing, mostly because they haven't put in a lot of effort toward monetizing their blog.
In my case, the income started out very small and has continued to grow steadily over the years.
When it comes down to it, how quickly you start making money really depends on how much time and effort you put into it. The best thing you can do is to do all the research you can on how to monetize your blog and take it one step at a time.
Don't try to do everything at once. Focus on one or two ways to make money at a time until you've built a blog that generates income from several sources. Building your blog income one brick at a time is key.
6 Ways to Make Money Blogging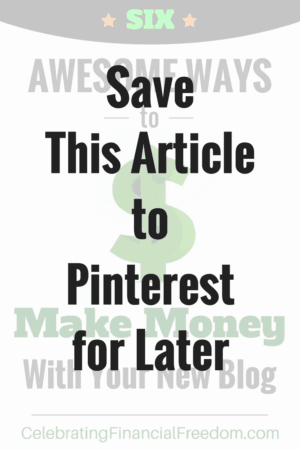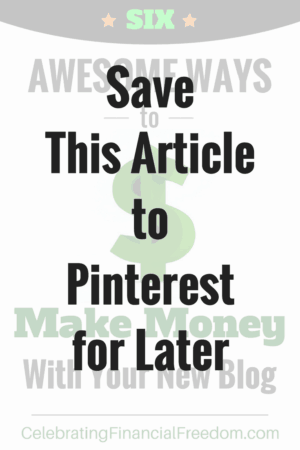 There are plenty of ways to make money as a blogger. Here are some of the most popular:
Display ads
Sponsored posts and links
Ebooks
Freelance writing
Affiliate marketing
Courses
Display Ads on Your Blog
You can put display ads pretty much anywhere on your blog. The most popular areas are in the sidebar, below a blog post, in the middle of a blog post, and at the top of each page.
Display ads are probably the easiest way to make money because all you have to do is insert a little code (easier than it sounds) and you get paid automatically as more and more people see the ads on your site.
Some of the more popular companies that provide ads to bloggers are Google Adsense, Media.net, BlogHer, AdThrive and others.
Probably the most popular ad platform is Google's Adsense. It's easy to use and has great analytics so you can tweak your ad placements as much as you like to maximize your ad income.
Sponsored Links and Posts
There are plenty of companies who, as part of their advertising budget, will pay you to place an article or a link on your site.
This can one of the more lucrative ways to make money with your blog, especially once you build your traffic to a high level.
A company pays you to place a link to their website in one of your posts, or they write a post for you to place on your website. You can charge them a one-time fee for that, or in some cases you might be able to work out a yearly fee.
Think of it like real estate. They are paying you to put a house on the land you own (your blog) for a fee. The better the neighborhood (the more traffic you have) the more you can charge for it.
Currently I'm getting $175-$200 to place a link on my site, and around $400 for a sponsored post. I know people with bigger blogs that get thousands of dollars for these. It can add up quite nicely!
Publishing an Ebook
Publishing ebooks is another great way to make money with a blog. If you're an expert in a certain area or have a story to share that you believe others would like to read, an ebook is a great way to go.
The great thing about ebooks is that you can repurpose a lot of the content from your blog and put it in an ebook. After you've written a lot of blog posts, your ebook will almost write itself!
You can sell ebooks directly from your site or on Amazon, Barnes and Noble, and other sites that sell books electronically.
Freelance Writing
More and more businesses need content written for their advertisements, blogs, and other promotional materials. You can make anywhere from $50 to over $1,000 depending on the project.
There are tons of these gigs available if you know where to look. The more you build a reputation as a good and reliable writer, the more high paying gigs you'll get!
I wrote a detailed post about freelance writing that shows you everything you need to know:
Read 9 Ways to Make $1,000 (or More!) as a Freelance Writer
Also, I recommend an awesome online writing course you can take that teaches everything you need to make money as a freelance writer.
It's by Holly Porter Johnson who makes over $225,000 a year as a freelance writer. Holly teaches you all her best techniques to work smarter, not harder, and make an incredible living as a freelance writer.
Learn more about Holly's "Earn More Writing" course here
Affiliate Marketing
Affiliate marketing is all about making money selling other people's products.
The basic explanation of how affiliate marketing works is that you promote a product to your readers that you think they will like. If one of your readers buys that product, you get a cut of the purchase price.
That cut can range anywhere from a small percentage to more than half of the purchase price in many cases.
The easiest way to do affiliate marketing is to promote products found on Amazon.com to your audience.
Also, you can promote things like courses you recommend, books, products and services your audience can use, and more.
Affiliate marketing is a HUGE money maker when you know how to do it. That's why I recommend a great course from Michelle Schroeder Gardner who started from $0 and now makes well over $50,000 a month from affiliate marketing. I've taken this course myself, and I can tell you it's the real deal!
You can find out more about Michelle's course "Making Sense of Affiliate Marketing" here. (That's an affiliate link by the way. See what I did there?)
Courses
Creating a course and selling it to your audience is a great way to spread your knowledge and expertise. Of course, it's also another one of the great ways to make money through your blog.
Most everybody knows something they can teach others about. The great thing is, no matter how niche the subject is, there are people out there who are willing to pay you to learn about it!
You can produce a course on just about anything, such as:
How to knit a sweater
Getting out of debt
How to start a small business
How to restore a '68 Camaro
Making children's clothing
How to build a deck
And a million other subjects!
There are some really good platforms out there that allow you to set up your own course and sell it. Some of them even help you with marketing too! Some of the more popular ones are Udemy, Teachable, Coursera, and Lynda.com.
You can promote and sell your course through your blog, social media channels and your email list. Even better, you can recruit others to sell your course as affiliates, which allows you to make serious money selling your courses! You make money, your affiliate makes money, and your customer gets a great course… everybody wins!
In my next post, I'll go a little deeper and teach you about passive income and why it's so powerful.
This post is part of my How to Start a Blog free email course.  If you're interested in blogging and would like to take the course you can sign up here or use the form below.
Check out my top blogging tips to get your new blog started right.
Also, see my HUGE list of favorite blogging resources here.