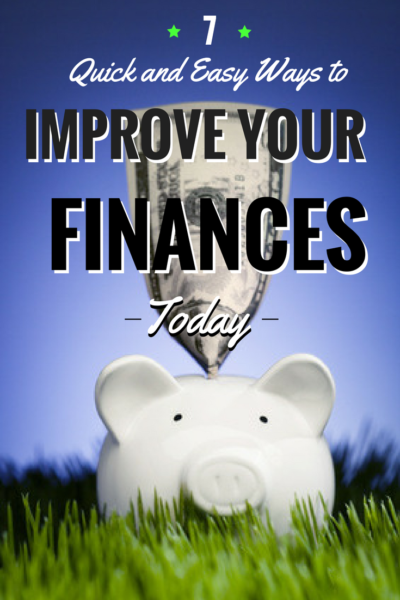 No matter how well you manage your money, there's always room to improve your finances. Whether it's saving more money, managing your money more efficiently, or finding ways to make more money, there are tons of things you can do to improve your finances and meet your financial goals.
Here are a few of my favorites:
1. Manage Your Money Like a Pro
Managing your finances isn't always easy. In fact, for some people it's a HUGE pain because they just don't know how to organize it all.
That's where Personal Capital comes in.
You can manage all your financial accounts in one convenient dashboard. From investments to personal cash flow, Personal Capital's easy to use dashboard keeps track of it all. It's proprietary algorithm analyzes your situation and makes simple suggestions to help you improve your finances.
Best of all, it's FREE!
Sign up for Personal Capital here and set up your dashboard now.
2. Get Paribus
Ever made a purchase, then discover the price went down after you bought the item? Paribus solves that problem, putting money back in your pocket!
Just link your email, and when you shop online, Paribus tracks your receipts and analyzes store policies where you made the purchase.
Their algorithm determines if you are owed money. If so, they will let you know and get you the difference between what you paid and the new lower price! They have saved users over $15,000,000 so far!
Find out if stores owe you a refund – sign up for Paribus for free!
3. Make Extra Money Taking Surveys
This has got to be the easiest way to make extra money there is! You can get paid to take surveys in your spare time.
Waiting in the pickup line for your kids? Take a survey.
Mindlessly watching TV? Take a survey.
One of the top companies that pays you to take surveys is Survey Junkie. It's easy to use and rated A+ by the better business bureau.
You get paid quickly via PayPal. You certainly won't get rich taking surveys, but you can make some quick and easy pocket money in just a few minutes.
Make it a daily habit and you can earn even more!
Learn more about Survey Junkie
4. Save Tons of Money on Health Insurance
Medical insurance is incredibly expensive! Another great way to improve your finances is to reduce your monthly health insurance bill.
You can easily save several hundred dollars a month by using a Christian health sharing ministry such as Medi-Share.
It works a little differently than traditional insurance. My friends that use Medi-share say it works great for them and saves them a ton of money every month.
Learn more about Medi-Share here
5. Save Money on Your Cell Phone Bill
Cell phone plans are getting more expensive all the time. Couple that with having to buy a new phone every few years and it gets downright crazy.
However, there are ways to save money on your cell phone bills without sacrificing coverage or a nice phone.
Republic Wireless is an innovator in the cellular industry, offering extremely affordable plans and top of the line phones. There are no contracts + a coverage guarantee, so there's no risk.
Huffington Post calls Republic Wireless "a game changer".
CNET says "This is a drastic departure from how the wireless industry has operated in recent years".
Check out Republic Wireless plans here -see how much you can save.
6. Earn Money and Gift Cards Surfing the Internet
Did you know you can improve your finances just by doing your normal everyday web activities?
It's true!
Swagbucks helps you put cash back in your wallet. They offer free gift cards (Amazon, WalMart, etc.) and cash for doing things like shopping online, watching entertaining videos, and answering surveys.
It doesn't get much easier than that!
As of this writing, Swagbucks has paid its members over $277,000,000 in cash and gift cards. They give out over 7,000 free gift cards every day!
Easily earn extra money and gift cards, and improve your finances in the process.
Learn more about Swagbucks here
Improve Your Finances with Rakuten and Ibotta Too!
Using the Ibotta app is also a great way to get cash back doing your normal online shopping. You'll get real cash via PayPal or Venmo and earn bonuses when you refer friends and family.
Ebates also gives you money back on our purchases. It's easy to use and you also receive bonuses when friends join. You'll get a Big Fat Check in the mail every month! I typically earn $20-$100 every month with Ebates!
7. Reduce Your Monthly Bills with Trim
Another easy way to improve your finances is to reduce your monthly bills. But that can be time consuming.
But what if you used a robot to do it for you?
That's where Trim comes in.
Trim is a virtual personal assistant that constantly works to save users money. Trim adds value in such ways as:
Negotiating cable and internet bills on your behalf.
Canceling old subscriptions.
Setting spending alerts.
Checking how much users spent on ride-sharing apps the previous month.
Automatically fighting fees.
Little to no effort on your part.
The average Trim user saves $30/month
When you sign up, Trim runs an analysis and you'll get your results in less than a minute. Then you can let them do the work and start saving money on bills every month!
Bonus: A Savings Account That Pays Over 22x the National Average
Most savings accounts pay an interest rate of just above NOTHING! But there is one bank that's changing that. CIT bank pays you 1.55% on the precious money you're saving for an emergency, a rainy day, or whatever else.
Here's a quick rundown of the advantages:
There are no fees to open or maintain your savings account.
CIT Bank is FDIC insured.
The minimum deposit is only $100.
24/7 Secure online banking.
CIT Bank has a 5 star rating from NerdWallet and Bankrate
Make your money grow bigger and achieve your savings goals faster with CIT's Premier High Yield Savings Account.
It only takes 3 simple steps:
Fill out your info.
Fund your account
Done! You'll receive a confirmation email in minutes.
Click here for more info, FAQ, and to open an account
Queston: What are some of the best things you've done to improve your finances over the years? Leave a comment and let us know.