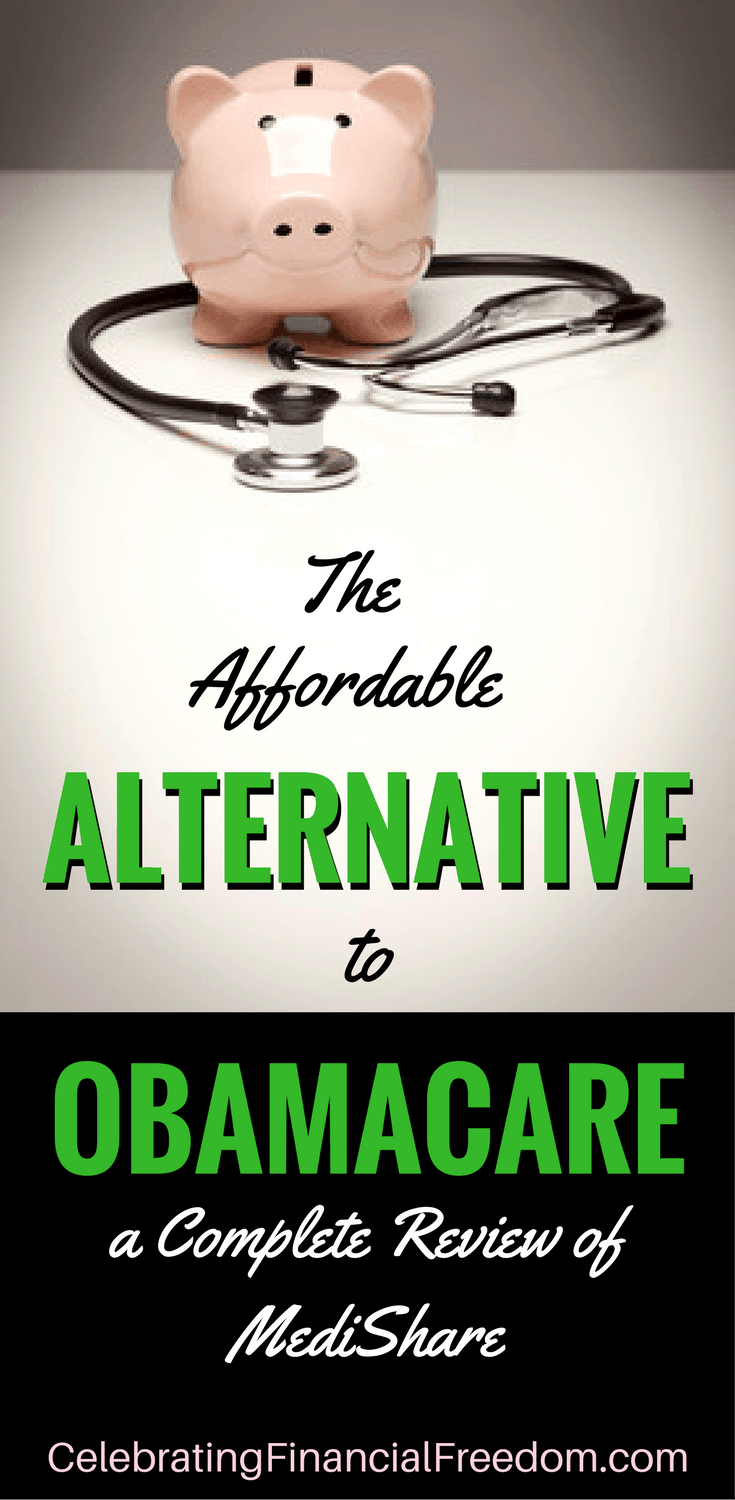 The cost of health insurance is totally out of control! But if you need health insurance and the plans you find on the government exchange is too expensive, what do you do? You can't waste time waiting on a repeal that may never happen. And if you're morally or ideologically opposed to some of the Affordable Care Act requirements, how do you find something else that better aligns with your values? Fortunately, there is an affordable alternative to health insurance called MediShare.
Medi-Share is different (and much cheaper) than traditional insurance found during open enrollment on the Obamacare exchanges. In fact, it's so affordable that most families save 30-50% on healthcare costs using Medi-Share over traditional insurance.
In this Medi-Share review I'll show you everything you need to know about it, including:
How Medi-Share is different than traditional insurance.
The advantages and disadvantages of Medi-Share over Obamacare and traditional health insurance.
Costs vs. traditional insurance.
Testimonials from actual customers (whom I know personally).
Medi-Share is extremely different from Obamacare and other traditional health insurance. It's actually a non-profit health sharing ministry.
The basic concept of a health sharing ministry is that members share health care costs among themselves. It's a concept modeled after the early church in the Book of Acts, where people were of one heart and mind, sharing everything they had.
Here's a short description from the MediShare site:
"Medi-Share is a healthcare sharing ministry founded on the belief that there is a BETTER way… a Biblical way, to take care of your healthcare. A way that focuses on people, NOT profit. A way that inspires you to live a healthier lifestyle so you can fulfill the plan God has for you. We are passionate about saving you money so you can use those funds to support your family and further kingdom work."
Each month, you pay a monthly share. Think of it like the monthly premium you pay when you have traditional insurance. You pay your monthly share into an account at America's Christian Credit Union set up specifically for this purpose.
Through MediShare, your monthly share is matched with another member's medical bills that need to be paid. You know whose bills you are paying, and encouraged to pray for them as well.
If you have a healthcare expense that needs to be paid, other members cover those costs with their monthly share while also praying for you.
Choose Your Own Doctors
You can choose your own doctors and hospitals if you like. However, you will receive significant discounts on your care if you choose providers within MediShare's network of doctors and hospitals.
Medi-Share is primarily for Christians and others who share a defined set of values. In fact, you will be required to agree to certain guidelines when you sign up. You must agree to their statement of faith, and live your life in accordance with a few simple guidelines:
No use of tobacco or illegal drugs.
You cannot abuse legal drugs.
You cannot have sex outside of traditional Christian marriage.
As you can see, these guidelines help eliminate much of the cost that comes with treating lifestyle related illnesses that traditional insurance must cover. The result is lowered costs for you!
These guidelines are also a great selling point for those that don't agree with Affordable Care Act guidelines requiring coverage for things that conflict with Christian beliefs.
You can rest assured your money never pays for abortions or other procedures that Christian faith would deem as immoral.
Wish you could get rid of Obamacare? Here's an affordable alternative
Individuals and Families
Whether you are young and single or have a large family, MediShare has many options to choose from. When you sign up, you will choose your Annual Household Portion (AHP- think of it like an annual deductible), which ranges from $500 to $10,000 per year.
Once you meet your AHP for the year, then your eligible bills will be published for sharing.
You can also qualify for up to 20% savings on your monthly share if you meet Health Incentive qualifications as to blood pressure, waist size, and BMI.
Seniors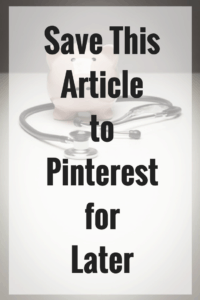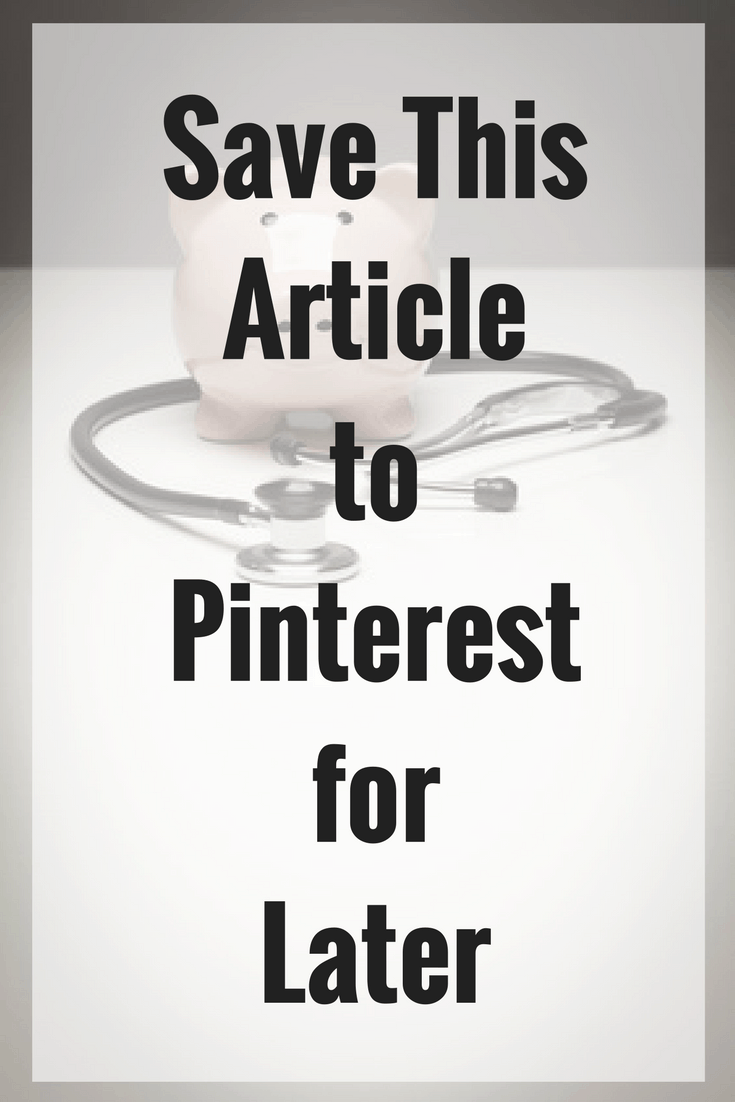 Senior Assist is the MediShare program for seniors who have Medicare parts A and B. Medi-Share members will share the portion of your eligible medical bills that Medicare allows but does not pay completely, including:
copayments
deductibles
hospitalization
skilled nursing facility care
out of country urgent care
MediShare also has a group plan specifically geared toward churches and Christian owned businesses. It's a wonderful alternative for those concerned about the high costs and ethical dilemmas of traditional insurance. Medi-Share Groups is a proven, affordable, Biblical alternative.
If you're willing to live by the guidelines mentioned above, Medi-Share is a solid alternative to Obamacare or traditional insurance(aka the Affordable Care Act).
Health care sharing ministries aren't subject to the ACA mandate to purchase insurance. You won't have to pay a fine or penalty at tax time if you are a member of MediShare.
It's good for your conscience. You know your money is going to help other Christians instead of funding questionable life choices of people who don't share your beliefs.
It's a non-profit. You can rest assured your money will never be wasted by the government or a for-profit company.
Generally, Medi-Share is much cheaper than traditional insurance.
Of course, costs vary depending on your situation and the amount of the AHP that you choose. I ran some scenarios through MediShare's Share Calculator to help you get some ideas about costs.
In each scenario you'll see prices based on which AHP you choose and whether or not you qualify for the Healthy Monthly Share rate.
#1: 25 year-old single person.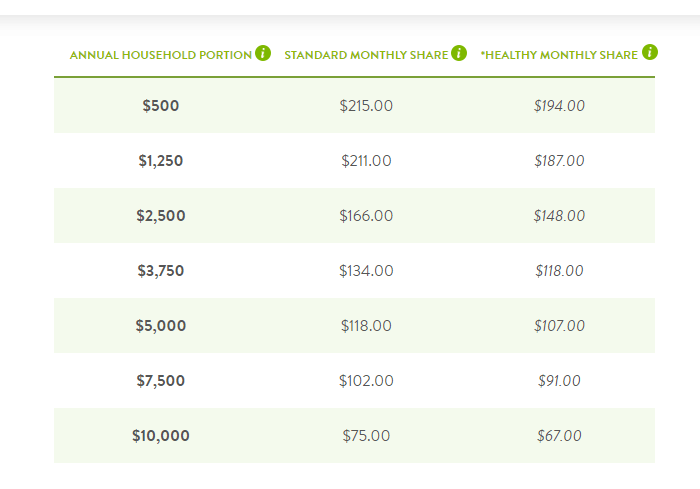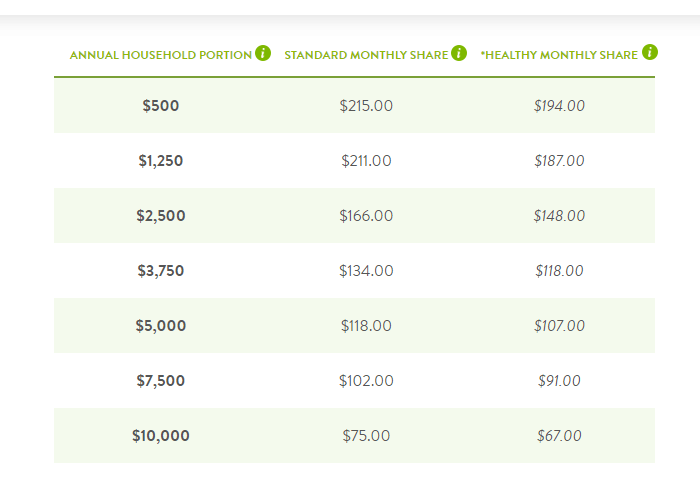 #2: 35 year-old married couple, no kids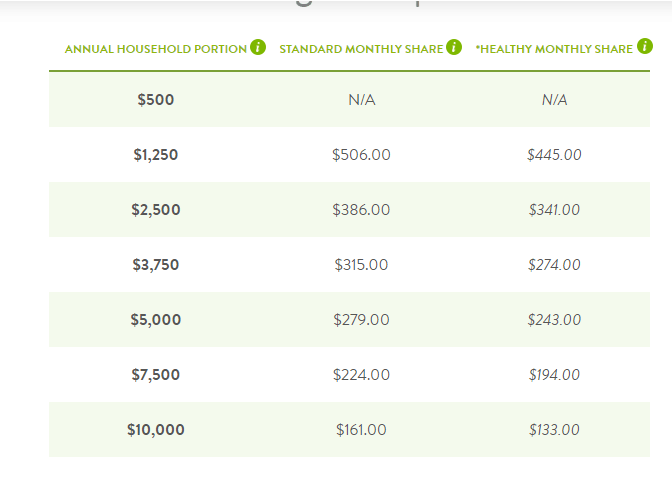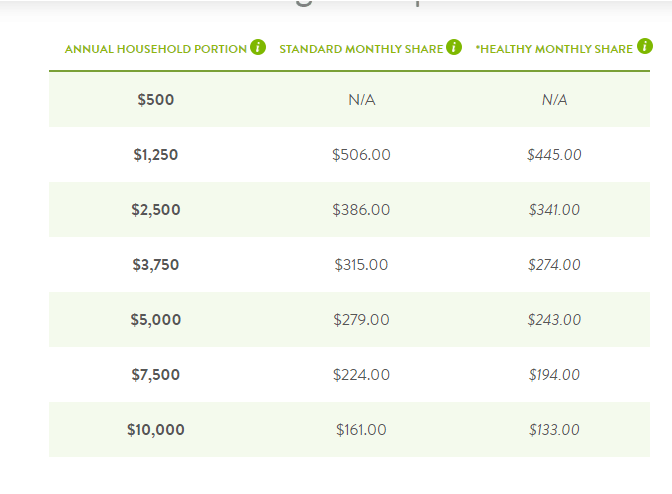 #3: 35 year-old married couple, 2 kids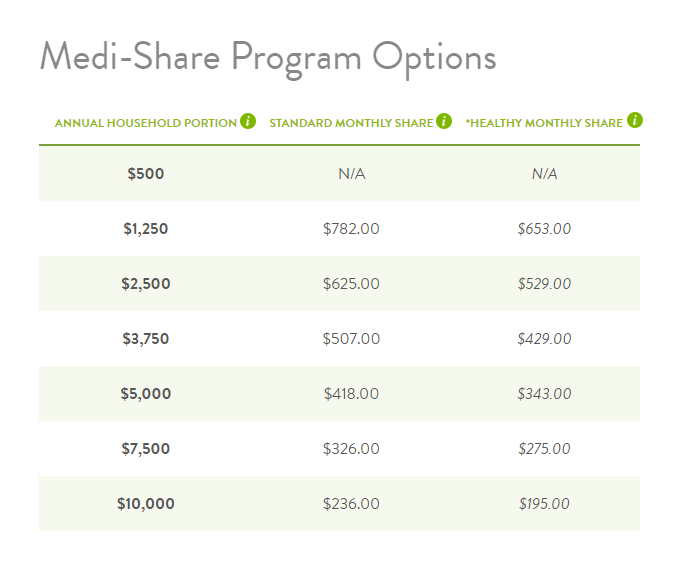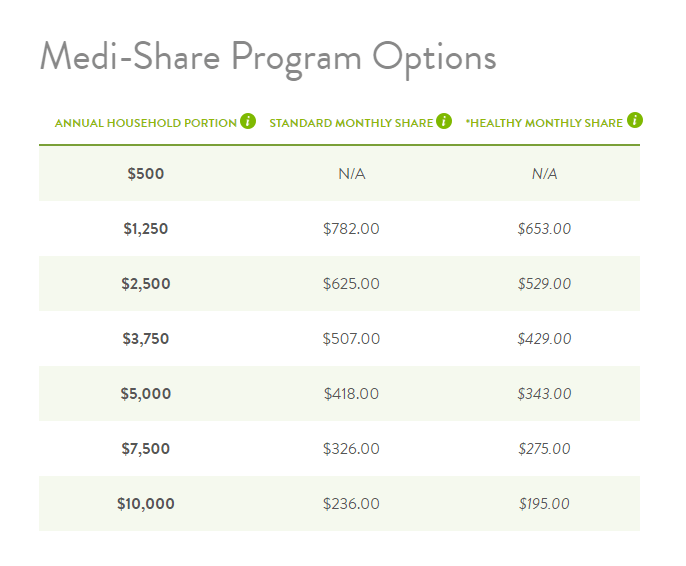 #4: 50 year-old married couple, 2 kids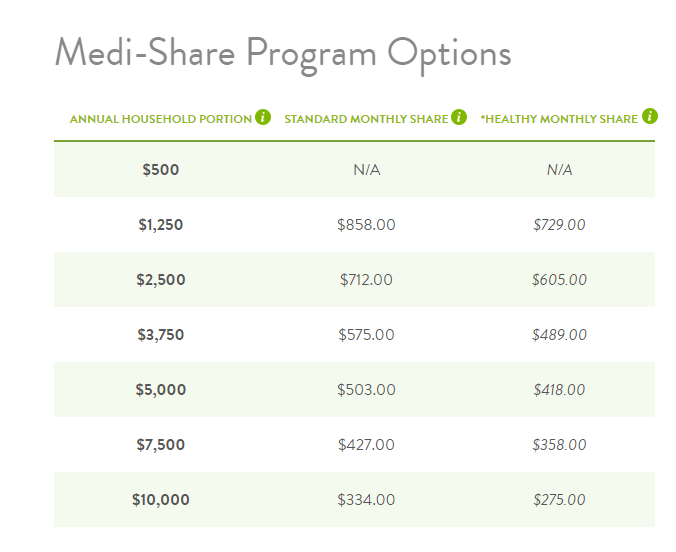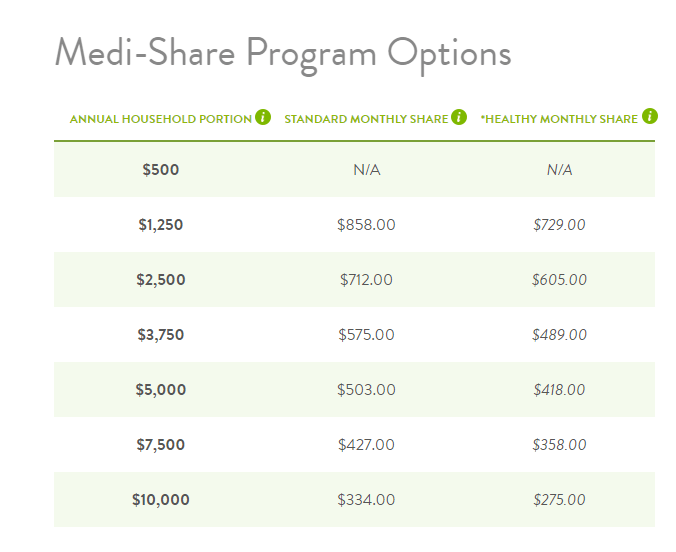 #5: Seniors
According to the MediShare website, the Senior Assist program works as follows:
"Senior Assist is the sharing option for senior Christians age 65 and older with Medicare Parts A and B.
Medi-Share members will share the portion of your eligible medical bills that Medicare allows but does not pay completely, including:
copayments
deductibles
hospitalization
skilled nursing facility care
out of country urgent care
The monthly share amounts for seniors start at just $70 per month.
65-70 years old: $70 per month
71-75 years old: $85 per month
76 or older: $95 per month
Senior Assist is for individuals and has a $1,250 annual household portion. For more information on how Senior Assist works review the FAQs or Guidelines."
How to dump your Obamacare insurance and use this affordable alternative instead
This healthcare sharing program has several advantages that make it well worth consideration. Let's take a look at some of these advantages:
It's almost always cheaper than unsubsidized Obamacare. Most members save thousands of dollars a year over traditional insurance found on the exchanges.
No politics. You don't have to worry about the effects of various political agendas on your healthcare costs from year to year.
You don't have to deal with insurance companies that deny every claim so they can to fatten their bottom line.
Your money will never fund abortions or other procedures you may fundamentally disagree with.
There is no limit on the amount of bills you can share with other members.
The members make the rules. They vote every year on what costs will be covered or not covered.
Members pray specifically for you every month. How many insurance companies do that?
You won't be subject to the Affordable Care Act Mandate. This means you won't have to pay a fine for not having health insurance.
Adoption expenses are covered
Funeral expenses are covered
Most pregnancies are covered.
There are also some important disadvantages to Medi-Share you should be aware of:
Medi-Share contributions are not tax deductible. Traditional health insurance premiums are.
You can't use Health Savings Accounts (HSA's) with Medi-Share.
You have to agree to their Statement of Faith. If you're not a Christian this may be a problem for you.
To stay in good standing, you must commit to living a biblical lifestyle (i.e. no drug abuse, sex only within biblical marriage, etc.).
You won't be denied for a pre-existing condition. However, you may be subject to restrictions and payment caps.
Some pre-existing conditions, such as diabetes, may require you to pay a higher monthly share amount.
Telehealth Services
One cool money saving feature Medi-Share offers is Telehealth Services. When you have a cold, cough, or other minor problem, instead of going to the local quick-care clinic or waiting to get an appointment with your doctor, you can just make a simple phone call!
Medi-Share contracts with doctors who are available by phone to diagnose minor ailments and prescribe medicine as needed.
Best of all, it's free with your membership!
This is what my friend Deacon Hayes from WellKeptWallet.com has to say about it:
"One great benefit they offer is there Telehealth service. Normally when I get sick, I go the the urgent care near our house and pay over $100. However, now when I am sick, I call the MD live number and give them my symptoms over the phone. They then say a Doctor will call me back within 60 minutes. The doctor can assess my situation and even prescribe medication over the phone. The best part is that this is a FREE benefit as a member. We haven't tried this with our kids yet, but it will be the first thing we do the next time one of them is sick."
Angie and I haven't used Medi-Share yet because we have excellent, cheap insurance through our county school system where she works as a teacher.
However, I do have a number of friends who use Medi-Share. You heard from my friend Deacon above. I also asked my friend Philip Taylor from PTMoney.com to tell about his family's experience:
"I've used them for 3+ years now for my family of 5. I use them because I like escaping the current government-regulated private health insurance marketplace, penalties, agendas, etc. (Also) because they cost much less than insurance I can get through the exchanges. I use them because I was able to continue using the same doctors that I've always used. I use them because of their great customer support."
Here are more excellent testimonials directly from the Medi-Share website.
To join MediShare, you will need to complete the four required steps to be approved.
Request information about Medi-Share. You'll need to read and understand their guidelines, fill out an application, and pay a one-time non-refundable application fee.
After you submit your application, you will receive an email to complete additional information in their Online Forms Center. Once in the Forms Center, complete the Testimony & Commitment form, and the Statement of Faith and lifestyle commitments.
The Approval Process. Your approval is dependent on how quickly you submit all the needed information so they can make a decision. Once you are approved, there is a one-time new member fee of $120 you will submit with your first monthly share.
Open your sharing account- once your forms are complete and you have been approved, you will open your account at America's Christian Credit Union (ACCU).
Conclusion
Medi-Share is definitely not for everyone. But if you want an alternative to Obamacare (the Affordable Care Act), and you're willing to abide by the guidelines Medi-Share requires, I believe Medi-Share is an awesome alternative that will save you thousands of dollars every year!
Question: Have you used Medi-Share to cover you or your family? What was your experience? Leave a comment and let us know.