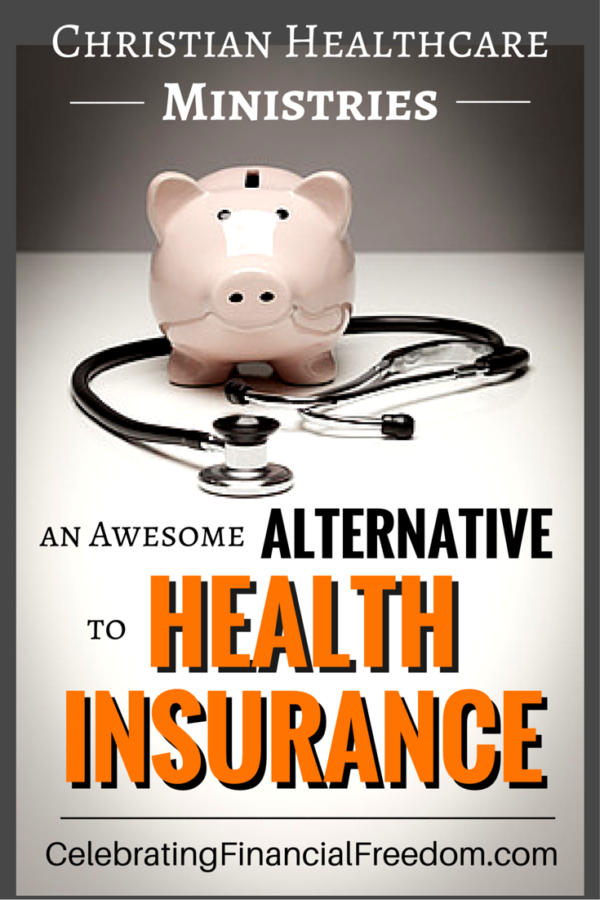 Christian healthcare ministries (also known as healthcare sharing ministries), are becoming a popular alternative to health insurance. I've always been intrigued by the concept of sharing health care costs, but until recently never took the time to find out how it works and if it's worth it to switch. So I thought I'd do a little research and find out the details so you and I both can see what these health insurance alternatives are all about.
After doing the research, I discovered that health care sharing ministries are quite different than the usual health insurance you're accustomed to. But once you know the differences compared to traditional health insurance, you might find that a Christian health sharing ministry is just what you're looking for to better manage your health care costs.
What are Christian Health Sharing Ministries ?
According to the Alliance of Health Care Sharing Ministries, these groups have two distinctive qualities that make them different from regular health insurance:
They function to share the costs of health care among groups of people with similar beliefs (in this case, Christians).
They are operated by nonprofit religious organizations which act as a clearinghouse for members with medical expenses and those who want to share medical expenses to lighten the financial burden for everyone involved.
How is it Different Than Health Insurance?
Sharing health care costs using Christian health care ministries has a few differences compared to the regular health insurance you're used to. For starters, health care sharing ministries are not subject to the Affordable Care Act (ACA), which means:
They can turn away people with certain lifestyle choices or pre-existing health conditions such as obesity, diabetes, smoking, alcohol consumption, and others.
They are not required to provide free preventive care (although some do).
Christian healthcare ministries can impose a lifetime limit on coverage. Most cover between $250,000 to $1,000,000 in coverage per illness.
Health care sharing ministries can choose not to cover certain procedures the group considers to be morally objectionable.
They are allowed to limit their membership to certain religious groups or other belief systems.
Also, being a member of a christian health care ministry exempts you from paying a fine for being non-compliant with the Affordable Care Act (also known as Obamacare). Currently, the fines are 2% of your annual household income or $325 per adult and $162.50 per child.
How Does Health Care Sharing Work?
Each health sharing ministry has it's own way of doing things. But in general, the way they work is that each member pays a "share" each month to the ministry, then as each member has a need, money is distributed to members to pay hospital bills and other covered health care needs.
However, before members can have their bills paid they must meet an "unshared" amount (similar to a deductible) each year.
Also, some plans don't cover well care visits, which will have to be paid out of pocket.
3 Popular Christian Healthcare Ministries
There are a few Christian health care sharing ministries that are the most popular. Below I'll cover some of the most important details of each one so you can get an idea which one is best for your situation.
One popular Christian healthcare ministry is Medishare. With MediShare, you purchase shares every month that help pay for the medical bills of members in need for that month. If you are the one in need, the shares of the other members will pay for your medical bills.
Here's a description straight from the Medishare website: "Each month, your monthly share is matched with another's eligible medical bills. Through a secure online portal, Christian Care Ministry publishes the bills eligible for sharing and coordinates the direct sharing of medical costs between members. You will know every month whose bills you are paying, and when you have eligible bills, your fellow believers will be sharing those and praying for you."
Medishare is based on the concept of like minded people willing to bear each others burdens and adhere to a particular lifestyle. To be eligible to join Medishare, there are several Christian ideals you have to agree to in order to be covered, such as:
You cannot be a user of illegal drugs.
No tobacco use.
No abuse of legal drugs.
You can only have sex inside a traditional Christian marriage.
Regularly attend and support a fellowship of believers.
Medishare has a larger variety of options to choose from, depending on age and how much you want your Annual Household Deductible to be. You can choose an Annual Household Deductible (AHD) ranging from $500 per year up to $10,000 per year.
Their website has a share calculator on site to help you figure out the best scenario for your situation.
For this article I decided to plug in a few numbers to give you an idea of the typical share cost for some situations. Of course, these share prices are subject to change over time. Here's what I found:
20 year old, single, $500 AHD= $141/month share cost
20 year old, single, $10,000 AHD= $44/month share cost
40 year old, family of 3 or more, $1,250 AHD= $723/month share cost
40 year old, family of 3 or more, $10,000 AHD= $228/month share cost
60 year old, 2 people, $1,250 AHD= $753/month share cost
60 year old, 2 people, $10,000 AHD= $334/month share cost
Medishare also offers a couple of ways to pay even less for your shares if you qualify. You may also be charged a little more if you have certain health problems. Here's a list of offerings:
Healthy Monthly Share- Up to 20% off for members who meet their Health Incentive standards based on BMI, waist measurements, and blood pressure.
Health Partner Program- In some cases you may be required to join the Health Partner program if you have conditions such as high cholesterol, excess weight, or diabetes. This adds an $80 fee to your monthly share. If you're financially struggling with your diabetes, you might want to consider exploring the idea of selling your unused/spare test strips in exchange for quick cash. Websites such as Teststrips4money.com makes it easy for diabetics to get paid cash for test strips.
Here's a much more comprehensive post I wrote about Medi-Share.
Learn More About Medi-Share
Samaritan Ministries
Samaritan Ministries bills itself as a Christian healthcare ministry that's biblically based. They cite verses such as Galatians 6:2 which says "Bear one another's burdens and so fulfill the law of Christ." as their reason for being.
How Does Samaritan Ministries Work?
According to their website "Each member commits to sending a set "Share" amount each month. These "Shares" are sent directly through the mail from one household to another, to the members with "Needs". Samaritan Ministries uses a database that randomly matches Shares to Needs, so that the Sharing is coordinated and Shares go to the appropriate members with Needs." For a more in depth explanation, you can go to this page to find out the details.
Costs for Samaritan Ministries
Samaritan Ministries has over 200,000 members contributing over $17,000,000 every month to meet the health care needs of its members. Your monthly share is based on the size of your household. Age, medical history, and other factors have no bearing on how much your monthly share will be. Here's a breakdown of how much you can expect to pay:
There is a one time new membership fee of $200 when you join.
The monthly share ranges from $180 for a single person up to $405 for a family of three or more.
If both heads of household are under age 25 you will pay the Young Adult Share, which ranges from $140 for a single person, up to $355 for a family of three or more.
If you wish, you can also participate in Samaritan Ministries Save to Share program. Save to share is for those who would like like to be covered for medical expenses that exceed the $250,000 limit per illness. Each household contributes a yearly share, available for anyone in the Save to Share program to use if needed.
For instance, if you participate in Save to Share and you have an illness that incurs over $250,000 in medical bills, Save to Share will cover everything over the $250,000 per illness maximum that non-Save to Share member would have to pay.
Save to share membership ranges from $133 per year for a single person, up to $399 per year for a family of three or more. There is also a $15 per year administrative fee for the program.
Christian Healthcare Ministries
Christian Healthcare Ministries is another great option in the health care sharing market. It works much like the other two examples above in that it's a nonprofit healthcare sharing ministry. Medical bills are voluntarily shared among the members for the benefit of all. The qualifications for joining are:
No usage of tobacco or illegal drugs.
Follow biblical teaching on the usage of alcohol.
Regular group worship attendance (if health permits).
No restrictions based on weight, age, location, or health history.
How Christian Healthcare Ministries Works
CHM has three levels of service you can choose from (Gold, Bronze, and Silver). You choose which level you would like to participate in, then you determine the number of units you will need.
Each unit represents a person. Therefore, you would purchase one unit for one person, two units for two people, and three units for three or more people. Here's a breakdown of the costs for each level:
Gold Membership- $150/month per unit
Silver Membership- $85/month per unit
Bronze Membership- $45/month per unit
Optional Catastrophic Coverage- Brother's Keeper Program
Just like the others, Christian Healthcare Ministries offers an optional program to cover catastrophic medical bills exceeding $125,000 per illness. Here's how Brother's Keeper works according to each membership level:
Gold Membership- Unlimited coverage per illness. Coverage starts immediately upon signing up for Brother's Keeper.
Silver and Bronze Membership- $100,000 coverage per illness. Each year you renew adds an additional $100,000 per illness, topping out at $1,000,000 per illness.
Brother's Keeper members send a quarterly gift amount to CHM (averaging $25 per unit) to cover catastrophic medical bills for members. There is also a $40 annual administrative fee. The money is deposited in an audited escrow account and distributed from there. Each member receives a quarterly giving statement showing the amount given.
Another neat feature of Brother's keeper is that it allows you to connect and encourage other people. With each quarterly statement, you receive the name of other Brother's Keeper members with medical bills. You are encouraged to send cards and letters of encouragement to them as part of their ongoing healing.
Other Features of CHM
CHM has no networks or preferred providers- You can use any health care provider you prefer.
Spiritual support- Prayer requests are printed in the monthly newsletter and posted to CHM's Facebook Page . CHM staff also prays for each need individually, as a group, and even by phone when a member calls.
Will Health Care Sharing Ministries Save You Money?
In general, I believe any of these health care sharing ministries can save you money on health care. However, I can't make that blanket statement for everybody. Each individual situation is different, and it may be more cost effective to go with traditional health insurance in some cases.
Your best bet is to go to each ministry's website and use the tools you find there to get an estimate of costs to fit your situation. You just might find that biblically bearing each other's health care burdens can save you a lot of money!
Question: Have you used any of these Christian healthcare ministries to cover your healthcare costs? What was your experience? Leave comment below or on our Facebook Page and tell us about it.