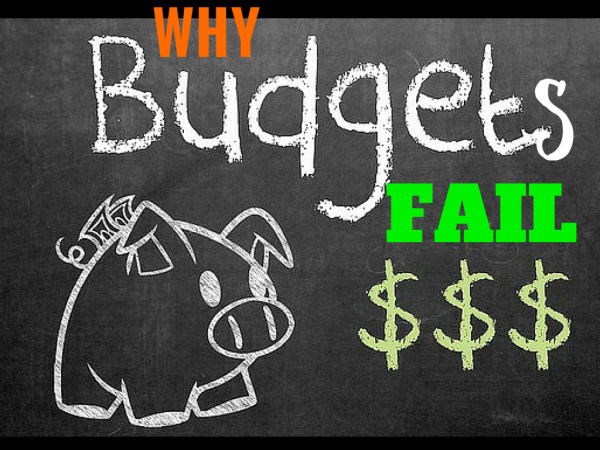 The following is a guest post by Joseph Hogue:
Budgets are like New Year's Resolutions, we all make them but few ever last long. Make sure you're not setting your budget up to fail with these three budget fixes.
Consumer debt in the United States reached $625 billion in April, near the record set in 2010, and Americans spend nearly 10% of their disposable income just on debt payments each month. The average American has nearly $16,000 in credit card debt, a fact that keeps many from ever achieving true financial freedom.
Why we carry so much debt and risk financial ruin on mounting interest payments isn't a tough question to answer. Most of us know that we need to create a budget that includes saving and paying off debt but few budgets make it very far past the kitchen table.
We resolve to manage our finances more responsibly but one of three reasons invariably gets in the way and our budget falls apart. For a lot of people, that leads to credit card spending and short-term loans to fill the gap.
The good news is that there's a solution for each of the three common reasons budgets fail and you don't have to be caught in the cycle of overspending and debt. Follow the budget problems and their solutions below to reach your own financial goals.
Your Budget Fails Because You Don't Have a Reason to Succeed
Most people sit down to their budget as something they will have to do for the rest of their lives. We all like to spend and most budgets don't have much room in them once we get to the bottom of the page. The idea of scrimping and sacrifice for the rest of your working life is too much for a lot of people. Even if the budget makes it past those first couple of weeks, there really isn't much to look forward to for a long time.
This is the biggest problem I see in budgets, the lack of a reason to keep the budget. Staying on budget may mean you have a good nest egg built up after 20 or 30 years but who cares? Besides those long-term goals we all strive for, people need a little immediate gratification to stay on the financial straight-and-narrow.
Build short-term goals into your budget and resolve to keep your spending plan for just three months. Giving yourself monthly goals and a small reward will help keep you motivated. Keeping your budget for three months means you will have created some good spending habits that will remain even if you drop the budget.
Your Budget Fails Because Your Goals are Unrealistic
This was my biggest problem when I graduated from college and landed my first real job. I'm a classic Type-A personality and love to plan so the idea of making money and planning my financial future was right up my alley. I set a strict budget and financial goals that were so high I would have to work a side job and earn a strong return on investments to get there. It turned out to be my biggest money blunder.
Working two and sometimes three jobs while saving every penny only left me exhausted and disappointed. I would end up binge spending and dropping my financial plans at least once a year, which would just set me back to where I started.
I learned that it's not enough to set financial goals, you have to set realistic financial goals. If your financial goals require that you work multiple jobs and save more than 30% of your income, you might need to reassess the goals you've made. Everyone wants to be rich but what good is being a 90-year old millionaire if you had to eat nothing but oatmeal your whole life.
Set realistic goals that will get you where you need to be financially and make sure you can be happy getting there.
Your Budget Fails Because You Don't Have a Support System
This third budget problem is actually how I ended up realizing my own financial hurdle and how to overcome it. Despite being a corporate accountant at a Fortune 500 firm, I couldn't see my own money mistakes. It wasn't until I talked to a friend about my problem that it became clear.
A lot of us carry a taboo about talking finances with other people. Reading posts on a blog is one thing but talking face-to-face with someone about our money troubles is just too embarrassing. The thing is, we share a lot of the same financial foibles. Share yours with someone and you quickly realize that your budget problems are not so different. Talking regularly with someone, or better yet a group of people, is a great way to keep yourself on track and get the support you need.
Using the three solutions to budget problems above won't solve all your financial dilemmas but they should help you keep a budget and spend less on debt. Setting goals for the near-term as well as further out will help keep you motivated while setting realistic goals sets your budget up for success.
Joseph Hogue, CFA runs PeerFinance101, a blog where you share your stories of personal finance challenges and success. There's no one-size-fits-all solution to meeting your financial goals but you'll find a lot of similarities in others' stories and a lot of ideas that will help you get through your own challenges.
References
http://research.stlouisfed.org/fred2/series/CCLACBM027SBOG
Consumer debt $625 billion
http://research.stlouisfed.org/fred2/series/TDSP
Household debt % of disposable income 9.9%