In my previous post about Medical Debt, I told you about a few things that you should NOT do when you have a mountain of medical debt hanging over your head.  These are great tips that can literally save you thousands of dollars and a ton of headaches.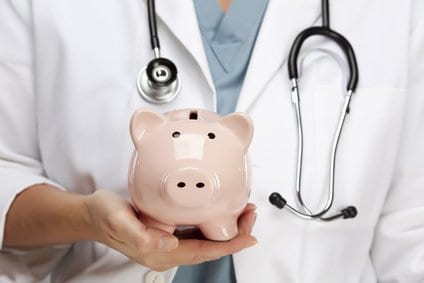 In today's post I want to show you some of the things that you SHOULD do to help you get that debt paid off quicker, easier, and with less of the overall stress that comes with dealing with large amounts of debt.
Medical Debt- What You SHOULD Do
Medical debt tends to be much different than other types of debt because it's not always a debt that you end up with because of irresponsible spending, or lack of paying attention to your own financial situation.  Many times you end up in large amounts of medical debt through no fault of your own due to an accident or an unexpected emergency (Like mine that you may have read about in the last post), and it can have devastating effects on your finances, especially if you have no insurance.
7 Tips For Paying Off Medical Debt
I've done the research and come up with 7 commonsense tips and tricks you can use to get that debt paid off in the shortest time possible and with the least amount of stress possible.
So here they are:
Don't Ignore It-  It can be really easy to shut down emotionally and just ignore the fact that a huge pile of medical bills are rolling in.  Dealing with medical bills on top of the medical problems you're already having can be emotionally taxing, but you have to realize that this debt is not going to magically go away if you shut down and ignore it.
The quicker you contact the hospital and start making a plan to pay off the debt, the better off you'll be in the long run.  If you let it go to collections because you don't know what to do and therefore take no action, then you should realize that collection fees and interest will start being added to the balance, causing things to get even worse.
Take control of the situation!
Get a Detailed Accounting of Every Charge-  Many medical bills have mistakes that can end up costing you a lot of money if you don't make an effort to catch them.  When you get a detailed accounting of every charge, you can see if there is anything you're being charged for that is incorrect, which could save you some serious money.
If you have no idea what you're looking at when it comes to your medical bill, you can hire a medical billing advocate to help you out who only gets paid if they save you money.
Know How Much You're Able to Pay-  Sit down, put pen to paper, and figure out how much cash you have available (hopefully from a fully funded emergency fund), and how much you can afford to pay every month if you need to work out a payment plan with the hospital.  Going into the process with as much knowledge possible about your finances, and what you can and can't do financially, can only help your situation when you're negotiating your debt with the hospital.
Negotiate-  Hospitals are used to dealing with people who have large medical bills.  Many times they are willing to cut you a deal on the total amount owed if you agree to a payment plan.  Also, if you have a lump sum of cash, you might be able to negotiate a much larger discount if you agree to pay cash for most or all of the debt.  It may be possible to negotiate it down to as little as 50 cents or less on the dollar (or have it forgiven completely) depending on your circumstances.
Ask About Assistance Programs-  Most hospitals have some sort of assistance program set up to help people pay their medical debt.  It may be tied to how much you make, or whether or not you have insurance coverage, and you may have to provide detailed financial records to see if you qualify.  But you can have a very large portion, if not all of the debt, reduced through one of these programs, especially if you have a low income and few assets.  You can also check out assistance programs through your state and local governments that may also be able to help out.
Have an Emergency Fund-  If you've ended up in medical debt and you have no emergency fund, it can make things much tougher for you because you weren't prepared financially for an emergency.  If you have an emergency fund in place, awesome!  You're way ahead of most people.  If not, start one now, because emergencies happen to everybody sooner or later.  When you're prepared for the inevitable, the inevitable will be much easier to deal with when it comes.
Find Ways to Make Extra Money to Pay Off the Debt Quicker-  There are always ways to make extra money that can really help you accelerate the time it takes to get your medical debt paid off.  I won't go into specifics in this post about what you can do, but here are links to a couple of my articles that can give you a few ideas.
5 Ways to Make Extra Money, Even in  a Tough Economy
Another 5 Ways to Make Extra Money, Even in a Tough Economy
Know What You Should Do
Whatever your situation is when it comes to medical debt, you should always remember to never let the billing department at the hospital talk you into doing something that is unwise and not right for your situation.  Most of these people are usually very helpful and compassionate and strive to help you find the best way to tackle your situation.  But it's up to you to know what you should and shouldn't do so you can keep that debt from overwhelming you financially.
Question:  Have you had to pay off large amounts of medical debt?
Did you use any of these tips?
Tell me about your experience in the comments!
Resources:
How to Pay Off a Mountain of Medical Debt- What NOT to Do
7 Huge Credit Card Lies We Tell Ourselves
Bad Debt Collectors and What to Do About Them
Medical Billing Advocates Could Help You Save Big
How Do You Get Out Of Debt? (Part 5)- 3-6 Month Emergency Fund