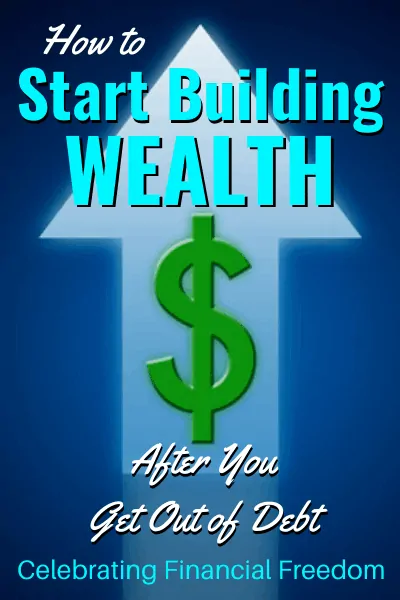 "How Do You Get Out of Debt?" Parts 1-5 showed you all about getting mad and naked, doing a budget, building a small emergency fund, putting together and implementing a "Debt Rocket" plan, and then building a large emergency fund. Now you can start building wealth!
Once you've made it through those steps, you have seriously succeeded in the get out of debt process where most people never do. You've gotten yourself out of debt (except for your house), and your friends and neighbors are gazing upon you with envy and asking you "How'd you do that?"
So, of course, you proceed to tell them about this great blog you found that taught you everything you needed to know and led you step by step down the path to debt freedom.
Now that you've spread the word to your "peeps" and you're basking in the glow of debt free stardom, it's time to get back to work. You've already done the work necessary to conquer consumer debt.
Now is when the wealth building begins.
Once You Get Out of Debt, Build Wealth
But just because you've rid yourself of consumer debt doesn't mean you can just sit back and relax. Once you get to this stage, the next thing you have to do is to start building wealth, and in order to do that you have to do one very important thing first.
That very important thing is to make a conscious effort not to GET STUPID!
What do I mean by that?
I mean there are a few things that you need to watch out for that can trip you up if you're not careful.
Now that you have laid the smackdown on all that consumer debt, you're feeling great, you're on top of the world, and it can be so easy to let your guard down.
Wealth Building Blockers- Pay Attention!
There are several ways that can happen if you're not paying close attention. Let's take a look:
You Stop Doing a Written Budget
A written budget is the tool that allowed you to gain control over your money in the first place. If you get lazy and stop doing a budget every month, it's easy to lose control again and start overspending because you're not telling your money where to go.
You Start Using Credit Cards Again
You rationalize that you'll use them "just for gas and groceries" because it's more convenient. Eventually you will end up using that card for other things and you can ultimately end up right back where you came from, with a pile of consumer debt. Don't go down that slippery slope.
You Increase Your Lifestyle
You discover you have all this extra money now that you have no payments. You end up spending more on things like eating out, hobbies, or other money suckers.
It's ok to eat out and have hobbies, but you have to stay aware and be sure not to let "lifestyle creep" happen, dripping away that money that should now be working to increase your wealth and secure your future.
Much like when you lose weight, if you permanently change your habits, the results you get are also permanent.
So remember, DON'T GET STUPID!
What Next?
Now that you have made it a priority to guard yourself against stupidity, you need to figure out what to do with all the money you used to send toward paying off debt.
There are several things you can do:
There are several different ways you can attack wealth building goals:
Put all the money into savings and investments, continue paying the house payment, and let the kids pay for their own college.
Use all the money to pay extra on the house, thus cutting years off the length of that commitment. Once the house is paid, then fund investments and college.
Do all three. Send some to investments, some to pay extra on the house, and put some away for college. Once the house is paid and the kids are through college, put everything into investments.
Debt Freedom is Just the Beginning
Don't forget, paying off your debt completely is not the end of the road, it's just the beginning. This stage is where you will start building massive wealth!
Once you start investing large sums of money (especially after the house is paid off), compound interest starts working for you. It will propel your finances to new heights you never dreamed possible.
So continue to be vigilant, don't get stupid, and you'll start building wealth like nobody's business, guaranteed!
In the next post I'll sum up all that I've covered in the "How Do You Get Out of Debt?" blog series. I'll talk about how your decision to become debt free is not only good for you and your family, but also affects the entire world for the better in ways you cannot imagine. You will soon achieve true wealth and financial independence!
Click this link to read the rest of the articles in "How Do You Get Out of Debt?" series
Resources:
Get Started with Celebrating Financial Freedom
The 20 Best Ways to Use Credit Cards Wisely
Pay a 30 year Mortgage in 15 Years?
The Miracle (or Curse) of Compound Interest