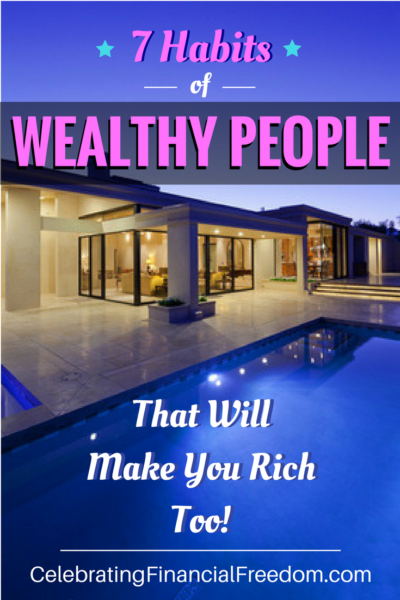 Most wealthy people didn't get rich because they were lucky. In fact, the average rich person develops money habits that most people balk at using in their own financial lives. The reality is, to become wealthy it takes excellent habits and financial discipline if you want to build lasting wealth. In today's article, I'll show you many of the top habits of wealthy people and why they work. They're not only common knowledge among most wealthy individuals, but they're also proven by scientific research!
At the end of each section I'll share with you what I'm personally doing in that area and give myself a score. You can give yourself a score for each section too. At the end, add up your score and see how you're doing at developing wealthy habits.
The Millionaire Next Door
The average millionaire looks a lot different than most people would imagine. When we think about wealthy people, most of us tend to think about famous singers, talented athletes, or CEO's of large companies.
The reality is that the average millionaire looks nothing like we tend to imagine. In fact most independently wealthy people look just like you and me (and probably live in your neighborhood too!)
The Proof is in the Research
Dr. Thomas Stanley was a researcher who studied wealthy people and their habits. In his extensive research, Dr. Stanley discovered some surprising habits of the wealthy that on the surface seem counterintuitive to most of us. But once you understand the habits of wealthy people, you'll totally get why they're rich and most of the rest of us aren't.
Dr. Stanley wrote several insightful books about the habits of wealthy people, and how those wealth building habits can make you rich too. You can check them out below.
The Millionaire Next Door- The Surprising Secrets of America's Wealthy
Stop Acting Rich: …And Start Living Like a Real Millionaire
Rich People Don't Always Earn a High Income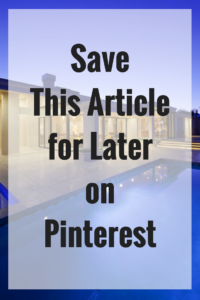 You don't have to earn a high income to become wealthy. Even if you have an average income, when you practice the good financial habits below, you will eventually become wealthy too! It's not about the income, it's all about practicing wealthy habits over the long term.
So, without further ado, here is a list of good financial habits the wealthy use that will make you rich too!
In each section I'll also tell you what I'm doing to build wealth. I'll assign myself a personal score (1-10) for each section. Follow along and you can keep score for yourself to see how well you're doing at keeping wealthy habits in your own life!
The 7 Habits of Wealthy People That Will Make You Rich Too
Most of us confuse earning a high income with being rich. However, in his studies, Dr. Stanley shows that there are tons of high income families that live paycheck to paycheck, just like average earners.
They don't practice the wealthy habits you'll find below. In fact, they're on the financial edge, only one or two paychecks away from bankruptcy just like many people with a lower income.
Habit #1: Wealthy People Value Financial Security Over Status
Wealthy people would rather have money in the bank than expensive cars and brand name consumer goods. They would rather live in an average house in an average neighborhood instead of a high status neighborhood where they will feel pressure to keep up with the Joneses.
Wealthy people don't care so much about what other people think. They'd much rather have financial peace, freedom, security over fancy consumer goods and social status.
What I'm doing: I've always valued financial security more than status, although I do like to have nice things (within reason). We live in a large house, but the mortgage payment isn't outrageous. On a rare occasion we will purchase something fancy and expensive, but we always save up and pay cash when we do.
My score: 7
Habit #2: Wealthy People Drive Used Cars
This is one of the more surprising habits of wealthy people. Most would assume that rich folks tend to drive brand new cars with name brands like Lexus, Infiniti, BMW, Porsche, Tesla, and such.
But the complete opposite is true. The average millionaire drives a car that's a few years old and was bought used. They tend to drive mid-level brands like Ford, Chevy, Toyota, and Honda.
Rich People Don't Finance Cars
Another wealthy habit related to cars is that most wealthy people don't finance or lease a vehicle. They save up and pay cash for their cars because they know financing or leasing is a bad deal. Even if you have a low income you can afford to pay cash for your cars.
What I'm doing: We've paid cash for our last 5 cars. We always buy high quality used cars and drive them till the wheels fall off.
My Score: 10
Habit #3: Rich People Don't Increase Lifestyle
People who build wealth also know that when they get a raise, they don't increase their lifestyle to match it. Unlike Joe Average, they understand that a raise is not an excuse to get a bigger house, a car payment, or more fancy stuff.
Wealth builders put their raises into savings and investments so their money can make more money.
What I'm doing: Over the last few years Angie and I have started making a lot more money. We've kept the proper mindset and resisted the temptation to increase our lifestyle. Although this year we took a nicer vacation than usual, our day to day life is no different.
My Score: 9
Habit #4: Wealthy People Invest Their Money
It's easy to put off investing for later. People who are not actively building wealth tell themselves they will start investing:
When they get their next raise
Next year
When they get out of debt
Once they get the house paid off
Wealthy people don't make excuses about investing. They develop the financial discipline to consistently put money into investments, even making investing a priority during lean times.
They educate themselves about investing and how to put their money to work earning interest and dividends instead of stuffing it in a savings account or under the mattress.
What I'm doing: Now that our kids are grown, we are putting around 30-35% of our income into investments each year.
My score: 9
How to Start Investing- The Ultimate Beginner's Guide to Investing Your Money
Want to manage all your investments in one place? Personal Capital has the powerful tools to make it happen. Find out more about Personal Capital here.
Habit #5: Willing to Take Financial Risks
Another habit of wealthy people is that they are willing to take financial risks, as long as the risk is worth the reward. They don't gamble on stocks or other investments with long odds. And they certainly don't put a major percentage of their portfolio into riskier investments. A good rule of thumb is to put no more than 10% of your entire portfolio into these.
Most people who don't build wealth tend to be too conservative if they invest at all. These people invest in things such as savings accounts, CD's, and other investments that have very low risk of losing their money, but have terrible returns.
However, wealth builders consider riskier investments if they believe they will get a good return on their money without the potential of losing the entire investment. Some of their favorite "riskier" investments are individual stocks, businesses, cryptocurrencies, and art/collectibles.
What I'm doing: I have several low risk investments such as mutual funds and real estate. However, I do have some investments that carry more risk. I'm invested in a couple of individual stocks started investing in cryptocurrencies (Bitcoin, Ethereum) several years ago as well. I've also invested in a medical robotics startup that will hopefully go public soon.
My Score: 8
Habit #6: Wealthy People Spend Less Than They Earn
I believe spending less than you earn is one of the most important habits of wealthy people there is. There is no way you can build wealth if you consistently spend more than you make.
People with wealthy habits understand that living a reasonable, frugal lifestyle is key. Living on less than you make allows you to have money to set aside for wealth building activities.
What I'm doing: We consistently do a written monthly budget and always live on less than we make. This is a wealthy habit we've been doing for years, even when our income took a huge hit during the recession a few years ago.
My Score: 10
Habit #7: They Teach Their Kids Well
Wealth builders also teach their kids good financial habits. They teach their kids how to handle money, invest, and start money making businesses so they too can become financially independent someday.
Just as important, they don't allow grown kids to live with them indefinitely or depend on the parents to prop up their lifestyle. Once the kids leave home they're expected to go out and earn their own way without depending on mom and dad's constant financial help.
What I'm doing: We've taught our kids well. Both have paid cash for their own cars with no help from mom and dad. Both worked during school to make their own spending money. I'm confident both of our kids are developing habits of wealthy people and will continue to do so.
My Score: 9
Do You Have the Habits of Wealthy People?
Developing wealthy habits takes time, so if you have a low score, don't be discouraged! It's taken me most of my adult life to develop the habits that will make us rich one day.
At this point in my life I'm still not wealthy, but I'm well on my way. I just have to continue the wealthy habits I've developed and eventually I'll be financially independent.
My score is 62.
So how did you score?
0-35 You have a lot of work to do.
35-45 You're doing a couple of things right, but need some help.
45-55 You're well on your way to wealthy habits!
55-70 You're rockin' wealthy habits! Gates and Buffett would be proud!
If your score is low, don't fret! Just continue seeking out ways to improve your habits. Eventually you'll develop healthy financial habits you can be proud of!
What habits of wealth building habits are you working on right now? Where could you use some improvement? Leave a comment here and let us know.