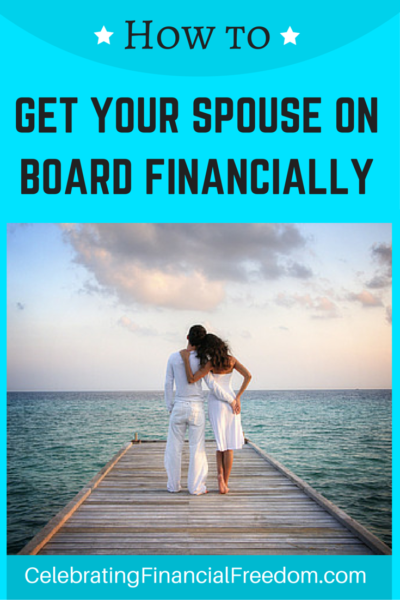 I often talk to people who want to change their financial path by getting out of debt, but they're having trouble getting their spouse on board with a plan. They run the gamut from the spouse who doesn't want to discuss one word about finances period, to the spouse that's open to the idea of getting out of debt, but is a little hesitant for whatever reason.
No matter where your spouse may be on that scale, sometimes it can be quite difficult to come into agreement on your financial situation and how to handle it. However, if you want to succeed financially as a couple and a family, it's absolutely crucial that you and your spouse work together.
Why You May Not Be Able to Get Your Spouse on Board
There are a variety of reasons why a spouse won't cooperate when it comes to changing the family money situation:
Your spouse is just plain lazy.
They don't think it's necessary. They think things are fine the way they are.
Your spouse is afraid of change. They are afraid that doing things differently will mean they have to sacrifice something.
They don't want to dredge up their insecurities about money. Maybe money problems caused your spouse's parents to divorce, or they grew up very poor and money was always a big emotional issue.
They may be afraid that their hidden or irresponsible spending will be discovered.
Whatever the reason is for not wanting to work together financially, it's still very important to find a way to work together as a couple to make the marriage and the finances stronger.
If you have no financial unity, it acts as a barrier to good marital unity in other areas as well, leaving your marriage open to problems.
Why Do You Want Your Spouse on Board Financially?
So if you want to get your spouse on board with working together financially, first you have to examine your own reasons for wanting to get the family finances straightened out in the first place. Here are some of the most common reasons:
You're just tired of being in debt and want to find the way to a more secure lifestyle.
You're fearful of lack of a financial future.
You've become tired of the pressure of handling the family finances alone and want your spouse to help in the responsibilities.
You're tired of living paycheck to paycheck and want to get ahead.
You're wondering where all the money goes because no one is really accountable.
What's Your "Why"
Once you figure out your "why", then you have to tell your spouse what your "why" is, and why it's important to you.
Do it at a time when neither of you are distracted with anything else.
If you have to, set a time in advance and tell your spouse you want to have a talk. Then share your reasons and your "why" for wanting to get them on board with fixing the financial situation.
Don't be confrontational or nagging. Approach your spouse with love and concern and let them know you want to work together to get your money situation on track.
Tell them that with their help, things can be better.
Happy Spouse, Happy House
If your spouse is resistant, encourage them to at least try to get on board and participate, letting them know it will make you happy and that "a happy spouse makes a happy house".
If they still decide they just don't want anything to do with working together financially, then you may have marriage issues that run deeper than just money. You might have to consider seeking marriage counseling to address some of the deeper issues that may be going on besides the finances.
If that ends up being the case, it's likely your spouse won't get on board with counseling either.
You should still go even if they won't.
At least one of you should be looking out for the best interests of the family, and seeking help even if the other refuses. Eventually, once they see you are serious about it, they may soften their stance and start going to counseling with you.
More to Come
In the second installment of this two part post I'll tell you a little about my personal story and how Angie and I went from fighting about money regularly to not being able to remember when our last money fight happened.
Have you had trouble with getting your spouse on board financially?
Question: What has been your top struggle in this area? Tell me in the comments.
Resources:
Control Your Money and Your Destiny
Read more about Marriage and Money here