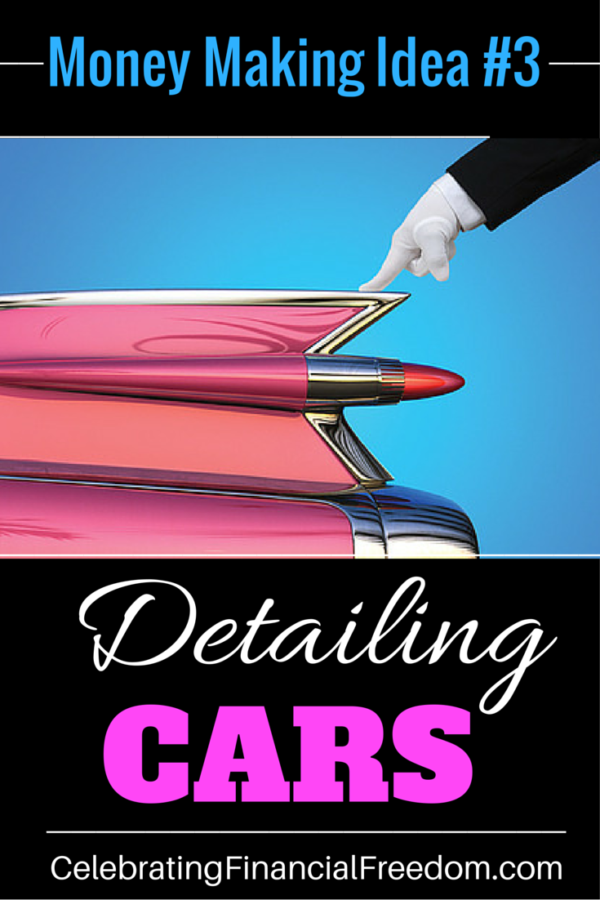 My latest money making idea, car detailing, came to me as I was cleaning out my car this past weekend. I'd been neglecting the task for way too long. I've been too busy with other things (like shooting videos for my online course).
I was thinking about the times I had hired a guy to do car detailing for me, and what a great job he always did. When he finished, the car was sparkling like new and I was a happy camper since I didn't have to do the work. He did a much better job than I would have done myself.
I forget the guy's name, but he came to my office one day offering car detailing for me and my staff. He had a list of services offered along with the prices for each one.
It's a very simple, easy to explain business with little overhead, which makes it a great way to earn extra money for paying off debt or anything else you might need a little additional income to achieve in your life.
You could make $50-$100 an hour or more detailing cars !
How to Get Started Detailing Cars
Let's take a quick look at what it takes to start this money making side gig.
First, You Need Supplies
You will need all the common car cleaning supplies like window cleaner, bug and tar remover, leather cleaner, carpet cleaner, car shampoo, and Armor All or some other product to make the tires shine.
You May Need Equipment
If you plan on detailing the exterior as well as the interior, you'll need a garden hose to hook up to a water source. If you want to spend some money to go mobile, you can buy a water tank to mount on a trailer or truck and carry your water source with you. That will free you up from having to make sure your customer has a water source available at their location. Of course, you can also have people come to your home, where you will have water available.
Create Different Levels of Pricing
You can start basic with a quick wash and vacuum for maybe $15-20. Also, you can upsell to an extreme package with wash, tire shine, bug and tar removal, interior detail, carpet shampoo, etc. for $90-100. You can even offer specialty detailing services such as headlight lens restoration. Just make sure you have several package levels that will allow customers to get what they want. You could even charge each service a la carte and let the customer design a package for their own needs.
You Need to Advertise
No need to get fancy or expensive here. Start with people in your neighborhood. Talk to your neighbors, hand out fliers, put fliers on mailboxes (not in them, that's a big no-no). If you want to go mobile, you can go around to office buildings and get customers by cold calling. This is one business where I've seen cold calling work very well.
Do a Great Job and the Money Will Flow
Once you've done a excellent job for a few customers, you should be able to build your side hustle from there. When word gets around that you do a great job making cars sparkle like new, you will end up with a lot more customers, sometimes very quickly.
Word of mouth works especially well when you go to large businesses with a lot of people. You can detail their cars while they work, which is a huge convenience for them. When you do an awesome job, they will inevitably tell their coworkers about it and you'll get even more business the next time you go there.
The great thing about detailing cars is that it's great as a side gig. Or you can go all in and make a full time business out of it. It's only up to you and how much you want to hustle.
Good Luck!
Question: Ever detailed cars before? Let me know how it worked out for you by leaving a comment.