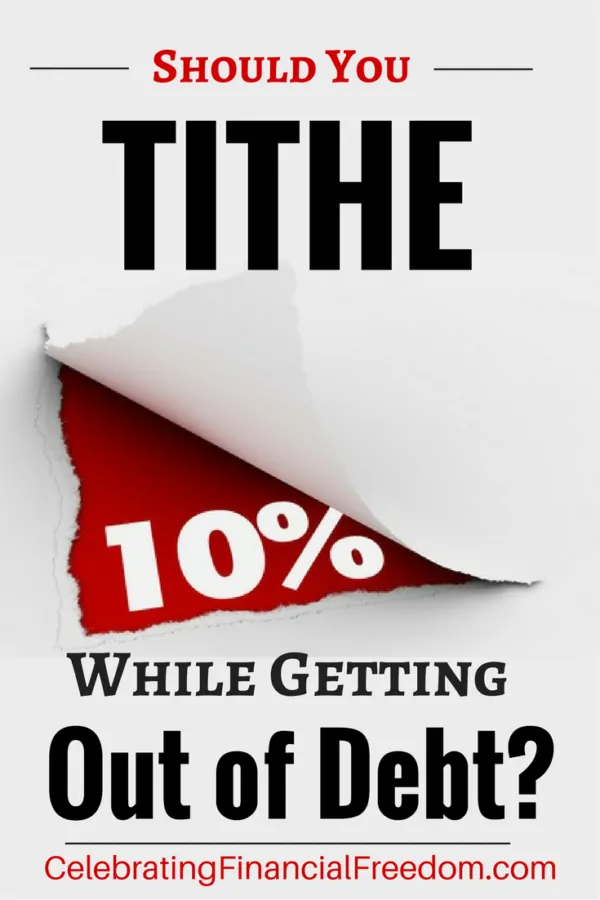 One question I'm frequently asked is "Should I continue to tithe while I'm getting out of debt?" Or sometimes I get its close cousin "Why should I start tithing if I'm trying to get out of debt?" These are questions that don't always have an easy answer when you're a Christian trying to pay off debt.
I usually answer these questions by asking a few questions in return to help clarify your thought process, hopefully leading you to the answers you're looking for.
Already Tithing? 2 Questions For You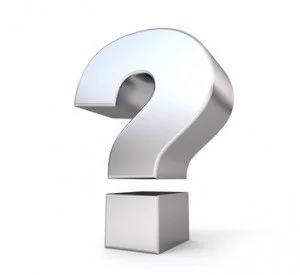 Are you already tithing but wondering if you should keep doing it while you're paying off debt?
Many people consider that if they stop tithing for awhile, that frees up some extra money to get their debts paid off quicker. Then, after they get out of debt, they'll start tithing again.
After all, if you've been giving 10% of your income and you start paying off debt with that money instead, you can knock out your debt at an incredibly fast pace!
Sounds like a solid plan.
But there are a few things to think about when considering that strategy. Here are some questions to ask yourself:
Why are you tithing in the first place?- Most do it because they want to be obedient to God's teachings on giving. You've probably even experienced many of the blessings that come along with tithing and realize that obedience in that area helps you live a more blessed life.
What happens if you stop tithing to pay down debt instead?- When you stop given a tenth of your income and use that money to pay off debt, you get the debt paid off much quicker. The math works so much better when you have more money to pay down your debt. That's a good thing, right?
Let't dig a little deeper below.
Manage all your financial accounts in one easy to use dashboard with Personal Capital- It's FREE!
Why Are You Giving a Tenth in the First Place?
When you first committed to giving a tenth, it was likely that you did it because you wanted to be obedient to God's word. Maybe you didn't understand all the true benefits of tithing at the time, but you decided to take the leap because you believed it was the right thing to do.
You trusted that God would live up to His Word, even if the math didn't make sense.
I know when I decided to start tithing, it was an extremely difficult decision for me. But ultimately, I knew that somehow, some way, God would bless me for trusting in His Word.
Anytime you can trust God with another part of your life, you'll be blessed because of it.
What if You Stop Tithing and Pay Off Debt Instead?
So if you stop tithing, the math says you'll be able to pay off your debt much faster. Depending on your circumstances, you will pay off your debt quickly and get back to tithing in short order.
After all, who wants to spend 2-3 years getting out of debt when you can do it in a year by putting tithing on hold? Does God really want you to be in debt another 2-3 years if you can tackle it faster?
It's only for a short time. Then once you're done with debt you can be even more generous than before!
The Consequences of Not Tithing
But the flip side of putting your tithing on pause is that you've eliminated a reason for God to bless your life and your finances. Quitting tithing means you're no longer being obedient to God with your finances.
When you stop tithing to pay off debt, it's impossible for His promises about tithing to manifest in your life. Those promises become null and void, keeping you from the benefits that make your life better.
You have to decide, is that a risk you want to take?
What Happens if You Keep Tithing While Paying Off Debt?
When you keep tithing while getting out of debt, it means you're continuing to be obedient to God's word. He will keep His hand on your situation and you'll continue to keep yourself open to the blessings that tithing brings to your life.
God will continue to work on your behalf and make sure things go your way in your quest to get out of debt. You will discover that more often than not, things will fall your way when you continue to give a tenth of your income.
Angie and I Continued to Give
Continuing to tithe or not while you're paying off your debt is a decision only you can make. There are advantages and disadvantages you can find to justify either option. You have to weigh those out prayerfully and come to the best decision you can.
In our own life, Angie and I made the decision to keep tithing while we paid off our debt, even though the math didn't work. We feel that was the best decision we could have made at the time, and that it was actually an advantage to our journey out of debt.
We wanted to make sure and keep God's favor on our journey and not risk missing out on His promises so we could pay off the debt quicker.
The interesting thing is that during that journey, several things happened unexpectedly that actually accelerated our ability to pay off debt. We believe that was God working on our behalf because we were being obedient to His words on tithing.
Was it God? Only He knows for sure. That's where faith enters the picture.
Should You Give a Tenth?
So the question remains- Should you tithe while getting out of debt? Only you can answer that question for yourself and your family. Weigh out the pros and the cons, ask the right questions, pray about it, and you'll come to the right decision.
In my next post I'll talk about whether you should get started tithing (if you're not a tither already) while you're getting out of debt, or wait till you've paid off the debt before you start.
Until then, a question…
Did you (or will you) continue tithing while you get out of debt?
Tell me about it by leaving a comment below.
Resources:
Relentless People Get What They Want