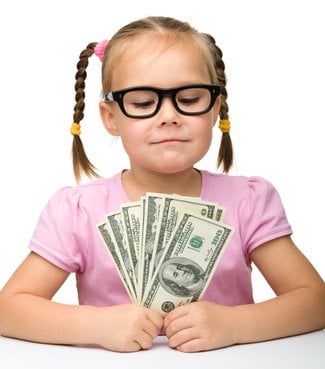 As you continually pursue financial freedom and explore your options for ways to earn more money, it is a crucial time for children to learn to manage their money as well. In the time of social media, the concept of a lemonade stand might seem outdated.
Also, with a majority of purchases being made online, it's difficult for a child to learn the basics of handling their financials. Don't miss an opportunity to allow young ones to work and pay for their purchases while instilling smart spending practices along the way.
7 Ways for Children to Start Making and Managing Money
Below we're detailing the top 7 ways your children, at almost any age, can start earning a small income to either replace or pair with an allowance. These ideas are safe, efficient, and could spark the entrepreneur inside your little one.
Allowing them to earn a bit of cash from outside efforts could teach them important money-management skills before they have to deal with the realities of taxes, earning a salary, buying home insurance, and much more.
Mowing the Lawn and Shoveling Snow
These are two tasks that homeowners will spend money for so they don't have to do it themselves. It is very easy for your child to offer your neighbors an affordable rate that is most likely going to beat that of a service or company.
All they need is some shovels, a lawnmower and a few hours. In fact, they might not even need any equipment depending on the house owner. Also, this will help your children get plenty of time outside, exercise, and expend some of that extra energy while making a good amount of spending money.
Walking Pets
There are many apps that set up this type of service. But if you live in a neighborhood with an older population, they might not be aware of these services. Your child can take control of this gap in the market by offering to walk the pets of your neighbors that don't use these apps.
Also, customers are much more inclined to have their pets walked by someone they know, which also gives your child an advantage in this type of work.
Providing moving services
If you're a strong teenager who had other strong teenage friends looking to earn money fast, let me introduce you to the untapped world of moving. People hate dealing with movers. They're expensive, hard to communicate with, and aren't careful with personal possessions.
By offering your services for slightly cheaper than the typical moving company, all you need is a few hours, a few strong friends, and U-Haul to do the same job as a company. Also, your friends and neighbors are more likely to pay you because you're cheaper, they know you personally, and they can communicate their needs for each item without feeling intrusive.
Babysitting
Babysitting is as classic of a way to earn money as the lemonade stand we mentioned earlier. Find the people in your neighborhood where the parents work two jobs, need someone to pick their child up from school, or post on Facebook asking if anyone in the area needs a babysitter.
Babysitting is an amazing way to make good money as parents want the best for their children—meaning they'll pay top dollar and they are looking for someone they know and trust.
House sitting
Families leave for vacations, holidays, and weekend jaunts more frequently than you would expect. A great way to earn some cash is by looking over a home. This means keeping it maintained—watering plants, cleaning, ensuring it is secure—and could result in a hefty amount earned based on how long the family trip is.
Tutoring
Tutoring tends to be a high school-specific way to earn money, and an efficient one at that. Older kids can offer their teaching services for many different subjects based on the classes they have taken in the past. They can offer rates much lower than tutors from local companies and know the specific class material due to previous experience.
Lifeguarding
It's the summer—there's no classes to tutor for, you want to have time to be outside with your friends, and enjoying yourself. But you still want to make money. Enter: lifeguarding. This is an excellent way to spend much of your summer outside in a lively, happy environment while giving a great service back to your community and making money in the process.
Though you may be in a social environment, this job is not easy. Lifeguards are a trusted part of the pool system and carry a great responsibility to bring safety to the area.
This is a guest post from Ben Jones at Benzinga.com