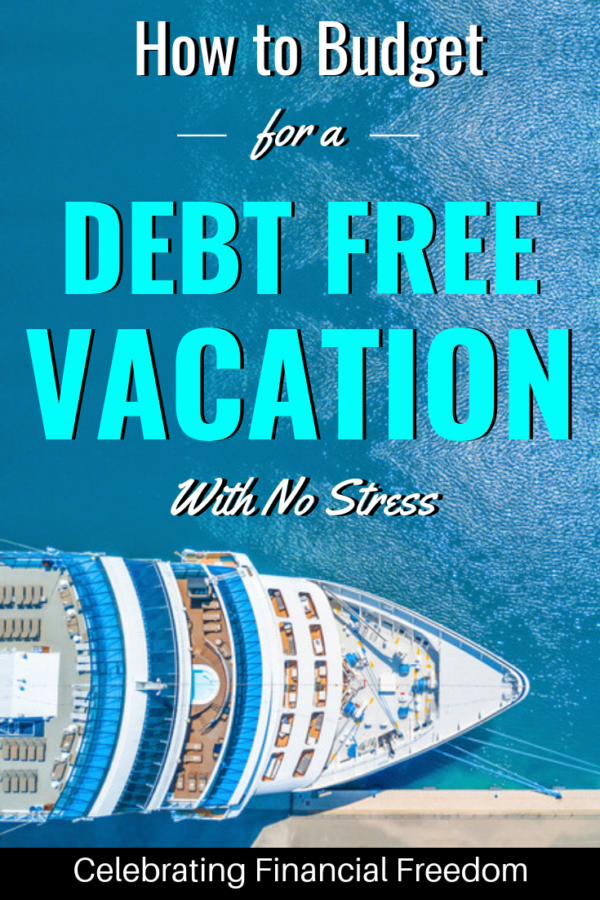 How do you usually budget for a vacation? Do you go on a debt-free vacation, or do you put it all on credit cards and worry about making payments on your vacation later? If you're like most people, you're probably not paying cash for a debt-free getaway. Unfortunately, that tends to cause a lot of financial stress once your trip is over.
A good stress-free getaway is an awesome time to have fun doing fun things you don't normally get to do. You can reconnect with the family, relax, or go on a new adventure. Maybe you even got to see the world's biggest ball of yarn while you were there!
But what happens when you get back? Are you rested and refreshed, ready to get back to the working world, or does that worry in the back of your subconscious kick in and you think "My God, how much do we owe for that trip we just took?"
Vacations Are Expensive!
Maybe you went to an upscale resort, or a smaller and cheaper one close to home if times are tight. But if you're like most people, you put most (or all) of that awesome vacation on a credit card, and now its payback time.
When you use credit to pay for your trip, it has a huge effect on your finances, sometimes for years to come. A nice little holiday can become extremely expensive, even if it wasn't that expensive to begin with (more on that later).
Credit Cards Make Your Vacation More Expensive
For a one week vacation at the beach it's very easy to spend well over $2,000 (on the cheap side) for a hotel room(s) or a condo depending on the size of your family. Add in room for Gramma Schwartz and maybe your son's pimply friend that he just had to bring along, and the cost is even more.
Then add food for the whole crew. Then add in the activities (touring the national yarn museum!) that are rarely cheap.
In the end, you have spent at LEAST a few thousand dollars for a week long getaway.
So now, on top of the credit card debt you already had, you have a huge pile of vacation debt too. Now you're stressed out about how you're going to pay for this vacation you just went on to help you relieve some stress!
That's crazy!
Don't let the stress of paying off vacation debt negate the de-stressing effects of the vacation.
You should try having a debt-free vacation! Keep reading and I'll show you how.
Going Into Debt for a Vacation is Not Worth It
When you use credit to purchase anything, there are a few things that happen that you may not realize. Using a credit card is such an easy way to pay for stuff, that you end up buying more than if you had just paid cash.
In fact, it's so easy that you end up spending on average 12% more on each purchase. In the end, after interest and fees, the average credit card purchase ends up costing 112% more than the original purchase.
Is it really worth it to pay all that extra hard-earned money to the credit card company just so you can use their money to go on vacation?
I don't think it is.
A Stress-Free Debt-Free Vacation
But what if you could manage your vacation expenses using a simple budgeting trick to go on a debt-free, stress-free vacation every year? Wouldn't it be awesome to come home from your vacation totally refreshed, knowing you weren't coming home to a ton of vacation debt?
Angie and I have been doing it for years! I can tell you from first hand experience, a debt-free vacation is the best vacation of all! Keep reading and I'll show you our simple process for paying cash for every vacation.
How to Pay Cash For Your Next Vacation
Here's the simple, easy way we budget and pay cash for our family getaway every year:
First, decide how much you want to budget for next year's trip including gas or airfare, food, lodging, activities, etc.
Next, divide that number by 12 and begin putting a monthly installment into a savings account, cash envelopes, or whatever you use.
When it comes time to book the vacation you will have money in the bank to pay for it. Take the remaining cash with you to cover food and other expenses.
You arrive home from your vacation rested, relaxed, and pumped that you just had a debt-free vacation!
Immediately start the process again to fund your next debt-free vacation!
It's Easy to Vacation Debt-Free
It's an extremely simple process, but it never ceases to amaze me how few people do it this way. Why would you want to live a life full of financial stress when you can easily do things differently?
I can tell you from personal experience, returning from a vacation without debt is a beautiful feeling!
I am going to keep repeating this till everyone in the world gets it. You CAN live a debt free life! Just educate yourself, change your mindset, make a plan, and stick to it. You'll never go into debt for a vacation again!
Question: How do you pay for your vacations? Do you think you could start paying cash for your trips? Leave a comment and tell us what you think.
Read more posts about debt
How to Pay Off Debt When You Live Paycheck to Paycheck and Have No Money
How to Achieve Debt Freedom Without Sacrificing the Fun Stuff
5 Steps for Getting Out of Debt You Can Do Right Now