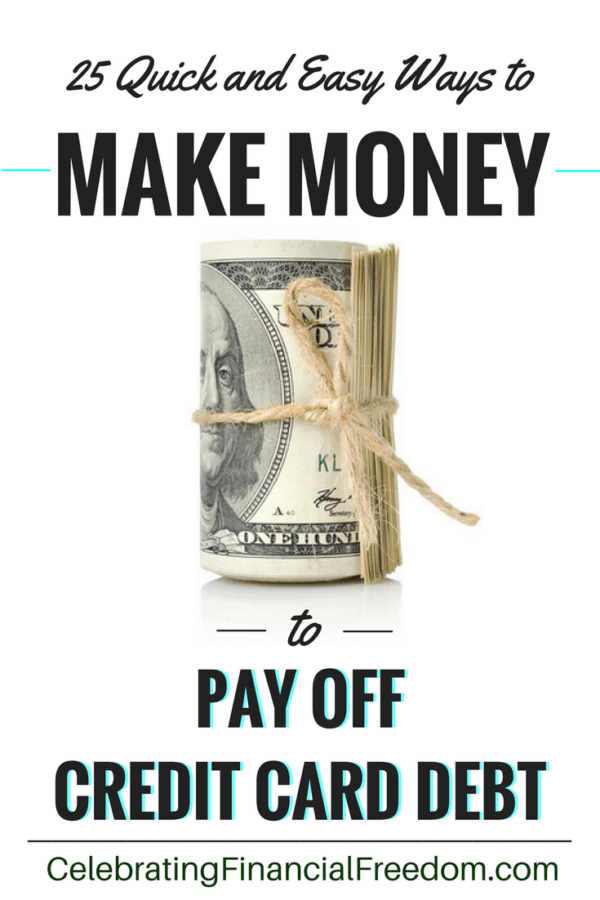 Credit card debt is one of the most common types of debt that'll keep you in constant bondage. And one of the best things I recommend to pay off debt of any kind, is to find ways to make extra money. The great thing is, there are a TON of quick and easy ways to make money pay off credit card debt!
Not all of these ideas will work for you. But if you can use just one or two of these ways to make some extra money, you'll pay off your credit card bills in no time!
Bad Ways to Pay Off Credit Card Debt
If you search the internet, you'll find all kinds of bad advice to pay off credit card debt that ultimately don't work very well (if at all). Things like:
Switching to a lower rate credit card
Taking out a personal loan
Taking money out of retirement accounts
Using a debt settlement company
And other nonsense…
The best thing you can do is to find ways to change your habits with credit cards.
Honestly, if you don't change your habits, you'll end up right back where you started, usually in worse shape than before.
First, You Gotta Go Naked and Cut Up the Credit Cards!
The first thing I recommend when you decide to pay off credit card debt is to go naked.
Please don't take your clothes off!
What I mean is you have to go naked when it comes to using credit cards to finance your life.
If you really want to pay off credit card debt forever, the first (and best!) thing to do is stop using them altogether.
Yeah, I know that feels a little weird.
That's why I call it going naked.
At first it feels really uncomfortable, like you don't have a safety net. But if you put together a small emergency fund first, you'll never have to constantly worry about credit card problems ever again!
Once you go naked, it becomes much easier to achieve your goal and pay off credit card debt for good because you're not playing with matches while trying to put out the fire.
25 Quick and Easy Ways to Make Money to Pay Off Your Credit Card Debt
So to help get you started down the road to getting rid of credit cards, here are a ton of money making ideas you can use to pay off credit card debt quickly (and permanently!)
Sell Your Body
Ok, don't go there! These are quick ways to make money that don't involve a host of moral dilemmas. In fact, selling hair and plasma can be quite profitable!
Sell Your Plasma
The US is one of the few countries where you can sell plasma legally. In most medium to large cities, you can find clinics that will pay you $35 or so for plasma.
You can do it as often as twice a week.
The process involves a half hour to an hour process of filtering the plasma from your blood and returning the rest to your body.
You'll need to be drug free and healthy to qualify. Of course, if you're afraid of needles, this one might not be a good fit for you.
Sell Your Hair
If you have long hair, you can make some quick cash selling your hair for a profit. The hair must be:
A minimum of ten inches long
Not colored or processed
Well taken care of (healthy, not overly dry or damaged)
Clean
The longer and better cared for your hair is, the more money you'll make!
You can go to websites such as The Hair Trader to find all the info you need to earn money selling your hair.
You can make anywhere from a few hundred to over a thousand dollars depending on the length and quality of the hair you send them. How's that for a quick way to pay off credit card debt ?
Make Money Babysitting, House Sitting, or Pet Sitting
House sitting, babysitting, and pet sitting are easy ways to make extra money that you can easily integrate into your daily routine. There's pretty good money in it too!
Babysitting
You can make $10-$15 or more per hour babysitting for busy parents. Even if you have kids of your own, keeping one or two other kids for a couple of hours a day can add up to a pretty nice pile of cash every month to pay off credit card debt !
House Sitting
House sitting is great because it's probably one of the easiest ways to make money there is! Tending to someone else's house while they're gone requires no skill whatsoever. You can still go about your normal day and pretty much live life as usual, you're just doing it in someone else's house!
If you can find enough people to house sit for on a regular basis, you can make more money to pay off debt by doing almost nothing!
Pay Off Credit Card Debt with Pet Sitting
This one requires a little more work. Of course, the first requirement is that you should like pets. Also, it's best to have a little basic knowledge of the types of pets you'll be taking care of.
Pet sitting might be as easy as going to your client's house a couple of times a day to refill food/water bowls and walk the pet. In some cases you might have the pet in your home full time until their owner returns for them.
Either way, you should be sure you're comfortable around pets and be willing to put up with all that pet sitting entails if you want to make money at this gig.
Sell Scrap
There are all kinds of scrap that recyclers like to pay good money for! From plastic bottles and aluminum cans to precious metals, selling scrap is a great way to help you pay off credit card debt .
Selling Scrap Metal
There are many types of scrap metal that are in demand from recyclers. Stainless steel, copper, nickel, aluminum, lead, tin, titanium, brass and zinc are good money makers if you can find a few good sources.
You can offer to haul away old cars to the junkyard, clean up scrap from construction sites, or even recycle electronics.
This is one way to earn additional money that adds up quickly if you put some effort into it!
Earn Money Selling Scrap Gold and Precious Metals
Selling your old scrap jewelry is also quite profitable! Most jewelry contains some amount of silver, gold, or palladium which are very valuable to precious metal recyclers.
I've made a ton of money over the years recycling precious metals. It's easy to do and a great way to earn money from home with very little effort!
In fact, it's such a great way to make extra money I wrote a comprehensive post about it.
In the post, I show you how to get a 90% payout for the actual value of your precious metals. That's much higher than going to a storefront gold buyer and getting a fraction of what they estimate your valuables are worth.
Click the link below to get all the details for this special deal:
Sell Your Gold for a 90% Payout- Money Making Idea #7
Have a Garage Sale
Ok, this one is pretty basic but it works! Most everybody has too much stuff they don't need and don't use.
Have a garage sale and get rid of that junk!
Then use all the money for paying off your credit card debt!
Having a garage sale probably won't pay off your credit card debt completely, but at least it'll make a dent.
Rent Your Extra Space on AirBnB
The great thing about AirBnB is that you can use your available space to make more money to pay off credit card debt . You can use this online platform to rent out space on your couch, an extra bedroom, your entire house, or a vacation home!
I have a friend that makes hundreds of dollars every month renting out an extra bedroom in her house! She and her husband have had no issues to speak of and have been able to meet a lot of interesting people too.
I also wrote a post about AirBnB for my Money Making Ideas series that gives you all the details.
Money Making Idea #8- Use AirBnB to Rent Your Unused Space
Temp Jobs
If you're underemployed or not working full time, making money temping is a great way to pay off debt. The good thing is, it might even lead to a full time job or a new career!
Temp agencies are always looking for intelligent, hard-working people who can be responsible and show up on time. If you can meet those requirements you're better than 90% of the people they deal with on a daily basis who don't have those qualities.
Do a great job and your employer will likely offer you a full time job!
Medical Research
Drug companies always need people to test out new drugs and medical devices. These companies pay hundreds, sometimes thousands of dollars depending on the study. To get matched to a study you can go to ResearchMatch.org.
Sell Your Life Insurance Policy
Whole life or Universal life insurance policies typically have some built up cash value you can access when you sell the policy.
These types of policies are generally a bad value anyway.
So if you have one, you might want to find out how much you'd get if you cashed it out. Then you can invest in a term life policy for about 10% of what you've been paying for your whole life policy. Then you'll have money to pay off credit card debt!
How to Pay Off Credit Card Debt Driving for Uber
Driving for Uber can also be a good, easy way to earn money to pay down debt. Uber drivers typically make anywhere from $13-$30 per hour.
The awesome feature of Uber is that you can work any time you like. Just access the app to tell them you're available and they will assign you a ride as soon as someone needs you! It's especially great for stay at home parents with only a few hours between school pickups in the middle of the day.
You'll need to meet a few requirements to get started, then you can start making money quickly to pay off your credit card debt!
Here's a great post to get you started:
Money Making Idea #12- Ride Sharing Using Lyft and Uber
Make Money Online Selling Your Old Cell Phones and Electronic Devices
I know I have a ton of old devices I need to get rid of. Most of us do. You can make money from those old devices by sending them to buyers such as Gazelle.com or Nextworth.com.
You can opt for them to send you cash via PayPal, a check, or gift cards for Target or Amazon.
Sell Other People's Stuff on Ebay or Craigslist
Believe it or not, there are a lot of people out there who don't know how to use Ebay or Craigslist.
That's where you come in!
I bet you have plenty of friends who would like to sell stuff they don't need, but they don't have the time or the knowledge of how to do it online. Offer to do it for them for a cut of the proceeds.
It's a great way to help out a friend. You earn money to pay off your credit card debt and your friend earns money getting rid of their stuff.
Everybody wins!
Make Money From Home Selling Baked Goods
I've known quite a few people over the years who made money selling baked goods from home. If you have a talent for baking or have some killer family recipes, this is a great one for you!
Baking sweet treats doesn't take a lot of money to get started, and if your concoctions are good, you'll always have repeat customers!
Here's a detailed post about how to earn money selling baked goods for a profit:
How to Make Money Baking From Home- Money Making Idea #18
Volunteer for Overtime at Your Job
This is another easy way to make money because it's something you're already doing. If your workplace offers overtime on a regular basis, make sure you volunteer for it. Then when you get paid, apply all your overtime earnings to paying off your credit card debt.
Cutting Grass and Landscaping
This is an old standby a lot of people use to make money on the side. You don't even need equipment if your clients have equipment you can use! Of course, if you don't have your own lawn mower or trimmer you'll probably need to charge less.
A great advantage of making money this way is that it's a great word of mouth business. If you do a good job, your clients will recommend you to their friends.
You can also increase your income by offering landscaping services. You'll make more money for paying off your credit card debt and have happier customers to boot!
Painting
All you need for this gig is some rollers, paintbrushes, masking tape, and a few drop cloths. You can easily make a few hundred dollars painting home interiors.
Just like cutting grass, if you develop a good reputation, your clients will tell their friends and you'll have plenty of work to do!
There's not a lot of upfront costs if you do it right. Just have your clients give you a deposit on the front end to pay for the paint, with the rest due after the job is finished.
Shoveling Snow to Pay Off Credit Card Debt
For this money making opportunity you'll need to be physically fit (unless you have your own snow blower). Of course, how much you can make depends on where you live and how often it snows.
Making money this way can either be feast or famine. You'll have to work hard when the snow comes, but it may be days or weeks before your services are needed again.
Cleaning Houses
Cleaning houses is an age old standby for making money on the side. It doesn't take a lot of special skill and only a small investment in some cleaning supplies.
Depending on the size of the house you could make upwards of $100 or more every time you clean a home. Clean enough houses and you'll have your credit card debt paid quickly!
Money Making Idea #13- Start a Cleaning Business
Detailing Cars
Some people just don't have the time or motivation to keep their car clean. But that's ok because a lot of those people are willing to pay someone like you to do if for them!
To get started you'll need to buy some supplies (they don't cost a lot) and work up some prices for different levels of service. You'll be able to make anywhere from $50-$100 per car and get repeat business if you do a good job. I wrote a post a while back with plenty of tips for getting started, how to find business, and how much to charge.
Money Making Idea #3- Detailing Cars
Cleaning Gutters
Cleaning gutters tends to be seasonal work, but at the right time of the year it can be quite lucrative. All you need to start is a ladder and a willingness to get a little dirty.
You could also offer this as an add-on service to a lawn care and landscaping business.
Putting Up Christmas Decorations
This one's also seasonal. But if you have a few free weekends you can do pretty well putting up Christmas decorations for those who don't want to do it themselves.
Just remember to price in taking down the decorations after Christmas is over.
Using Fiverr to Pay Off Credit Card Debt
Fiverr is a great way to make money online. The basic concept is that you charge $5 to do a specific task for someone. There are literally millions of things you can do that are simple and easy to accomplish for $5. Here are some examples of tasks you'll find there:
Have a voiceover done in an Irish accent
Record a voicemail greeting as Donald Trump
Have a fun logo created
Upload an original song or written work
And a million others both serious and silly.
The neat thing about Fiverr is that you have the ability to upsell add-ons to your gig to make additional income you can use to pay off your credit card debt faster.
Rent Out Your Garage
Got an empty garage? Charge your friends and neighbors to store their stuff there. You can charge the same or less that a storage facility would, but for you it's pure profit!
Renting out space in your garage is a great deal because you'll have a steady income month after month without having to do any work.
How easy is that?
Rent Out Your Driveway
If you live near any kind of venue such as a football stadium or concert arena, you can rent space in your driveway during each event. Depending on the rates in your area you'll get anywhere from $10-$30 per car. Hope you have plenty of room for parking!
Be a Tutor
If you have any specialized knowledge you can make money as a tutor. If you were a math or English major in college, this could be right up your alley!
Also, there are people that could use help with fields as diverse as computer programming and foreign languages. There are plenty of opportunities available if you know where to look.
First, ask around at your local schools. There are always parents needing a good tutor for their child that struggles in a particular subject.
There are also several online sites you can use for tutoring.
The pay varies depending on the website and subject. Some jobs also require certifications or degrees for some subjects. Here are some tutoring sites you should check out:
You can actually make pretty good money tutoring!
My wife Angie is a 5th grade teacher and tutors in her spare time for $40-$50 per hour. Saving up thousands in tutoring money allowed us to pay cash for our leather living room sectional and chairs just a few months ago!
You may not be in the market for furniture, but tutoring will definitely help you pay off your credit card debt for good!
25 Best Side Hustles for Teachers to Make Extra Money
Do Odd Jobs Posted on Craigslist
Craigslist has Jobs and Gigs sections where you can find any number of ways to make money to pay off your credit cards. You'll find everything from odd jobs to gigs requiring specific skills such as nursing, real estate, and software engineering.
You can also use Craigslist in conjunction with many of the suggestions above to find people looking to hire you for tutoring, yard work, gutter cleaning, and any number of jobs not listed here.
Quick and Easy Ways to Pay off Credit Card Debt are Everywhere!
As you can see, the sky's the limit when it comes to finding quick and easy ways to make money to pay off your credit card debt. It doesn't matter if you're an unskilled laborer or a white collar professional, there is always a way to make extra money when you need it.
Remember though, the best thing you can do when you finally decide to pay off your credit card debt for good is to cut'em up and go naked with credit- you'll be glad you did!