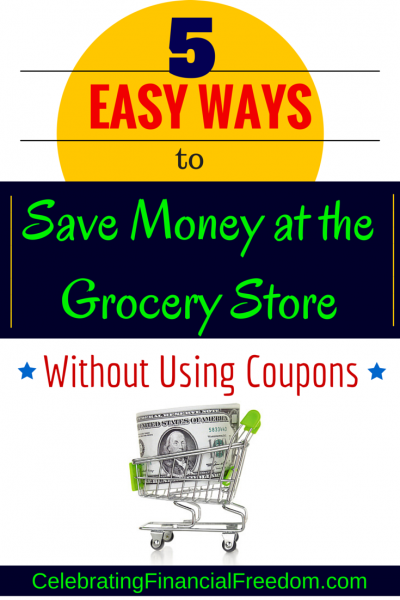 Saving money at the grocery store is a great way to use your money more efficiently. Most experts (me included) recommend that your food budget should be between 5-15% of your take home pay. This includes groceries and eating out combined.
My family and I typically stay within that range, and we don't feel deprived at all. In fact, we eat very well!
However, I know plenty of people who spend much more than that on food. They would absolutely cringe at the thought of keeping their food budget under 15% of their take home pay. But from what I've seen, many times this is one of the main items contributing to their overspending problems.
How Much Do You Spend on Food?
One thing that I typically see when reviewing spending habits with someone is that spending on food is usually out of whack. Most of these people are not doing a budget, so they really don't know how much they're spending on food.
The result is a lot of wasted money that they could save instead.
Once they start keeping track of their finances, they are usually shocked. They realize that with just a few tweaks they can save quite a bit of money every single month that can go toward savings, paying off debt, bills, or whatever else they need.
5 Ways to Save at the Grocery Store Without Using Coupons
So that's why I decided to write this article. I want to show you just how a few new habits can help you save lots of money on your grocery bill. It doesn't take a brain surgeon to save money on groceries, but you would be surprised how many people don't make the effort. They end up spending much more than they should and wasting money that could be better used elsewhere.
Best of all, you don't have to waste hours of your time searching for coupons for stuff you wouldn't normally buy if you didn't have a coupon to begin with!
So without further ado, here are my top 5 tips to save money at the grocery store without using coupons:
Shop at the Right Grocery Stores
I've always been amazed at the difference in price between the different grocery store chains. I've seen the exact same items vary by as much as 75% between different stores. That includes store brands as well as name brands.
Many times the more expensive stores will run better specials on some items, but even those prices don't always compare well with the regular price at the cheaper grocery stores.
Personally, I like to do most of our shopping at Sam's Club and Wal Mart for our groceries. They seem to have the best prices I can find in our area.
Click her for a great article from "The Penny Hoarder" on how to save big at warehouse stores.
Change Up Dinner
Dinner is usually the most expensive meal of the day, but it doesn't have to be a major production. Instead of fixing multiple dishes to fill up your family's plates, save your money and do something simple. You could fix a large casserole, a chef's salad, or even have breakfast for dinner. Using cheap, simple ingredients in simple dishes can save a lot of money on your grocery bill if you do it several times a month.
Use Cash
I've always advocated using cash or debit card for everything. Groceries are no different. When you plan your grocery spending as part of a written monthly budget, you simply will not overspend on groceries.
However, when you use a credit card to pay for groceries (or anything else) studies show that you tend to spend 12-18% more than you would have if you had used cash. Also, if you carry a balance on your card from month to month like most people, you're paying interest on your groceries as well.
Credit cards are a major money waster, even if you pay them off every month.
Financing your food is not cool.
Buy Store Brands
Store brand foods are comparable in quality and taste to brand name foods. In fact, studies prove that most people can't tell the difference between most generic and brand name foods.
When you make it a habit to reach for the generic foods on the grocery store shelf, you will save anywhere from 10% to as much as 60% on those items. Your kids won't know the difference if you don't tell them.
Make a List and Stick To It
Always make a detailed grocery list of everything you need before you go to the grocery store. Once you get to the store, stick to the list. Don't be swayed by a special or sale unless it's for something that's already on your shopping list.
Many times these sale items are at eye level or on an end cap. Grocery stores are set up to get you to make impulse buys and purchase more profitable items, which serves to increase profits for the store. There's nothing wrong with that. But when you're a savvy shopper you will be able to avoid the influence of their marketing and buy only the items on your list.
It's All About Developing Better Habits
Saving money at the grocery store is all about developing good habits. Too many of us go to the grocery store without a list and allow the sophisticated marketing of the grocery retailers take over our brain while we're there.
That can be a recipe for disaster; or at least a lot of wasted money.
It doesn't take a lot of effort or sacrifice to implement some of these behaviors into your grocery shopping. But when you do decide to start these new habits your grocery money will go much farther, and that's a wonderful thing!
Question: Do you do anything special to save money at the grocery store without using coupons? Leave a comment and share it with me and the rest of the CFF community.