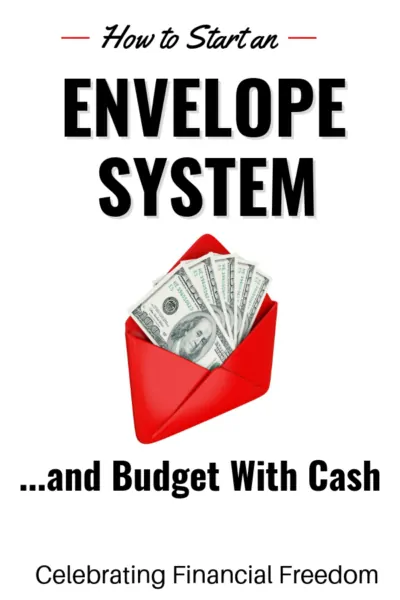 Starting an envelope system along with a consistent monthly budget is absolutely the best way to operate your finances, period. If you consistently have trouble knowing where all your money goes, and having the discipline to keep from spending too much, then using an envelope system (along with a detailed budget) to manage your finances will get you on the right track financially and keep you there.
Best of all, it's not as complicated as you think.
In today's post I'll show you:
How the envelope system works
Why you need it
Apps you can use
A tutorial video
Plus a FREE cash envelope worksheet template PDF download.
Scroll further down for the video and worksheet template.
What is the Cash Envelope System?
The definition: the envelope system is a simple way to distribute cash from your monthly budget to use for your daily expenses. You place cash in an envelope for each category of your budget to spend throughout the month. When the cash is gone from the envelope, you don't spend any more on that category.
For instance- if you budget $300 for eating out this month, you will put that amount in your "Restaurants" envelope. Every time you eat out, you use the money in that envelope to pay the bill.
If you use all the money in that envelope before the month is up, you don't go to a restaurant until you complete your next monthly budget and replenish the envelope. It's a simple way to ensure you never spend more than you make!
You should use envelopes for frequent expenses in your budget, such as:
Groceries
Restaurants
Gas
Haircuts
Clothing
School supplies
Gifts
Entertainment
Cosmetics
…anything else you frequently spend money on
Why The Cash Envelope System Works
One of the biggest problems I see with people who are in debt is that they don't have complete knowledge about how much they spend. The result is that they spend more than they make month after month using credit cards and other debt. Doing this for years on end eventually results in huge amounts of debt.
My friend Jeremy Biberdorf from ModestMoney writes, "If you are constantly having to borrow money to make ends meet at the end of the month, you are not budgeting effectively. This suggests that you are living a lifestyle which is beyond your means. You need to adapt your lifestyle so that your spending is realistic."
This is where the envelope system works best.
When you can account for your money accurately, and spend only cash for your daily living expenses, it allows you to live within your means and never spend more than you make.
Debt and credit cards will be a thing of the past!
Common Myths About the Cash Envelope Method
Before I show you how to start using the envelope method for budgeting, I'd like to dispel a few myths that keep many people from ever getting started:
It's Complicated- A budget, along with using a cash envelope system, is really pretty easy. When it comes down to it, it's just 3rd grade math. The hardest part is just learning to do things differently and develop new habits. The first few months will be weird. But when you stick with it, the envelope system becomes your normal mode of operation.
Isn't It Dangerous To Carry Cash?- It's no more dangerous than carrying credit or debit cards. If someone wants to steal from you, they will do it no matter what form of money you carry.
Do I Have to Save Up a Bunch of Money to Start an Envelope System? Absolutely not! You use the money from your current paycheck to fund your envelope system.
What If You Don't Like to Carry Cash? Use These Envelope System Apps
Although carrying cash is just fine (it's what I do), I realize that some just don't want to do it.
If you're dead set against carrying cash in envelopes, you do have options. There are several apps available that make using the envelope method easy using an electronic virtual envelope system.
The top apps that I and my personal finance blogger buddies recommend, are:
Goodbudget– Free to start, pay for more features
Mvelopes– Free for the first month, pay for more features
EveryDollar– Free for limited features, pay for advanced features
Each of these apps are free to get started, but to use the advanced features you'll need, there is a cost involved. However, if you don't like carrying physical cash, you may find the cost is worth it.
How To Start Using the Cash Envelope Budgeting System
Here's my tutorial video showing you how to implement your cash envelope system. Below the video, you will find a link to my FREE PDF envelope system worksheet template, as well as the budgeting worksheets I mention in the video.
Click here to download my FREE Envelope system worksheet template
Click here to download my FREE Budgeting worksheets mentioned in the video
Now let's start with the "how to" part of beginning your own cash based envelope system:
Start With a Budget
First, you should be doing a monthly, zero based budget. This allows you to account for every dollar coming in and every dollar going out.
It's a forward looking plan for the month ahead that allows you to get total control of your money and never spend more than you make. It's a way to spend all your money on paper before you spend it in the real world.
Once you've been paid and done your written budget, you now have a game plan for how you will spend your money for the month.
If you're not doing a budget yet, you can find all my posts on budgeting here.
You can find my free budgeting forms (complete with instructions) here.
For more comprehensive teaching on budgeting, check out my book here
Now Pay Your Bills
Once your budget is finalized on paper, then pay all your regular bills. Most people don't normally pay cash for things like the phone bill, electric, water, cable, mortgage/rent, and so forth. Just pay these as you normally would by:
Using the electronic bill pay feature on your bank's website
Sending in a check
Using a debit card
I usually pay our bills and our tithe every month through our bank or with a debit card.
Figure Out Which Budget Categories Require Cash
Obviously, you don't have to use cash for every budget category. Just make a cash envelope for those that you will need on a frequent basis such as groceries, restaurants, gas, entertainment, clothing, cosmetics, etc.
It really doesn't matter what categories you make a cash envelope for, as long as you define those categories ahead of time.
Add'em Up and Write a Check
Once you know which budget categories you want to use cash for during the month, get out some envelopes and label each one with a specific category.
Next, add up all those categories and get a grand total of how much cash you will need to get from the bank to put in your envelopes. Then withdraw that cash from the bank and fill each envelope with the amount designated in your budget.
Now you have the correct amount of money in each envelope, and you can start spending that money as you need it throughout the month.
By the way, I prefer to use size #6 envelopes because they're just the right size for cash. You can even buy size #6 envelopes here if you like.
Be Careful!
Remember, the cash in your envelopes has to last the entire month! So spend it judiciously and make sure you don't use it up too quickly. If you spend all the money in an envelope, that's it for the month, so make it last.
If you spend all your restaurant money in the first week, you will be stuck eating leftovers at home until next month, so pace yourself.
No Stealing From Your Envelopes
If one of your envelopes does run out of money, you might be tempted to "steal" money from another envelope. Beware, that will bite you in the behind because then you won't have enough in the envelope you stole from.
It's a vicious cycle that you don't want to get started. If an envelope runs out of money, you may want to reevaluate when it's time to fill out your next monthly budget and add to that category if necessary. Remember, no stealing, discipline is the key!
What If You Have Extra Money Left Over?
If you have a little extra money left in an envelope at the end of the month, that's great! It shows that you used discipline in your spending. You can leave that money in the envelope to get a head start on next month. Or you can spend it on a special treat if you like, it's totally up to you!
If you have a lot of money left in an envelope, you should probably tweak your budget next month because you overestimated how much you would need. If you have a lot of money left, I would recommend putting that in savings or leaving it in the envelope to get a head start for next month.
What About Non-Monthly Bills?
If you have a bill you pay every 3 or 6 months, such as car insurance, you can split that bill into monthly increments and place it in an envelope you keep in a safe place.
For instance, if your car insurance is $600 every six months, then put $100 each month into an envelope labelled "Car Insurance". Then when it comes time to pay that bill you have the money available to pay it in full without having to scramble and figure out how to pay such a large expense.
Easy peasy!
Using an Envelope System Just Flat Works!
When you start your own envelope system and use cash to fund your lifestyle, your finances just make more sense. Even better, you will never again spend more than you make!
It's really not all that difficult to do once you start making the effort. Yes, it's a little strange at first, just as it is anytime you're starting a new habit. But you will find that the more you do it, the more natural it becomes, and eventually you'll wonder why you ever handled your hard earned money any other way.
So go ahead, get started with your own envelope system today if you haven't already.
Your wallet will thank you!
Questions? If you started using the envelope for budgeting and you're having trouble, shoot me an email. I'll be happy to help you out in any way I can!