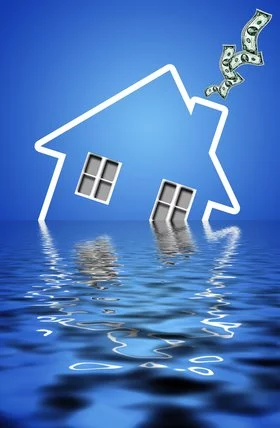 There has been a lot of talk about houses being under water over the last few years since the real estate market went bust. Today I want to talk about just what under water means, and what it means for you.
What Does Under Water Mean?
The term under water (synonymous with the term upside down) simply means that you owe more on your mortgage than the house is actually worth.
Easy right?
Unfortunately, for the millions of homeowners who are upside down on their home, they know all too well that it's not nearly as fun as hanging upside down from the monkey bars on the playground.
How Do You End Up Owing More than Your House is Worth?
So how do so many end up owing more than their home is worth? Sometimes, it's simply because you didn't do your research and overpaid for the house. But more often, it's one of the following scenarios:
You Got a Terrible Mortgage
If you got a mortgage that required little to no down payment, you started out with no equity in the home. It's likely that you're paying off the interest first before any equity gets paid. Therefore, it can be years, even over a decade before you build any equity. The result is, you owe more than the house is worth for many years until you start building equity on the tail end of the loan.
You Got a Home Equity Loan
This is probably the most popular reason why homeowners end up upside down on their mortgage. Maybe you were trying to pay off some debt, or maybe you wanted money for home renovation, so you went to the bank and got a home equity loan.
Now, in addition to your mortgage, you owe a chunk of money on your home equity loan too. In this scenario, it's extremely easy to owe more than your house is worth. Combine a home equity loan with an zero down payment or interest only mortgage, and you have a recipe for disaster!
What To Do If Your House is Underwater
So now that you understand how it happened, what can you do if your house is under water? Here are four things that can help you if you're stuck owing more than the house is worth:
Take the Long View
If you have found yourself in an underwater situation with your mortgage, the first thing you should do is take a deep breath and don't panic.
Panic and desperation will always cause you to make bad decisions that can haunt you for years to come. Make sure to consider all your options and get wise counsel that will help you determine what the best course of action is.
By all means, don't let someone convince you that just because your home is under water, you're in a hopeless situation. Sometimes home prices go down in value. It will recover, and so will you.
When you're having financial issues and making the mortgage payment is difficult, working your way through the process may not be easy, but it will be worth it once you're done. Just remember to take the long view and realize that this too shall pass.
Question: Have you had any success dealing with a home that's under water? Tell me about it in the comments.
Send this article to a friend
Resources:
Is Buying a Home a Good Investment?
You Definitely Don't Need a Credit Score
Video: Walking Away From Your Mortgage
4 Awesomely Encouraging Bible Verses for Your Finances