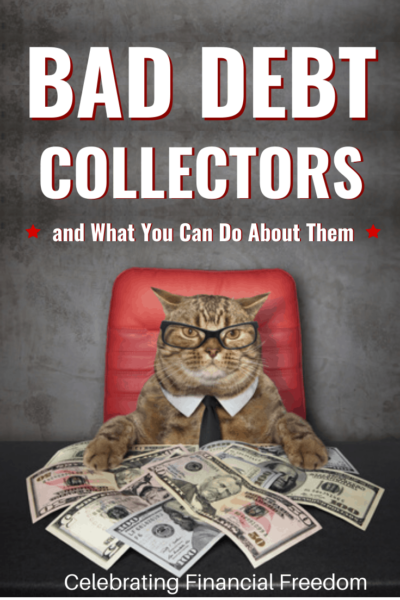 Dealing with debt collectors is no fun.
Dealing with a bad debt collector can be downright terrifying.
When you have a bad debt that has gone to a collection agency it can be very easy to want to avoid the pain of the situation or even totally ignore it when you know you can't possibly pay it. That's why some debt collectors of will do everything they can to get your attention, even if it's illegal.
Most debt collection agencies are legit and strictly follow the rules set forth by the FTC (Federal Trade Commission). However, there are plenty of bad debt collection agencies out there that are willing to do whatever it takes to collect an overdue debt.
Bad Debt Collectors Can be Over the Top
Some of them even resort to threats of arrest and jail, even telling people that the police will be on their way if they don't pay their outstanding debt right now. Some of these jokers have even taken to harassing people on Facebook, on the telephone, and through email.
But some of the worst have gone so over the top as to threaten bodily harm, foreclosure on the debtor's home, and even threatening to exhume the body of a deceased girl whose funeral expenses had gone unpaid.
Obviously, those tactics are ridiculous and illegal, but it happens so much that the FTC received over 180,000 complaints about abusive debt collectors in 2011, a large increase over previous years.
So what can a debt collector legally do to attempt collection of a bad debt?
What can you do if they don't follow the rules? First you have to know what the rules are.
Let's talk about what a debt collector can't do first.
Being harassed about a bad debt? Here's what you can do (and what they can't)
What a Debt Collector Can't Do
According to the Fair Debt Collection Practices Act,
They are not allowed to threaten bodily harm (unless you borrowed money from the mob, then you're playing by Vito's rules).
They cannot have you arrested. There is no such thing as debtor's prison anymore.
Debt collectors can't take your home or threaten to take your home.
They can't publish or reveal to anyone else that you have an outstanding debt.
They can't threaten to take away child custody.
Debt collectors can't have you deported.
They can't call you before 8:00 am or after 9:00 pm
They can't call you at all if you asked them in writing to stop, or if you've hired an attorney.
What to do If You're Being Harrassed by an Aggressive Debt Collector
If you're being harassed by a debt collector in these ways, you do have options available to you to fight back and eliminate that bad behavior. Check these out:
You Can Do Something About It
Hopefully, you'll never have to deal with aggressive debt collectors. But if you do, the knowledge you've gained here may come in handy and help keep you from added despair.
Of course, if you need to fix your financial problems, and you're sick and tired of that debt dragging you down like a Mr. T necklace on a 98 pound weakling, maybe it's time to say "I've had enough!", stop the excuses and do something about it. My "Celebrating Financial Freedom" online get out of debt course is available here. You won't regret it.
Question: Have you ever had a debt collector threaten or harass you? Leave a comment and tell me about your experience.
Resources:
4 Smart Moves to Achieve Financial Peace of Mind
How to Find the Time to Make More Money- Gain 10+ Hours a Week for Your Side Gig