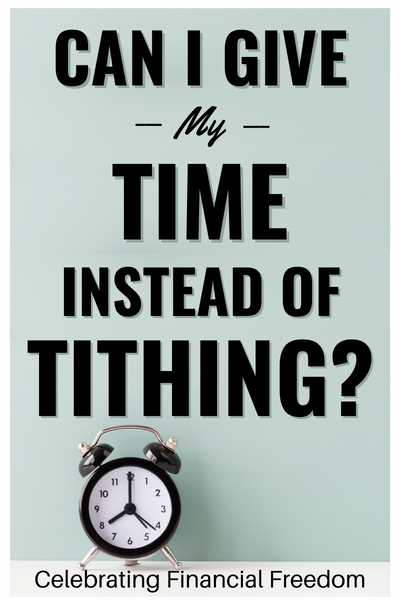 Here at CFF, we teach that the first line-item on your budget should be tithing. Why? Because the Bible tells us to give out of our first fruits. One thing I've also discovered is that consistently generous people do a better job managing money. But is there anything you can do instead of tithing if money is tight?
If you're a practicing Christian, you should at least be familiar with tithing, even if you don't do it on a regular basis. If you are a tither, you might notice occasionally (just like non-tithers) that some months your budget is tighter than last month. This makes it a little harder to let go of that tithe money that you could use for bills instead of tithing.
Maybe you're experiencing a cash crunch brought on by high inflation, difficulties at work, unexpected expenses, or quickly rising gas prices. If there is just no cash left, you might be asking yourself: Can I really afford to tithe? Money is tight, can't I just give of my time instead of tithing?
These are common questions, but what is the best answer to ensure you're doing the right thing? How can you be a generous giver and tither, even when money is tight?
Tithing and Serving are About Worship
Tithing money and giving of your time are excellent ways to give. They each have their own unique way of blessing you as well as others.
Serving Instead of Tithing
Serving is a form of worship using your time and talents to help your community, church, or individuals. It's about connecting with other people and making their lives better however you can. Whether it's picking up trash, serving the homeless, or performing maintenance on your church, God calls us to serve.
1 Peter 4:10: Each of you should use whatever gift you have received to serve others, as faithful stewards of God's grace in its various forms.
Philippians 2:3-4 …in humility value others above yourselves, not looking to your own interests but each of you to the interests of the others.
When we serve each other in God's name, we are worshipping and glorifying Him. This is just one of the things God calls us to do to serve Him well. But it's not the only thing required of believers.
Tithing
Tithing is also an incredibly important part of worship. It helps you understand on a deeper level to trust God instead of money.
Matthew 6:24– "No one can serve two masters, for either he will hate the one and love the other, or he will be devoted to the one and despise the other. You cannot serve God and money."
When you become a tither, you gain an understanding of how God really works. You may know what His word says about tithing, but actually giving the tithe and trusting God to uphold His word takes you to a much higher spiritual level.
Building a long-term track record with God by showing you trust Him more than money has incredible benefits you can't get any other way.
It all Belongs to God
As believers, we understand that all our money belongs to God. He supplies us with everything we have, and He only asks us to return 10% to His church. Of course, God doesn't need your money- He wants you to tithe because it changes your heart to focus on trusting Him above all else. It's about being obedient to God's word, which ultimately causes your life to prosper. So, it's not a matter of whether to give time instead of tithing. God wants us to do both.
Giving your time should not be done instead of tithing, it should be in addition to tithing.
Tithing is Not a Salvation Issue
God ultimately wants your heart over your money. Giving your money is an outward action that shows the condition of your heart. It develops you spiritually on a deep level, teaching you to trust God in every way.
You certainly won't go to Hell if you don't tithe. But you won't reap the extraordinary benefits of tithing either.
What if You Need to Stop Tithing?
Sometimes when things get tight financially, it may seem like a good idea to catch up financially instead of tithing for a while. It would be so much easier if you could just use that money to catch up on your bills, right?
Never let the fear of lack keep you from trusting God to be true to His word. You can trust Him with everything, especially money! You'll be amazed at how God blesses your obedience with His provision when you continue to tithe, even during the tough times.
Luke 16:10 shows us how He honors that trust: "Whoever can be trusted with very little can also be trusted with much." If you trust Him with managing the little you have properly, he will always trust you with more.
Luke 6:38 Also describes the benefits of tithing. "Give, and it will be given to you. A good measure, pressed down, shaken together and running over, will be poured into your lap. For with the measure you use, it will be measured to you."
When it Feels Difficult to Give
Are You Doing a Budget?
When you don't know where all your money is going, you're wasting it. Money is a tool for you to use and control, you should never let it control you!
Getting total control over every dollar you make is an extremely important part of being a good steward of what God has provided. In fact, when you have a detailed plan (a budget) for how you will spend your money in the month ahead, you'll almost always find you have at least a few hundred dollars you didn't know you had!
We are commanded to give of our first fruits, so budget giving first, before you set aside anything else. If you try to give out of what's left after your expenses, you'll never be effective at tithing.
Managing your money well always causes you to have more of it.
You Need to Increase Your Income
If you're doing a detailed, forward-looking budget and finances are still tight, you may have an income problem. Finding ways to decrease spending (within reason) or increase your income go a long way toward making giving the priority it should be.
Getting a little overtime at work, starting a side hustle, or developing new job skills are all great ways to increase your income. The more you develop your income streams, the more you can provide for your basic needs, financial goals, and tithing too.
Tithing is the Baseline for Giving
Remember, tithing is the minimum requirement God's word sets for giving. The Bible also encourages us to give generously over and above the tithe when we have an excess. And when you're a good steward of what God has provided, you'll eventually have more to give!
If you just can't give of your income because you're going through a tough time, then giving your time is a good alternative. However, you should never see it as a substitute instead of tithing.
There is nothing more fun than being able to give generously. Whether you give time or money (preferably both!) God will trust you with more, and you will learn to trust God more, reaping the incredible benefits God's word promises!