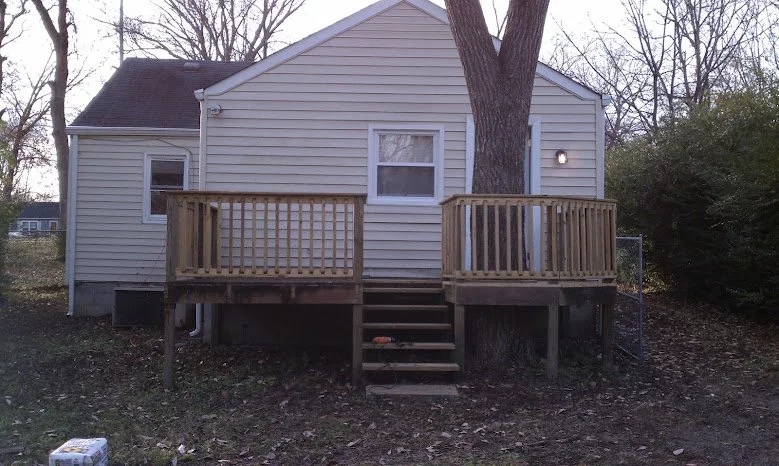 Welcome to episode 4 of the "I Bought a House" odyssey (Read part 1, part 2, and part 3). So far I've invested a total of $48,873 for the house plus closing costs, new windows, gutters, and demolition of an outbuilding.
Things are coming along pretty smoothly and now it's time to have the house's interior painted and the deck rehabbed.
Painting and Pressure Washing
This is a pretty old house so the walls and trim had a lot of dings and rough areas from 70 years of use that needed to be smoothed out in preparation for painting. My painter Joey and his crew got to work and got the whole house prepped and then painted in the colors I chose. They also pressure washed the vinyl siding, the deck, and the porch.
Now the place is starting to shine!
Total estimate for painting and power washing: $2,175
Total spent: $2,175
This House Had a Weird Deck
Next up is the deck. This deck was old and weird looking. There were some old rotting floorboards and broken supports, but the overall structure was pretty solid. However, this deck had some serious quirkiness goin' on.
First, it had been built around a tree… many years ago. As we all know, trees grow and get bigger over time. So this growing tree had actually grown so much that it had separated the boards of the deck from each other and made the deck very unstable.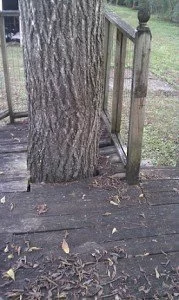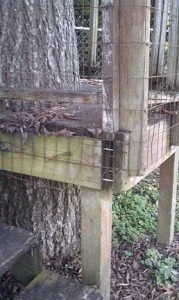 So to fix that, a larger hole had to be cut for the tree so the separated boards could be nailed back together again. That side of the deck was also sagging so it would have to be propped up and additional supports added.
Another issue was that the deck was joined to the house with only a 2×4. That's obviously not to code and could be dangerous if too many people were on the deck at one time. 2×6's would have to be added to make it safe.
Probably the biggest issue though, was just that this deck was ugly as sin. Sometime in the past, someone decided that putting up wire fencing as a railing was a good idea. It even had a gate made of wire that you could close if you hooked it over a nail sticking out of one of the posts.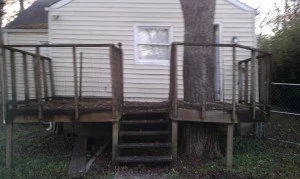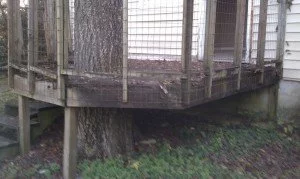 Very safe, and especially kid friendly… NOT!
So my decking contractor Jamie and his assistant gave me a list of supplies. I had them ready at the site early on the morning the work would be done.
The New Deck Looks Great!
Fortunately, while getting supplies I was able to find some pre-made railing sections at Lowes that looked great and would save a lot of labor cost for this deck rehab.
The guys got started early and really went hard at it all day long. They were extremely hard workers and didn't slack off for one minute the entire time which allowed them to finish the entire deck rehab in just one day. Jamie had promised me it would get done in one day and I was glad to see that he lived up to his word.
Awesome!
The rehab came in under budget (which is starting to get back on track) and the place is starting to shine! The house now has a much nicer looking deck that's also safe to stand on. Best of all, I now know I have decking contractors that are reliable and good at what they do, so if I decide to do this again I'll know who to call.
Now For the Totals
As of the last post I had spent a total of $48,873. Add to that $2,175 for power washing and paint, as well as $650 for rehabbing the deck. So now we have a grand total of (drumroll please):
$51,698 !
But wait, I'm not done yet.
In the next installment I'll tell you about my epic struggle with a plumbing issue and whether or not it ends up derailing the whole project.
Click on over to find out what happened
Read the entire series about my house flip here
Read my series on investing in a rental property here