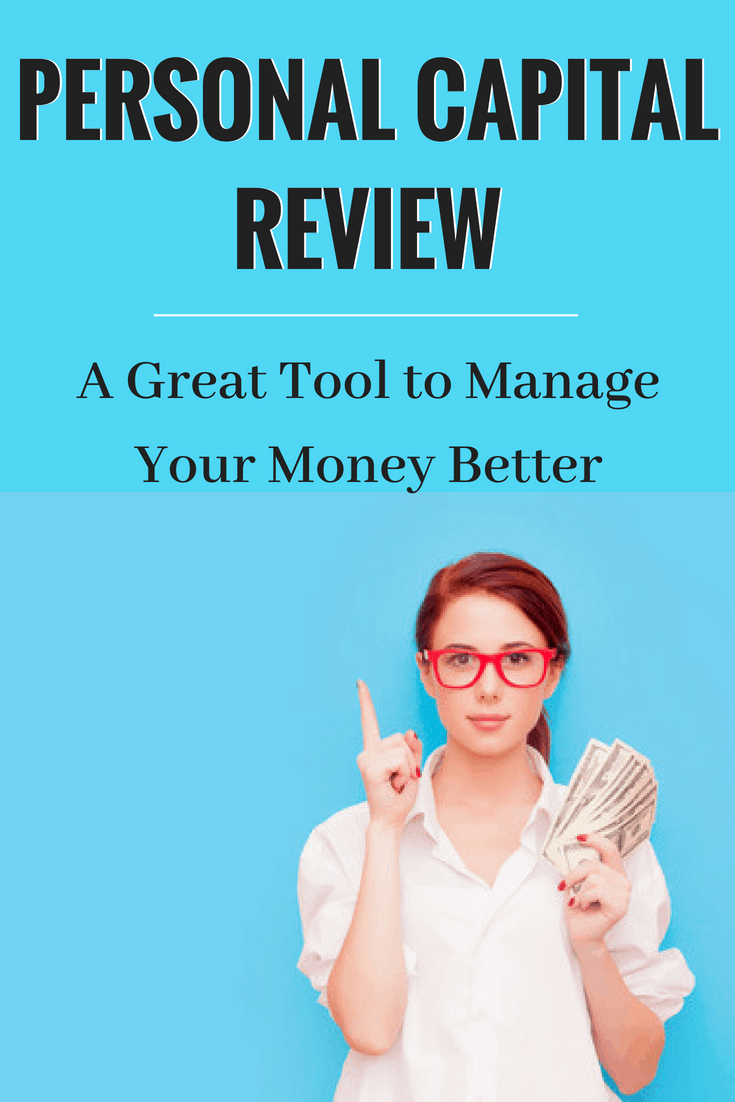 The following is a review for Personal Capital- which I believe is the best personal finance tool to help you get complete control of your finances. For years I've wanted to find an easier way to manage my money better. My goal was to be able to manage all my financial information in one place. I seriously hate having to go to one website for my bank accounts, another for my investments, and yet another for my real estate investments. It's extremely inconvenient to have all this info in so many different places!
So, a few years ago I went on a quest to bring all my financial information into one central location and manage it from there.
Eventually, I discovered Personal Capital.
Personal Capital is a popular app for aggregating and managing all your financial information into one place. It's free to download and use. Also,Personal Capital also has a premium paid service available to help manage your investments for you.
In this article I'll review Personal Capital. I'll show you its best features, how they work, and how these features can help you reach your financial goals in a way that no other personal finance app can.
Manage All Your Financial Accounts in One Place
If you're like me, you have bank accounts, mortgages, investments, and other financial information stored in various places all over the internet.
Unfortunately, that's not very convenient.
If I want to get a complete snapshot of my finances, I have have to go to 8-10 different websites to find it all.
But with Personal Capital, you can consolidate your info into one convenient dashboard. Then you can manage your entire financial life in one place!
It's pretty easy to use, but extremely powerful.
When you have all your financial information in one central location, you can do a much better job keeping track. You'll also be able to make much better financial decisions.
Learn More About Personal Capital
Personal Capital
Personal capital is used by over 1.6 million people to manage their finances. There is a popular free version available for anyone to use. There is also a premium paid version offering direct management of your investments by a professional, among other services.
The Free Version
Personal Capital's free version offers a convenient dashboard where you can connect to all your financial service providers (investment brokers, mortgage companies, bank accounts, etc.).
You simply use the Personal Capital's secure interface to access your information. Then you pull it over to your Personal Capital dashboard, where it updates automatically every day.
Using that information, you can get an automated customized analysis of your finances. Then you will receive recommendations based on your unique information.
Here's a screenshot of the Personal Capital dashboard: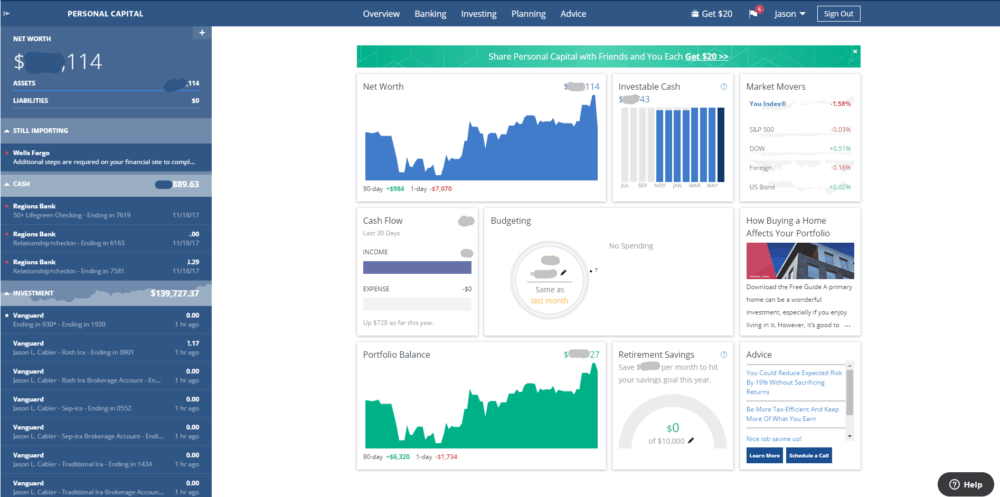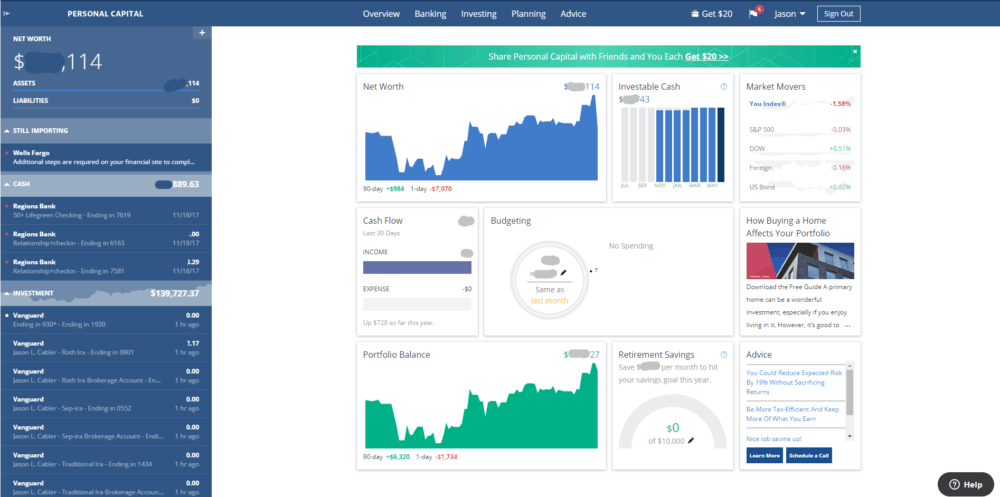 Personal Capital- Manage your all your financial accounts in one convenient dashboard. Best of all, it's FREE! Read the review here:
Some of the information they provide:
Are You on Track for Retirement?
Personal Capital has an awesome retirement planning tool. See if you're on track for retirement based on where you stand right now. You can run different scenarios such as how saving for college, a major illness, or having a baby, might impact your long-term retirement plans.
The Retirement Planner also includes social security benefits into your analysis, as well as how much you plan to spend in retirement.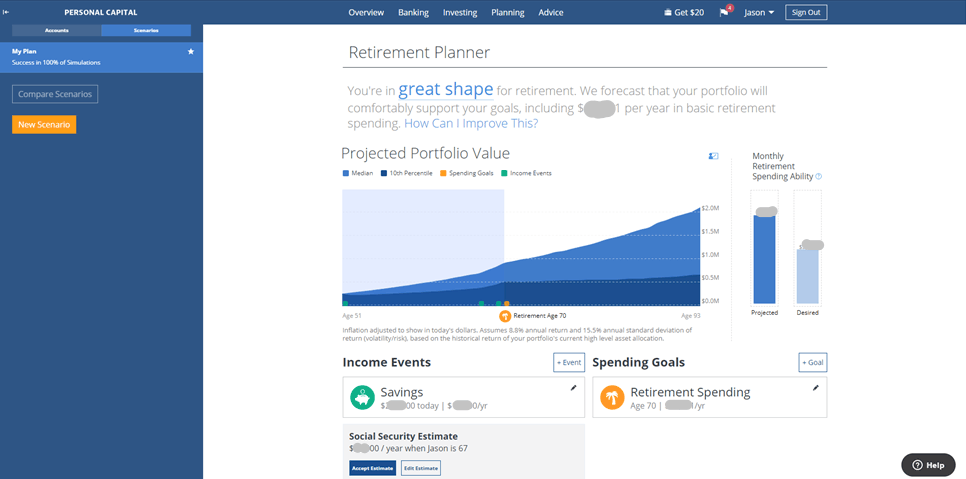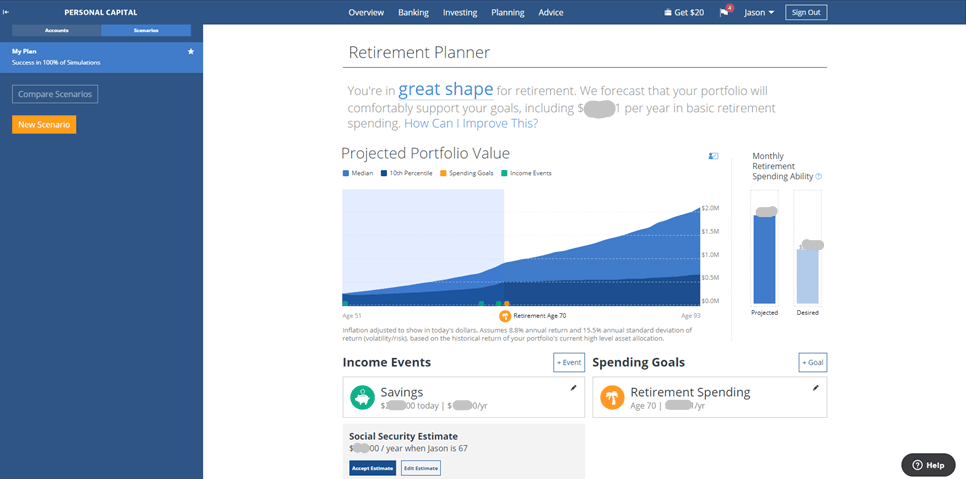 Calculate Your Net Worth
Your net worth is automatically calculated and always visible on the upper left corner your dashboard. Watch your net worth grow over time.
Investment Checkup
This tool analyzes your investments, giving you automated, detailed advice to help you find better ways to achieve your investment goals.
Hidden Fees
Hidden brokerage fees hurt your returns over time. In fact, high fees can delay your retirement. Personal Capital's Retirement Fee Analyzer shows you every fee you're paying to your broker, helping you completely understand how much you're really being charged. You'll also get suggestions on how to reduce those fees so you can have more for retirement.
Your Own Personal Advisor
Once you sign up, you'll be assigned your own personal financial advisor. You can schedule a call with your advisor to review your investments and get needed advice.
My advisor contacted me by email just a couple of hours after I signed up! His name is Adam. I haven't had a chance to talk to him yet (I've been busy writing this post!) but I'm impressed with the human touch. It's rare for an online platform to offer professional advice from a real human being for free!
Learn More About Personal Capital- It's FREE
Additional Features for Managing Your Money
Not only does Personal Capital automatically analyze your investments, it also empowers you get more customized insights into your daily money habits.
These awesome tools help you manage your money on a daily basis to help you have total control over how your money flows.
Budgeting- Set monthly spending goals. Automatically track them to see your progress on any given day. I'm a huge believer in budgeting, so for me this is an extremely important tool!
Cash Flow Tool- Get personalized insights into your weekly, monthly, and yearly spending habits. Find out where your money is going so you can tweak your spending as needed throughout the year. It's like monthly budget planning on steroids!
Asset Allocation- Analyze all your investments, bank accounts, etc. to see if you're well diversified.
Learn More About Personal Capital
It's Easy to Link Your Accounts
Once you set up your account on the Personal Capital Site, linking all your financial accounts to your dashboard is easy!
Simply enter the name of the financial institution you want to link to, then enter your login info for that site. In just a few seconds, Personal Capital pulls your informatinon into your dashboard automatically.
Don't worry, it's extremely safe and secure.
You Can Manually Add Financial Information Too
You may need to manually add information to your dashboard as well. For instance, I own a residential rental property which I manually added to my dashboard. Personal Capital automatically found the home's estimated value on Zillow.com, then and added it as an asset that contributes to my net worth total.
You can also add items of value such as vehicles, art, stock options, life insurance policies, jewelry, and more to accurately reflect your net worth.
Read my comparison of Mint vs. Personal Capital- Which One is Best for You?
Personal Capital Wealth Management Services
Paid wealth management services are also available at Personal Capital. You have access to personalized tools and can work with a registered financial advisor to help you manage your finances and investments more efficiently. Here are some of the benefits you can expect:
Advice on a Personal Level- you get personal access to registered financial advisors by email, video conference, phone, or chat- whichever you prefer.
Tax Optimization- When giving investment advice, your advisor will always take taxes into account. This tax loss harvesting helps you to get higher yields on your investments over time.
Expose and Avoid Hidden Fees- Traditional brokers can have a lot of hidden fees. Personal Capital has an all-in-one management fee, that is much lower than what you will find at a traditional broker.
Risk vs. Return is Optimized- Personal Capital's advisors use Modern Portfolio Theory to weight your investments to get just the right mix for maximal returns with minimal risk.
Holistic Financial Planning- They take your entire financial situation into consideration when giving advice, not just your investment portfolio.
They Abide by the Fiduciary Standard- They are required by law to act in your best interest at all times, not their own.
Learn More About Personal Capital
Signing Up for Personal Capital Wealth Management
Once you sign up for Personal Capital Wealth Management, it's a simple process to get started:
Link your accounts
Schedule a talk with an advisor where you'll discuss your financial goals.
Create Your Plan- work with your advisor to build a customized financial plan that fits your needs.


Fees
Depending on the amount of your investable assets, Personal Capital Wealth Management charges a flat fee. Here's a quick breakdown of the fees involved:
How to Access Personal Capital
Personal Capital across all platforms. Access it from your desktop or use the handy app on your Android, iPhone, iPad, or Apple Watch. The app is free and it's functionality is just as powerful as the desktop version.
Learn More About Personal Capital- It's FREE
Pros and Cons of Personal Capital
Personal Capital has plenty of great features that make it a world class platform. However, there are a few features that it lacks. Here's a list of the pros and cons:
Pros
All Your Finances in One Convenient Dashboard
Instead of trying to keep up with your finances across multiple websites, you can do it all in one place in one convenient dashboard. Manage everything from checking and savings accounts, to credit card accounts, to IRA's, 401k's, and other investments.
Budgeting Tools
Use the budgeting tools in your dashboard to keep track of your cash flow so you never spend more than you make.
See Your Net Worth
Your net worth is always there in your dashboard, giving you a complete picture of your overall wealth. Watch your net worth grow as you save and invest your money!
Analyze Your Portfolio
Assess the health of your investment portfolio with free tools, such as the Fee Analyzer and Investment Checkup.
Retirement Planning
Use the Retirement Planner feature to build a customized retirement plan.  Or you can meet with an advisor to discuss your investment goals. Either way, it's a great tool to help you work your way to becoming independently wealthy.
Save on Hidden Fees
Most brokers charge hidden fees that can cost you tens of thousands of dollars over time. Eliminating these fees can help you retire earlier. Personal Capital's Fee Analyzer helps you uncover hidden fees in your mutual funds, investment accounts and retirement accounts.
Learn More About Personal Capital
Cons
$25k Minimum for Paid Advisor Services
The paid financial advisor service requires a $25,000 minimum investment. This is not extremely high, but still may exclude some people who would like to take advantage of the paid wealth management services.
Occasional Trouble Linking an Account
Occasionally there can be a problem linking one of your accounts to your Personal Capital dashboard. I ran into this problem while linking my account from my mortgage lender. A quick call to customer service will clear this up pretty quickly.
Slightly Higher Fees
Overall, their fees are slightly higher than some of their competitors. But you get a live professional helping you out for that price. That's a benefit many others don't offer.
Also, if you just want a single convenient place to manage your finances on your own, it's completely FREE!
Is Personal Capital Right for You?
If you want to manage your money well, I believe Personal Capital is a great place to do it. When you have a place to consolidate all your financial information, that's a huge win!
Also, when you have the ability to analyze your monthly cash flow, investments, and every other aspect of your money on a regular basis, you save a ton of time and money that eventually goes right back into your pockets– and that's a great thing!
Learn More About Personal Capital