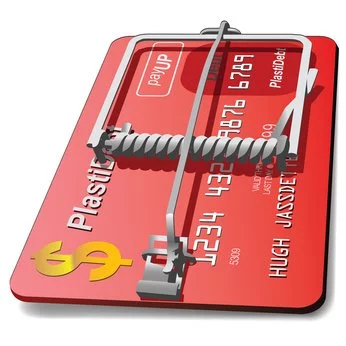 Today I might be opening up a can of worms by writing about tithing using a credit card . You may not agree with what I've written in today's post, but I'd love to hear your opinion in the comments.
If you've attended church for more than a couple of years, you've probably noticed that many churches are taking steps to keep up with technology. The goal is to stay relevant to the growing population of tech savvy people and the technologies we all use.
Some churches are way ahead of the curve technologically. But some are woefully behind. However, most are at least trying to make it into the 21st century.
Tithing by Credit Card
One way churches are doing that is by accepting tithes and offerings online and via credit cards.
Some churches will have you fill out the usual giving envelope during the service with your credit card info. and others have resorted to payment kiosks in the foyer, payment through the church website, and even automatic drafts to the member's bank account.
On the one hand this can be a great thing. Of course, I'm all for giving to the church.
I'm in favor of technology that makes life easier. Especially ones that can break down barriers to giving. Electronic giving is a great thing because it benefits both the church and the giver by making the giving process more frictionless. It's certainly easier than writing a check or handling cash. Also, it cuts way down on time spent counting the money and keeping records.
Drawbacks to Tithing by Credit Card
All those are great benefits that help churches run their operations more efficiently. That's a good thing in these lean economic times.
But I think there are also some drawbacks to using electronic payments in a church setting.
First of all, all of your donated money does not make it to the church. Credit card companies, PayPal, and other payment services typically charge anywhere from 2-4% in fees for each transaction. Even if they offer a discounted rate to the church, there are still fees.
Second, if you use a credit card, you're incurring debt by your giving. If you know what the Bible says about debt (it keeps you in bondage), you may realize that giving by placing yourself in a bondage relationship with a credit card company may not be the best way to go. Even if you pay your card off every month, you are giving out of what you don't have instead of giving out of what He's provided you with already.
Giving by Credit Card Can Overextend Your Finances
I've counseled a person in the past who was in financial trouble mostly because she did the majority of her giving with a credit card. She got way behind financially because she gave much more than she had the ability to give. It was too easy for her to feel generous when she was using money she didn't actually possess. Of course, not everybody will be irresponsible in that way, but I still think it's wise to give out of what you have instead of what you don't.
Just as research shows you tend to spend more on the average purchase simply because you're using a credit card, you may be tempted to give more as well, causing you to go into debt. I can hear some of you protesting now, "But Doc, giving more is a good thing right?" Yes, giving more absolutely is a good thing for the church and for the giver. But when you end up giving out of what you don't possess and put yourself in a bondage situation to do it, that is lacking in wisdom. Where wisdom is lacking, so are blessings.
King David knew this concept well (read about it in I Chronicles 21:18-25)
I think the best ways to give are:
Cash
Check
Debit Card (by filling out a slip and putting it in the offering during the worship service)
Giving by Credit Card Can Inhibit Worship
In my humble opinion, giving your tithes and offerings is part of worship and is best done in a worship setting. Having an auto draft come out of your checking account or charged to your credit card periodically doesn't always lend itself to a worshipful giving experience. I know it's easy and maybe you're more likely to give if it's done automatically. But I think it eliminates something important, something intangible that the actual physical act of giving does inside of us.
The act of passing it through your hands into the offering plate is a very tangible act that you can feel. Every time you give you can be reminded of why you give. You can be reminded that this is a sacrifice and an act of worship. An electronic transfer, in my opinion, just doesn't have the same effect. At least not for me.
Giving by Credit Card, What's Your Opinion?
So what do you think about this? Do you give electronically or the old fashioned way?
Question: Do you think I'm way off base and just plain weird (you wouldn't be the first)?
Let me know what you think by leaving a comment
Read more posts on the CFF "Credit Cards" Page
Resources:
Seven Huge Credit Card Lies We Tell Ourselves
Control Your Money and Your Destiny
The 20 Best Ways to Use Credit Cards Wisely