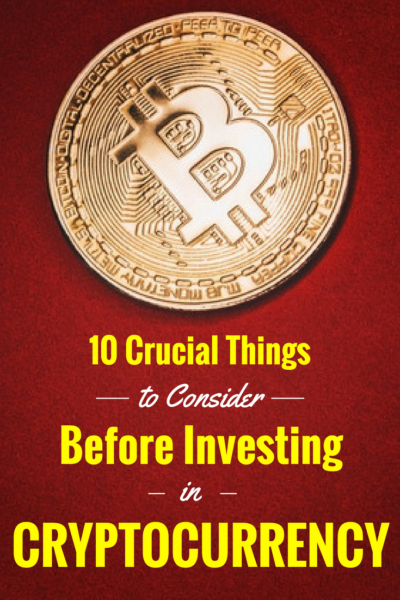 Wondering if you should invest in cryptocurrency? Cryptocurrency has received a huge amount of media coverage since Bitcoin's meteoric rise to fame. But perhaps you're wondering if you've missed the boat- or if it's too volatile to invest in?
In this guide, I'm going to cover 10 crucial things to consider before you invest in cryptocurrency…
The Risks
If you're thinking about investing in cryptocurrency, you have to understand that this industry is incredibly risky. Dramatic ups and downs are normal in the market- in fact, they're expected!
Investing in cryptocurrency can be profitable, but it's incredibly volatile too. Be cautious of the risks. Never invest more than you're willing to lose.
Investment Strategies
Before you invest in cryptocurrency, you should spend some time developing an investment strategy that works for you.
Here's some key factors to consider for your investment strategy:
Are you going to invest long-term?

Will you diversify your portfolio?
Are you going to invest all of your money at once or spread it out over time?

Do you plan to invest in high-risk or low-risk coins?

Have you looked into ICOs i.e. newly launched cryptocurrencies.
Read: How I Invest in Bitcoin Cryptocurrency- A Basic Tutorial
Alternative Investment Options
Before you invest in cryptocurrency, ensure that you've considered all of your options.
Investing in crypto really isn't for the faint-hearted. You have to understand that there are much more predictable, lower risk investment options that may suit you better.
If you're looking for some lower risk investment options, check out this guide.
Do You Have The Cashflow to Invest in Cryptocurrency?
With the dramatic swings of the crypto market, it can be incredibly volatile.
That means that if you're investing and the market dips, you might have to be patient and hold while you wait for your investments to bounce back.
If you don't have the cashflow and you're not prepared to hold long-term, cryptocurrency probably isn't the right option for you. You should never over-invest. Just create a budget and stick to it.
Exit Strategy
Having an exit strategy is crucial. In a market that's growing so quickly, it's seductively easy to get greedy.
You have to be disciplined, patient and create a solid exit strategy you can stick to. Otherwise, you could sustain huge losses when the market dips.
Stop losses, timescales, and risk levels are all key factors you should use in your investment strategy.
Security
The cryptocurrency industry has been plagued by hackers and malware. That's exactly why security is such an important consideration.
If you're serious about investing in cryptocurrency long term, then storing your cryptocurrency offline in a hardware wallet is a safer option. They take a little time to set up, but it's crucial to add a strong layer of security.
I've actually compared 3 of the most popular hardware wallets here.
Cryptocurrencies Are Unpredictable
Cryptocurrency is incredibly volatile. Whilst there are a lot of experts out there, no one really knows what will happen next.
Because cryptocurrency is such a disruptive technology, the market is highly speculative right now. This has actually created a 'bubble' effect where prices are overinflated across the market, similar to the dotcom bubble.
It's therefore really difficult to filter out which coins are good long-term investments, and which ones will crash and burn over the next few years.
Which leads me to my next point…
Fundamentals
Whatever you do, don't throw your money into a cryptocurrency without first researching an altcoin's fundamentals. You will find a lot of recommendations online for all sorts of cryptocurrencies, but most of them have poor foundations.
Here's a few key fundamental factors to research before making any investment:
Does the cryptocurrency have a strong leadership team?

Are they ambitious as a development team?

Do they look stronger than other competing cryptocurrencies in the same space?

Are they in a high growth industry? For example,

privacy coins

are expected to perform well because anonymity is such a big deal to consumers.

Have you read the white paper? Most cryptocurrencies release a white paper outlining their future plans, which you can find with a quick Google Search.
Finding Credible Information
Cryptocurrency is all about information. The more information you have, the stronger your investment decisions will be. However, you need accurate, credible sources to evaluate your decisions properly.
Here are a few places to research the fundamentals of a cryptocurrency:
Timing
It's almost impossible to time the market perfectly. There are periods of extreme growth and plenty of rough patches too.
Before you invest in cryptocurrency, check the coin's historic price and analyze whether it's on an uptrend or a downtrend. Websites like Coinigy are great for technical analysis.
Also, if you're concerned about a cryptocurrency's volatility, investment strategies like dollar cost averaging can help you balance out your average buy-in price over time.
Next Steps
It's an exciting time for the crypto industry, but it's also highly volatile too!
If you're serious about investing in cryptocurrency, I'd recommend starting small, taking your time, and trying to learn as much you can about the field.
Do you have any questions about investing in cryptocurrency? Post a comment below and let us know.
Guest Author Bio:
Julian Goldie invests in cryptocurrency whilst traveling the world. His blog – King Passive – teaches beginners how to trade and invest in crypto.