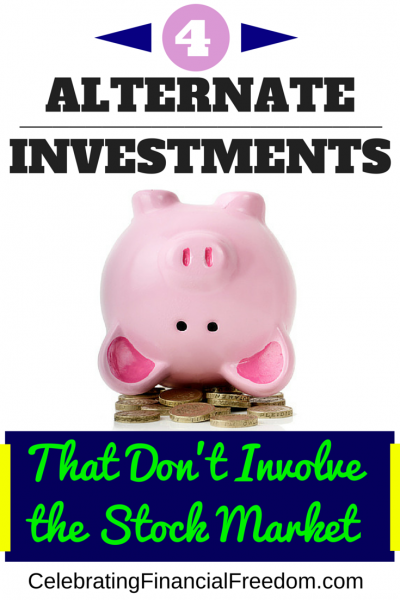 Have you ever thought about using alternative investments to build wealth?  Investing in the stock market can be a difficult proposition.  The ups and downs of the market can wreak serious havoc with your account balances and your emotions.
I know I've been a victim of the roller coaster of emotions that comes with stock market investing. We have had some extraordinary market fluctuations at different times over the last 15 years or so. I especially remember what happened just after 9/11 and the Great Recession.
Those were times that put my stomach into knots and my portfolio in the basement. Of course the stock market has recovered as it always does, and so has my portfolio.
The Ultimate Beginner's Guide to Investing Your Money
Finding an Alternative to the Stock Market
As a lot of people did during those times, I wanted to find a way to invest my money that didn't involve the stock market. I wanted to find alternate investments that could provide growth, income, or both. I certainly didn't want to get out of the stock market completely, but I did want to diversify my investments so they weren't totally dependent on how the stock market was performing.
So I started doing research on alternate investments. I found plenty of alternative investments that were complete junk. Many of these so called alternate investments are nothing more than scams being sold by unscrupulous hucksters looking to make a lot of money.
However, there are plenty of good alternate investments available that are a viable alternative to investing in the stock market. These aren't get rich quick schemes, but tried and true alternate investments that can be valuable tools for limiting your exposure to the stock market.
A Few Alternative Investments You Can Try
This is definitely not an exhaustive list of alternate investment you can try. In fact, it's only a small sample of the alternate investment universe. But these are some of the more popular ways to invest in alternative assets. Some of these I've actually done myself.
I don't necessarily recommend any or all of them. Ultimately you have to decide what's best for you when it comes to investing in anything. However, keep reading and I'll show you 4 alternate investments you can do right now.
I'll also let you in on a couple of alternate investments I use that have done very well for me over the last few years!
Peer to Peer Lending
Peer to peer lending is a relatively new concept in alternate investments. Instead of going to a bank for a loan, a borrower can go to sites like Prosper or Lending Tree to take out a personal or business loan. The funds for the loan are provided by people like you who want to earn a return on their investment. You can make a good return on your money depending on how much risk you take.
The good news is that you have complete control over your level of risk. You can choose who to lend to depending on credit score and other parameters. Also, you can also spread your money out over a large number of loans to diversify your investment, instead of having all your money in just a few loans.
You can find out more about Prosper here.
Find out more about Lending Tree here.
Gold and Silver
Many people enjoy investing in gold and silver as an alternate investment. Investing in precious metals can sometimes be a good way to diversify your investments. But as with any investment you have to be careful. The value of gold and silver can go up and down just like stocks, so you can lose money just as easily as you can make it.
If you decide that investing in precious metals is for you, I don't recommend putting most of your money into this alternate investment. It should be part of a well-diversified portfolio. Most money managers recommend having 3-10% of your investments in precious metals.
There are 3 ways to invest in gold or silver:
Physical Gold and Silver- Gold and silver bullion, coins, and jewelry. These metals have to be stored, usually in a safety deposit box at your bank or at your home. Bullion and coins can be bought through an exchange or at a local jewelry store or collectible coin shop.
Gold and Silver ETF's- ETF stands for "exchange traded fund". An ETF is a great way to invest in precious metals without actually taking possession of the metal itself. You buy shares of an ETF just like you would buy shares of a stock. Those shares are tied to the spot price of the metal traded just like stocks on an exchange.
I don't own any precious metal investments myself. However, if you decide that this alternate investment is for you, here's an article you can check out for more info:
How to Invest in Gold- TheStreet.com
Want to manage all your investments in one place? Personal Capital is the best tool for the job- learn more about it here.
Real Estate
This is one of my favorite alternate investments. Real Estate is great because it is not tied to the stock market, plus it can provide a significant income. As an alternative investment, I don't recommend you borrow money to buy real estate (or any other investment for that matter).
Fellow finance blogger Jeremy Biberdorf reiterates this in his article on alternative investments when he says "the biggest barrier to entry is the high upfront cost. Buying real estate is expensive, and financial professionals advise against borrowing money for investments."
Investing in real estate takes a little knowledge and patience, but it can pay off in a big way if you invest wisely.
There are several ways to invest in physical real estate:
House Flipping: Buy undervalued real estate and reselling it for a profit. Many times the process involves fixing up the property to increase its value and maximize profit. I flipped a property for a profit a few years ago and had a good experience with it. You can read about my house flipping experience here.
Rental Houses- Owning a rental house is a good way to generate monthly cash flow. Not only do you get cashflow, but if you buy wisely, the property will also increase in value over time. I currently have a rental house that I paid cash for and couldn't be happier with it! I receive a significant rent payment every month that I reinvest into mutual funds. My goal is to eventually have enough to buy another rental house later! You can read about my experience investing in a rental house here.
Raw Land- Investing in undeveloped land is also an option. However, it doesn't generate an income and usually doesn't appreciate very quickly. You should not expect a huge return on your investment unless you buy in an area that is growing rapidly and you have plenty of patience.
Invest in Yourself
I'm a huge advocate of investing in yourself. The more you invest in increasing your knowledge, skills, and expertise, the more you will be in demand.
For instance: I'm a practicing dentist and I've invested much time and money learning to do complicated root canals, wisdom tooth extractions, and sedation (among other things). These are skills that a lot of general dentists shy away from because they can be hard to learn.
However, because I've learned these skills I've been able to serve more people and make more money. I estimate that I've made hundreds of thousands more in income over my career because of these special skills.
More Alternative Investments
The 4 alternate investments above certainly are not the only ones available. There are plenty of other ways to invest your money without being exposed to the crazy fluctuations of the stock market. I may eventually cover more of those in a later post.
Be Careful With Alternative Investments
Any investment can have its ups and downs, so you have to be very careful about how you invest your hard earned money. There are plenty of investment scams being promoted by talented salespeople that sound legit, but can put your money at great risk.
So before you invest any money in alternate investments, do your research and make sure you completely understand the investment.
You should:
Understand the investment well enough to explain it so others can understand it.
Understand the risks involved. Every investment can lose money.
Never risk the majority of your money in one investment.
Never borrow money to make an investment.
Question: Have you invested any money into alternate investments? What did you invest in? How did it work out? Leave a comment and tell me about it.