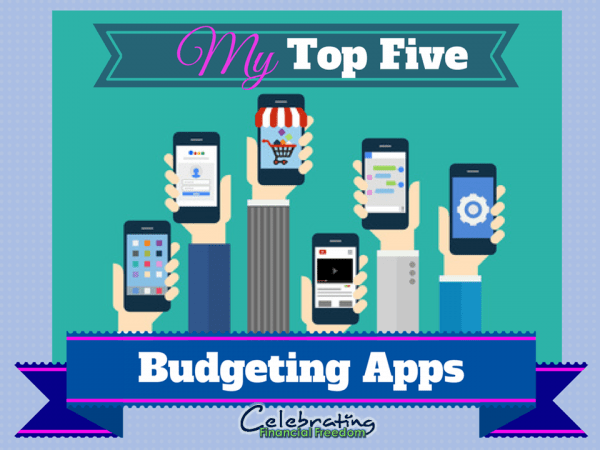 If you've been following Celebrating Financial Freedom for very long, you know I'm a huge fan of budgeting. I truly believe it's very hard to succeed financially without doing a consistent monthly budget that gives every dollar a name and keeps you from spending more than you make.
Personally, I do a written budget on paper every month using the downloadable budgeting forms here on CFF. But if you're more of a tech oriented person, there are tons of budgeting apps and software available that let you budget your money electronically without ever having to pick up a pen and paper.
Some of these budgeting apps are free, some are paid but well worth the investment, and some are just terrible.
These apps range from very basic, with only a few features, to apps containing all the bells and whistles you'll ever need to manage your entire financial life in one place.
However, using these apps as a budgeting tool is the main focus for this article.
What a Great Budgeting App Must Have
I believe there are a few basic must haves for any budgeting app to work well and keep you on the straight and narrow with your budget:
You must be able to do a zero based budget.
It should automatically sync, meaning that multiple users can use it to manage a family budget so all users can stay on the same page.
Any budgeting apps should have excellent security.
What I Don't Like About Most Budgeting Apps
Most budgeting apps are great at keeping track of bank account balances and tracking debit card/credit card spending, but most of them don't keep track of cash very well.
I've always recommended going cash only using an envelope system with physical cash (more about that later). When you spend cash, it hurts more than using a card, and forces you to pay more attention to how much you spend. Using a card is a much more abstract way to spend money, and doesn't always register in your brain the same way that spending cash usually does.
Most budgeting apps suck, but not these. Check out my top 5 favorites here-
5 Budgeting Apps That I Like
Anyway, here are 5 top budgeting apps that I think do a great job of helping you manage your budget in a way that allows you to keep proper track of your money, so you never spend more than you make.
You Need a Budget (YNAB)
YNAB is a budgeting app that syncs with YNAB's desktop software package. The software package costs $60, and you can get a free 34 day full-featured demo so you can try before you buy. This is a true budgeting app in that you set up your budget manually in the desktop software, which gives every dollar a job. Then throughout the month you can keep track of the outgoing money via the mobile app that syncs with the budget you set up.
YNAB will even sync with multiple people using the app so you and your spouse (or other family members) can keep up with your budget in real time. This budgeting app takes a little more time to set up and operate, but in my opinion it's the closest thing to a written budget there is, and that's a big plus in my book!
YNAB is also extremely secure because it doesn't link to your bank accounts, so there is zero chance of anyone stealing your valuable information.
mvelopes
Mvelopes is a budgeting app that has both free and paid options. Much like a physical envelope system, mvelopes allows you to create up to 25 virtual envelopes and connect up to 4 bank accounts for free. For $9.95/month you can add more envelopes and accounts, as well as other additional features.
Another cool feature is that mvelopes now integrates with Google Glass. Just tell Glass to take a picture while holding up a receipt, and instruct Glass to share it with mvelopes. It then creates a transaction for you inside the app. It's a pretty cool feature that I'm sure more apps will be using in the future as Google Glass gains more users.
Mvelopes uses 128-bit security to keep your info as secure as most banks.
Mint.com
Mint.com is an extremely customizable budgeting app. Best of all, it's free! Mint allows you to set up a highly customized personal budget, as well as tracking all bank accounts, investments, and even calculates your net worth. It lets you to track spending by category and tweak your budget as much as you like so you can spend your money any way you want, including setting up goals for saving, investing, and so forth.
It's a great app for keeping all your financial information together in one place so you can have a complete overview of your financial situation. Mint is encrypted with 128-bit security as well, so your info is very secure.
Easy Envelope Budget Aid
EEBA is a free app as well. It's another virtual envelope system that lets you manually enter your transactions and keep a running total of what you have vs. what you spend. EEBA doesn't connect to your bank accounts, so it's extremely secure, and has the ability to sync across multiple devices so that more than one member of your household can use it. The app automatically backs up your data online, so you'll never have to worry about losing your info if your mobile device is lost or destroyed.
Pen and Paper
Ok, I know this isn't a digital budgeting app, but for me, a written budget is absolutely the best way to budget there is. Once you get paid, write your budget down (you can get free budgeting forms here), and fund your envelopes with cash for the month.
That's it.
All you have to do then is spend that budgeted cash out of your envelopes for the rest of the month. It's easy to do and doesn't take the constant management of entering transactions throughout the month like a digital budgeting app does. Once you set it, you can forget it.
This is the way Angie and I set up our budget every single month like clockwork, and our experience has been that it works wonderfully well. Sometimes old school just works better than technology!
Check out all my posts on Budgeting here
I even wrote a great book on how to budget, which you can find here
Find The Best Budgeting App For You
But for those of you who would like a high tech solution to help your budgeting efforts every month, I believe the budgeting apps mentioned above are some of the best budgeting solutions available. Of course, there are literally hundreds of budgeting apps on the market, so it's best to do your research and find which one you think will work best for you and the way you approach budgeting.
Question: Do you have a favorite budgeting app that you use? If so, leave a comment and let me know which one you use and why you like it so much.
Resources:
The 4 Basic Steps to Achieve Financial Success
Best Apps For Your Budget- EverythingZoomer.com
10 Best Budgeting and Personal Finance Apps- Tomsguide.com
How to Save for the Future When You're Living Paycheck to Paycheck