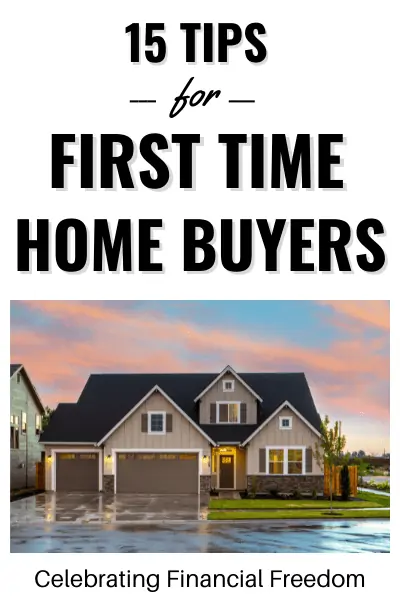 Buying a home for the first time seems like a daunting task. It can be quite a process! And if you don't know what you're doing, it could cost you a ton of money and unnecessary headaches. But once you understand the process, you can eliminate potential problems and make your first-time home buyer experience go smoother than a fresh jar of Skippy!
These 15 tips will act as a comprehensive guide for the first-time home buyer to make sure all your bases are covered.
Know How the Home Buying Process Works
Buying a home can be stressful. But when you know how the home buying process works, it eliminates stress and surprises. You will have much smoother home buying experience when you know what to expect.
Below is a general rundown of how it works. We'll get more in-depth with these steps later in the post.
Step 1:
Make sure you have as large a down payment as you can afford. Don't forget to calculate closing fees as part of your purchase.
Step 2:
Get preapproved for a loan before you start seriously looking for a home. Many realtors are hesitant to even talk to you if you haven't been preapproved yet. Getting preapproved sends the message that you can afford a home and you're ready to purchase ASAP.
Step 3:
Get connected with a real estate agent. It's best to find someone who is highly experienced and sells dozens of homes every year. Hiring a family friend who dabbles in real estate is rarely a good choice. You should be willing to find a new agent if you're not happy with how yours is performing. This can be a huge potential problem when you hire a friend or family member.
A great real estate agent is responsive to your needs, communicates well, and helps you understand the ins and outs of buying a home for the first time.
Step 4:
Now you can start looking at houses. Start with online listings and narrow your search to a few that you like. Then contact your agent to have them show you the houses you chose online.
Step 5:
When you find a home you love, make a solid offer. You will also need to put down earnest money when you make an offer to show that you are serious.
Step 6:
Get a professional home inspection. It will cost several hundred dollars, but it will potentially save you tons of money and stress.
Step 7:
If the home passes inspection, it's time to close on your loan. You will sign a stack of paperwork, transfer your payment, and get the keys to your new house!
Get Your Finances in Order
For first-time home buyers, it's extremely important to get your finances in order before you buy a home. It may take some time to get your finances straight, but it makes the process go so much easier when it's time to buy your first home.
Pay Off Consumer Debt
Eliminating all your consumer debt is the best way to set yourself up for success as a first-time home buyer. When you have no consumer debt (credit cards, loans, car payments, etc.), you have more money available to save for a down payment on a house, and less financial stress.
Also, less debt means less financial risk in your life. If you have no debt other than a mortgage, it means you are doing a great job at managing your finances. You will be less likely to struggle paying your mortgage if things get a little tight financially.
Get Qualified for a Mortgage
Getting complete control of your money also makes it easier to get qualified for a mortgage as a first-time home buyer.
There are a few things you'll need to do to qualify for a mortgage as a first-time homebuyer. Mortgage requirements can vary somewhat depending on the lender and the type of loan you get, but the general requirements are:
At least a 3% down payment
A decent credit score. Depending on the type of loan and the mortgage company, the minimum credit score is around 600 to qualify for a mortgage.
A debt-to-income ratio of 50% or less
Of course, these are just minimum requirements. The more you exceed these minimums, the better interest rate you will get on your mortgage. This will easily translate into savings of tens to hundreds of thousands of dollars over the life of the loan!
What if You Don't Have a Credit Score?
Here at CFF, we always recommend you stay out of debt (a reasonable mortgage is acceptable, though). But if you've been rid of consumer debt for a while, you may no longer have a credit score. Don't worry though, lack of a credit score won't keep you from qualifying for a mortgage!
You'll have to find a lender that does manual underwriting. With manual underwriting, an actual human being evaluates your financials to approve you for a mortgage instead of a computer algorithm. It may take a little more time and documentation, but you can definitely get a mortgage without a credit score.
Save Money for a Down Payment
In most cases, the minimum down payment is 3% of the purchase price to qualify for a home loan. But here's the deal, the more money you put toward a down payment, the better.
Yes, it takes more time to save up for a larger down payment, but it can save you a lot of money and stress in the long run.
A down payment of 10% automatically allows you to have some equity so you won't likely lose money if you need to sell within a couple of years. But more is always better.
A down payment of at least 20% is highly recommended. You'll have more equity, save thousands on interest over the life of the loan, and you won't have to pay PMI (Private Mortgage Insurance). This can add well over $100 to your payment (with no benefit to you) if your down payment is less than 20%.
Of course, I like the 100% down payment plan the best! I realize most people can't swing it though. Just remember, the higher the down payment the better, saving you many years and many thousands of dollars.
Build Your Credit Score
Here at CFF, we teach that you don't need a credit score. It's a measure of how well you use debt, and we teach people to become debt free!
The good news is, if you're in the process of getting out of debt before you purchase a house, your credit score may rise as you pay off debt. It could help you get a mortgage without having to do manual underwriting. But remember, a credit score is not necessary to get a mortgage, no matter what your broke uncle may tell you.
After you pay off all consumer debt as you prepare to buy a house, your credit score will start dropping like a stone. That's ok though. Manual underwriting will help the mortgage company determine that you can still qualify for a mortgage even though your credit is tanking because you're being financially responsible.
Building an Emergency Fund is Essential
Building a strong emergency fund is always a smart thing to do. And when you own a home, it's extremely important.
With an emergency fund of 3-6 months of living expenses set aside, you can tackle almost any unexpected expense.
When you lose your job, the fridge dies, or a busted pipe floods the basement, you have cash available to tackle the problem. You won't be tempted to go into debt (not wise) or dip into your 401k (even worse) because you were unprepared.
Is it the Right Time to Purchase a Home?
Buying a home is not just about being able to pay for it. As a first-time home buyer, you need to make sure you are ready for the time and energy it takes to own a home.
Owning a home means you have more responsibilities than you had as a renter. Here's a quick list of new responsibilities you will have as a homeowner:
More bills to pay every month
Yard maintenance/Landscaping
Maintaining HVAC systems
Home repairs
Paying property taxes (this can be included in your mortgage payment)
Pest control
Maintaining appliances
Owning a home is much different than renting. You are responsible for everything on your property, so you should be willing to spend time maintaining the property, and prepared to pay someone to help when needed.
Figure Out How Much You Can Afford to Pay for a House
Before you start searching for your first house, it's smart to know how much house you can afford. As a first-time home buyer, it's easy to get caught up in "house fever" and spend more than you intended, especially if you don't have a solid idea of how much you should spend.
How much to spend on a house depends on you and your individual circumstances. Your lender will approve you for a certain amount, but that's not the number you should use. You will typically get approved for much more than you can realistically afford.
As a general rule, your total monthly payment (mortgage, PMI, taxes, etc.) should be 25% or less of your monthly take-home income. If you live in an extremely expensive area such as New York, San Francisco, or LA, you can go as high as 30%.
Also keep in mind that you'll have other ongoing expenses such as maintenance, repairs, and HOA fees to consider, so be conservative. As a first-time home buyer, you want your new home to be a blessing, not a money pit that sucks you dry every month.
Shop for the Best Mortgage Rate
There are a ton of lenders out there, and each company structures their loans slightly different than the others. Some may have lower fees, some may have a higher interest rate, so it's important to shop around for the best loan terms you can find.
Your best bet is to run the numbers for each mortgage loan product you're interested in to see how it plays out over the life of the loan. One loan may offer low closing costs, but a higher interest rate. On the other hand, another mortgage company may offer a lower interest rate but higher closing costs. Each scenario is unique, and you need to know the financial facts before you choose a mortgage.
You would be surprised how just a half percent difference in the interest rate could literally save you (or cost you) tens of thousands of dollars over the life of the loan.
You should also check online reviews for the mortgage lenders you're considering. Some lenders are not very responsive to their customers, and reviews will help you figure out the best lenders to do business with.
Shopping around for the best mortgage may take some time, but it's totally worth it. It will save you a ton of money over the life of the mortgage loan.
Get Preapproved for a Mortgage
Before you start seriously looking for a home, you should get preapproved for a mortgage first. There are several good reasons why you should get preapproved:
It shows that you're serious about buying a house. Many real estate agents and sellers won't even consider an offer from you if you're not preapproved for a mortgage.
Preapproval also helps you figure out how much you can afford. The lender will let you know how much you are approved for, which can help you figure out your budget for buying a home.
It also helps you do the work of finding the best mortgage before you start looking for a home. That way, you have one task out of the way as you start the quest for your dream home.
When getting preapproved, you should be careful about one thing. Mortgage lenders will typically preapprove you for a larger loan than you can realistically afford. Remember, the mortgage payment you can afford should be determined by you and your monthly budget, not the mortgage lender. Don't let their high preapproval fool you into thinking you can afford more than your budget realistically allows.
What is Prequalification?
First-time home buyers should also understand the difference between prequalification and preapproval. With prequalification, lenders only do a cursory review of your financial information to help determine if you can qualify for a mortgage. It carries less clout than a preapproval.
With a preapproval, the lender checks your credit and deeply vets all your financial info to verify if you are worthy of getting a mortgage.
Your Monthly Payment May Change Over Time
As a first-time home buyer, you may not realize that your mortgage payment won't always be the same over the life of the loan.
Typically, you will have an escrow account with your mortgage lender. This account automatically pays property taxes, PMI, and homeowner's insurance when they are due during the year.
The escrow account is reviewed every year. If your lender underestimated how much the account would need, you will owe money to the escrow account. You will need to pay into the account, or your monthly payment will increase. However, if they overestimated, you could end up with a refund or a lower mortgage payment! I will tell you from personal experience though, it's rare that they underestimate what you need to keep escrow up to par.
Property taxes and homeowner's insurance usually get more expensive over the years, increasing your overall payment. If you have PMI, once you achieve 20% equity in your home, the PMI portion of your payment will automatically go away. Overall, you can pretty much count on your mortgage payment to rise gradually over time.
Hire a Professional Realtor
There are a ton of details and legal paperwork involved in the homebuying process. It's best to let a professional realtor handle these for you. When you use a professional, you can be assured that all the legal details of your home purchase are correct and nothing falls through the cracks. Even better, an experienced realtor will take away much of the stress of homebuying, especially as a first-time home buyer. They know how to guide you through the process with as few hiccups as possible.
Also, a good realtor will keep you from making serious mistakes that can haunt you for years into the future. Not only will they guide you through the legalities of buying a home, a great realtor will also help you make an informed decision so that you don't buy a house that isn't right for your needs.
Understand Homebuying Needs vs. Wants
Most of us have a vision of that awesome dream home we've always wanted. But sometimes that "dream home" is not the "right home". It's all about wants vs. needs. Fortunately, planning ahead will help you balance the two so you can purchase the best home for you and your family.
Whatever your vision is for your new home, it's a good idea to have a plan. Knowing what you need vs. what you want will help you make the best house buying decision possible as a first-time home buyer.
Start With Needs First
First, make a list of everything you need in a house. Needs are those practical things that you and your family can't (or shouldn't) do without to live comfortably. Here are some ideas:
How many bedrooms do you need?
How many bathrooms?
Do you need a big back yard?
How many cars will you need to park in your driveway?
What will your commute time be?
Do you need to be in a good school district?
Do you need a single level home (no stairs)?
Will you need more room as your family grows?
Once you have a solid list of what you need in your new house, then you can consider your wants.
Wants Come Next
Your "wants" for your new house are those things you can do without, but make life more comfortable and enjoyable. Wants can be pretty much anything you wish.
In most cases you can't have everything you want in a house, so it's a good idea to create a priority list. At the top of the list are those items you absolutely don't want to do without. Anything toward the bottom of the list would be nice to have, but you can do without if you need to. Here's a list to get you started:
Large garage
Stainless steel appliances
Vaulted ceilings
Walk-in closets
Large master bath
Lots of storage space
Swimming pool
Modern architecture
Secluded location
When you prioritize your "wants" list, it's easy to know what you can compromise on and still get most of the things you're looking for in a new home.
New Home Dealbreakers
You should also create a list of dealbreakers. Dealbreakers are those items you absolutely, positively, do not want in your new home.
A dealbreaker can be just about anything under the sun. For instance:
You don't want to live in a certain area of town
A certain style of architecture
The wrong school district
The age of the house
A home that needs remodeling
The home has low ceilings
A crumbling foundation that needs repair
Doesn't have an open floor plan
Pretty much anyone buying a house has a good idea of what they don't want. It's a good idea to create a list of those dealbreakers to keep them top of mind. This is especially true if you're married, as each of you may have completely different ideas on the subject.
Start Your Home Search
Once you have all your plans in place, now it's time to start your search. Make sure you communicate with your realtor exactly what you're looking for in a home, and how much you can afford. Provide your agent with your lists of wants, needs, and dealbreakers so they can get a clear picture of your expectations.
Your real estate agent will be able to guide you and help you understand if what you're looking for is realistic or not.
Now you can start seriously searching online listings. When you find one you like, send the link to your agent so they can get a better idea of what you're looking for. Then your realtor can set up appointments to look at your favorites in person.
Visit Each Home That Interests You
Keep in mind that just because a house looks perfect online doesn't mean it's that awesome in person. It's extremely important to physically visit each house you like to make sure it's as good as it looks.
I can tell you from personal experience, there is no substitute for visiting a house in person. Before I bought my rental property, my agent and I looked at about 30 homes before finding the right one. Many of them looked great online, but were absolutely terrible in person. You will save yourself a plethora of potential problems by checking out each house in person.
Also keep in mind that just because a house has one or two red flags doesn't mean you shouldn't buy it. Often, repairs or other problems can be fixed by the seller as a stipulation in the contract before you take possession of the house.
Read Disclosures Carefully and Ask Questions
When you purchase a house, there is a ton of paperwork to navigate. Of course, it's up to you to understand what it all means before you sign on the dotted line. A good real estate agent will help you understand all the jargon and answer any questions before you fully commit to buying your first home.
Disclosures
In the contract you will find a list of disclosures about any issues the home may have. They are meant to protect each party by making sure everyone is on the same page about any potential problems with the home.
Disclosures protect the seller from being held liable for any problems after the home is sold. They also protect the buyer by helping them understand any and all known problems with the house before it is purchased.
It's extremely important for the seller to list anything that might cause issues for the new homeowner in the future. What you're required to disclose varies from state to state. Here are a few of the most common disclosures that apply in most states:
Lead paint that has not been removed
Unpermitted renovations
Property line disputes
Leaky basement
Cracks in the foundation
Paranormal activity (yep, you're required tell them about the ghosts in the attic!)
Asbestos that has not been removed
If Radon has been detected
If the property is in a flood zone
Any outstanding liens on the property
Environmental damage
Flood damage
If any disclosures are listed that you're not comfortable with, you should think twice about purchasing the home. If you still want to purchase, you can ask for a reduction in the price to make room for the cost of repairs or renovations needed. Read those disclosures carefully, you never know what you may find!
Make an Offer
Once you decide to make an offer on a house, make sure it's a wise one. This is when a great real estate agent is worth their weight in gold! They will help you understand the comparable sales in the area so you can tender an offer that makes sense.
Your realtor can also help you keep your emotions in check. As a first-time home buyer, it's easy to fall in love with a house and make an offer you can't afford, or is too high compared to comparable homes.
Once you make your offer, the seller has three options:
They can accept your offer
They can reject your offer outright
Or they can make a counteroffer.
If the seller rejects your offer, you will need to find another home unless you can convince them to negotiate.
If they make a counteroffer, sit down with your agent to make sure it's reasonable and you can afford it. You can also counter their counteroffer if you like. It may take several rounds of counteroffers before you finally come to an agreement.
Earnest Money
Once your offer is accepted by the seller, you will need to write a check for earnest money. Earnest money is simply a deposit that shows you are serious about closing the deal.
Earnest money is usually 1-3% of the purchase price of the home. Once you follow through and actually purchase the home, your earnest money is applied to the purchase cost.
If you decide to back out of the deal for a good reason, you will get your money back. Acceptable reasons for backing out would be:
Problems with the home that weren't initially disclosed
A failed home inspection
A low appraisal
However, if you back out of the deal simply because you changed your mind or got cold feet, you will lose your earnest money.
Get A Home Appraisal and Inspection
Your mortgage company will require you to get an appraisal and a home inspection before they give you a mortgage. These are extremely important to protect both you and the mortgage company.
The Appraisal
Having an appraisal done helps to ensure the property is worth what you are paying for it. You will be required to hire a professional appraiser to determine the value of the house. In some cases, the mortgage company may use their own appraiser.
If the appraisal comes in significantly lower than the price you negotiated, you may not be able to get a mortgage since they can't lend you more than the appraisal value. If the appraisal comes in low, there are a few things you can do:
Renegotiate the price with the seller to better match the appraisal
Get another appraisal if you believe the current one is not right
Put down a larger down payment to make up the difference so your lender can give you a mortgage
You can walk away from the deal and get your earnest money back
However, if the appraisal comes in higher than your negotiated price, that's great! This means you're getting a good deal on your home!
The Inspection
If a home inspection is required in the contract, you will have to spend some money to have it done. But keep in mind, a home inspection is an investment in peace of mind.
A thorough inspection will reveal any issues with the house that could affect whether you want to follow through with purchasing the property. Some issues, once they're discovered, can also give you a bargaining chip to negotiate a lower price.
Here's a list of things a good home inspector will check:
HVAC units and ductwork
Electrical wiring condition, age, and proper installation
Plumbing, drainage, and waterflow
Attic- including insulation, structural, and airflow
Foundation- checks for cracks, sinking, improper construction
Roof condition, proper construction, leaks
Basement- checks for proper construction, water leaks, previous flooding, mold, etc.
Proper functioning of appliances and other systems
If possible, you should be present for the inspection and do a walk through with the home inspector. They can point out problems that aren't evident to the naked eye, but can greatly affect the value of the home. A great home inspector will also take the time to explain any issues and how they will affect the home now and in the future.
A few days after the inspection, you will receive a detailed inspection report. This report covers everything that was inspected, along with pictures and a detailed narrative.
Any red flags or needed repairs can help you negotiate a lower price, or stipulate that the homeowner have the issues fixed before the sale can be completed. If the seller isn't willing to budge, you can always back out of the deal and get your earnest money back.
You Will Need Homeowner's Insurance
If you are using a mortgage loan to purchase your home, youll be required to get homeowner's insurance. This protects you as well as the lender in case of catastrophic damage.
Make sure and shop around, as rates can differ quite a bit from company to company. You should know a few things about any homeowner's insurance policy before you sign on the dotted line:
What does the policy cover (fire, flood, wind, earthquake, contents, etc.)?
What items will the policy not cover?
How much does the policy cover for each type of damage?
How much are the premiums?
Does it come with umbrella liability coverage?
How much is the deductible?
Homeowner's insurance policies can be vastly different from company to company. As a first-time home buyer, you should make sure you completely understand everything your policy covers. And remember, cheaper insurance usually means less coverage.
Be Ready When it's Time to Close
The final part of the home buying process is the closing. You finally have all your ducks in a row, the agreement is set, and you're ready to sign on the dotted line. There is a ton of paperwork involved, and you will need to do a few things to make sure it all goes smoothly:
As a first-time home buyer, you should know what you're signing- there are dozens of details you need to make sure are correct before you sign.
Make sure you have homeowners insurance in place before you sign.
Do a final walkthrough of the property to confirm the condition of the home, and that all repairs were done to your satisfaction. You should preferably do this on the same day you close.
Bring a copy of your homeowners insurance policy to the closing.
Bring a photo ID to confirm your identity. This could be your driver's license, government ID, or passport.
A cashier's check to cover any closing costs you owe at closing.
All people who are on the loan should be present to sign the documents
Depending on your state, the seller will either be present at the closing, or be required to attend a separate closing for their side of the transaction. Usually, a representative from the title company will be present. Also, some states require an attorney or witness to be present at the closing.
Once all the papers are signed, you'll get the keys, and you can start moving in as soon as you like. You are now a first-time homeowner!
Don't Let Home Ownership Stress You Out
As a first-time home buyer, the experience can be quite exhilarating once it's all said and done. However, don't be surprised a few days or weeks later if you feel a little stress about your home purchase. It can feel a little overwhelming realizing you are now responsible for keeping up your property and making payments for decades. Soon, you will settle into the role of new homeowner just fine!