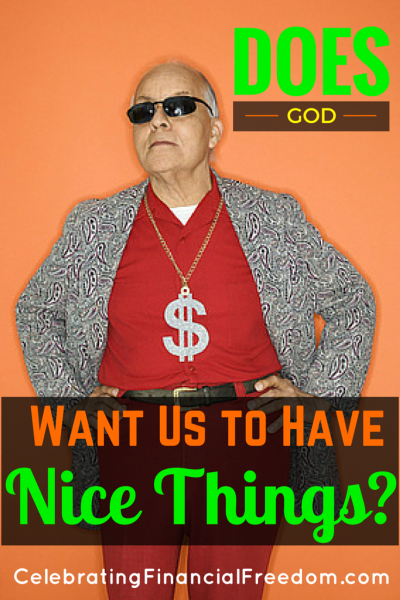 Some people can get kind of weird when you start talking about God and wealth. So many of us are taught that poverty and lack of material goods breeds humility and brings you closer to God. At the other end of the spectrum are the preachers asking their flock for a new $65 million private jet because the one they have is getting old and worn out.
Does God really want us to have nice things and live a life of wealth? Or should we only consume what we need and live a humble life with few material possessions?
Is one side right and the other wrong? Could they both be right to some degree?
In today's post, I thought I would try to unpack this debate on whether God wants us to have nice things. Hopefully we can get to a few of the central truths within this issue that has a tendency to divide believers.
First, a Few Confessions
Before I start digging into the God and wealth debate, I have a confession or two to make. I own a couple of luxury cars (2 Lexus'). I also own a gold Rolex watch and live in a 4,000 square foot home. Also, I just gave my wife a Rolex watch for our 20th wedding anniversary the day before this was posted. A few months ago, I even treated myself to a beautiful $90 belt from a local luxury leather goods maker here in Nashville.
How did reading that make you feel?
Did it make you feel like "wow that guy is blessed!", or did it make your skin crawl and cause you to wonder what good and noble things could have been done with that money?
I'll talk a little more about that mindset in a minute. But first, just what are these "nice things" I'm talking about?
[tweetherder]Does God Really Want Us to Have Nice Things? Bling vs. the Bible- [/tweetherder]
We All Have Nice Things
One thing you have to consider when it comes to the term "nice things" is that it's a relative term. Someone living in a third world ghetto with a home that is little more than a lean-to would be incredibly blessed to have a little dilapidated house in the U.S. that most of us would think is uninhabitable. Just the same, many billionaires might not be caught dead in my 4,000 square foot house in an upscale neighborhood.
The point is that no matter how modest your situation, you will always have more money and nicer things than someone else.
Should We Feel Guilty For Having Nice Things?
Do you think I should feel guilty for having an expensive watch? Should Dave Ramsey feel guilty for paying cash for a multimillion dollar house? Well, I guess it depends on where your heart is and how you view wealth.
What Does The Bible Say About God and Wealth?
I always strive to look at anything in life through a spiritual lens. Specifically, I like to find out what the Bible has to say about wealth and material possessions. So let's look at a sample of what the Bible has to say:
"Do not lay up for yourselves treasures on earth, where moth and rust destroy, and where thieves break in and steal…" (Matthew 6:19)
"If riches increase, do not set your heart on them." -Psalms 62:10
Psalms 112:3 describes a man who fears the Lord. "Wealth and riches are in his house, and his righteousness endures forever."
And many others…
This is just a small sample of the verses you can find in the Bible about wealth. What they tell us is that a righteous man will have wealth as a result of how he lives his life. However, if he starts trusting in his wealth and allows it to separate him from God, it's a recipe for disaster.
The general theme of all the verses on wealth in the Bible is that God should come before wealth. When you keep that principle intact, wealth will not destroy you. Ironically, putting God before wealth actually has the benefit of preserving and multiplying wealth.
What Are We Supposed to Do With Our Wealth?
So it's clear that it's not good to put our trust in wealth. But what are we supposed to do with it?
According to the Bible, there are several things we should do with the wealth that God provides us with. Here are some of the ones we're most familiar with:
But Is It OK to Have Nice Things Too?
One of the things that we're not commonly taught about wealth and material possessions is that we are actually supposed to enjoy them as well. And we are supposed to enjoy them without feeling guilty.
Ecclesiastes 5:19 "Furthermore, as for every man to whom God has given riches and wealth, He has also empowered him to eat from them and to receive his reward and rejoice in his labor; this is the gift of God.…"
1 Timothy 6:17 "Command those who are rich in this present world not to be arrogant nor to put their hope in wealth, which is so uncertain, but to put their hope in God, who richly provides us with everything for our enjoyment."
Proverbs 10:22 "The blessings of the Lord makes one rich, and He adds no sorrow with it."
If you know anything about God, you know He is a god of abundance, not lack. He loves us. He wants us to prosper and enjoy the good things He has provided for us. But we can't let our nice stuff get in the way of serving Him well.
Being all about the bling will get you nowhere.
Where Do You Draw The Line on God and Wealth?
The Bible teaches that we should never trust in our wealth whether we have a little or a lot. Our money and our stuff will only get us so far. It's God that we should trust in completely if we want to truly succeed in this life and the next.
But where do you draw the line when it comes to stuff? Well, that's between you and God. Only you can know when your stuff is becoming a burden in your life. Keeping God as the main focus of your life every day will definitely help you stay on the right side of things.
People Will Judge You
The opinions of people will always get in your way if you're not careful. Other people's jealousy, envy, and skewed belief can really do a number on you if you let them. Whether you have a Manhattan penthouse or just one worn out pair of shoes, don't let judgmental people make you feel guilty about what you have or don't have.
On the flip side, be aware of how you talk about people that have more than you. If you find yourself saying things like "why would anyone need a private jet and a 20,000 square foot house?" then be careful. It's extremely easy to be judgmental of those that have more than you. Remember, it's not your job to judge others. What others choose to have is between them and God.
What Do You Think?
So what do you think about all this? Am I totally off base and need to go jump in the lake? Did you cringe when I told you about the nice things I own? Does God really want us to have and enjoy nice things and build indpendent wealth?
Leave a comment and tell me what you think.