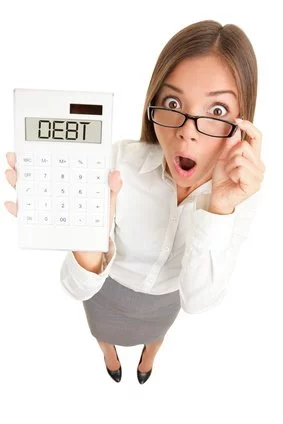 As most of you know if you've been following Celebrating Financial Freedom for more than a few weeks, the CFF blog focuses very intently on getting out of debt and living a debt free lifestyle. You won't find articles about how to manage your credit score here, that's for sure. This is the first of a two part series on starting a monthly budget, so make sure and read Part 2 also!
This post focuses on one of the basic first step to getting out of debt, which is learning to make a plan for your monthly spending (yes, a budget). Since I'm always preaching that you should be debt free, it only makes sense that I should write an article on the basics of how to get started budgeting.
By the way, I also wrote a top rated book on how to easily make a budget that actually works. Learn more here
How to Start a Budget NOW
So let's get started…
The first thing I recommend to start managing your money properly is to get control of your cashflow.
How do you do that? You put together a plan for spending your money before you spend it. A monthly spending plan, (also known as a budget ), is an extremely effective tool. It will save you tons of money over time and keeps you from spending more than you make every month.
But a spending plan is only effective if you do it consistently. If you try it once and don't do it again the next month, it won't do you any good whatsoever. Budgeting takes practice!
_________________________________________________________
"The plan of the diligent leads surely to plenty, but those of everyone who is hasty, surely to poverty" Proverbs 21:5
_________________________________________________________
Before You Start a Budget
So how do you get started? Well, I believe the quickest and simplest way to become familiar with your spending is to write down every single expense you have for the next 30 days.
If you pay a bill, write it down.
If you buy a pack of gum, write it down.
Spiked out collar for your dog with matching ankle bracelets? Get to writin' dude.
You can write it down in a small notebook you carry with you in your purse or your pocket. Or you can even enter it as a note into your smartphone. It doesn't matter how you do it, just make sure and do it.
Commit for 30 Days
If you make the commitment to do this for 30 days you will find that it's an easy way to start getting a feel for how you spend your money. You'll also start developing the habit of considering every purchase and how it fits into your personal financial situation.
You will actually start putting more thought into each purchase. That's is a good first step to developing the good habits it takes to get control of your money and start getting out of debt.
Once you've done this new thing for 30 Days, you now have enough information about how you spend your money to sit down and start putting together your first Monthly Spending Plan (otherwise known as a budget ).
But before we go there I want you to start taking that first step I just described above. Start writing down every expense, every time.
In the next "How Do You Start a Budget ?" installment, we'll get a little deeper into the process and I'll show you how and why to start putting together a Monthly Spending Plan that will get you on track to eliminate the one thing that plagues most people when it comes to their finances, and that is spending more than you make.
Downloadable budget forms are available on that page so you can get started on the right track.
But for now, one small step at a time. Get to writin' Sluggo.
Now Go Read How Do I Start a Budget? (Round 2) where you'll find out the next steps and download free printable budgeting forms.
Learn More About My Top Rated Book on How to Make a Budget Here
You can find all my posts on Budgeting Here
Resources: