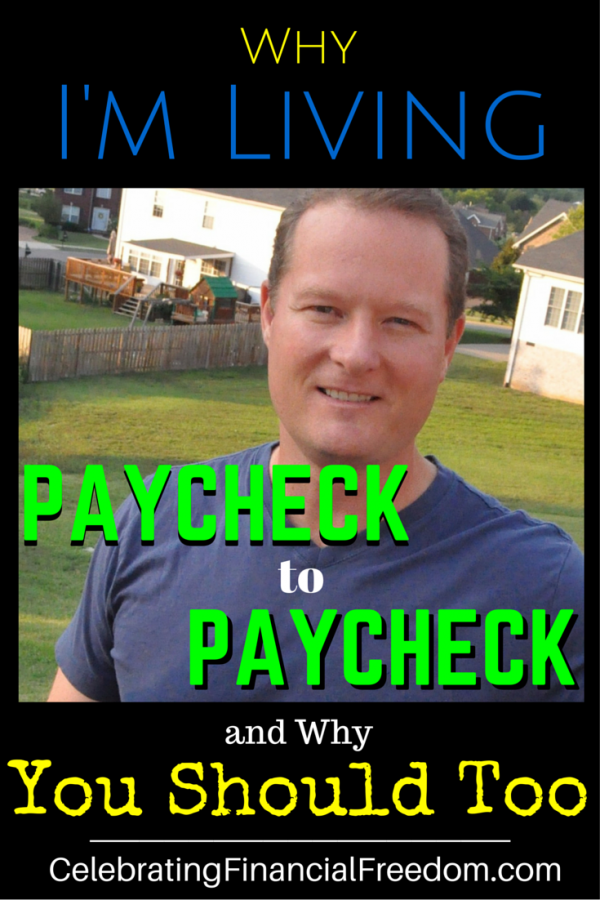 I've decided to come clean and make a confession about my finances! I'll fess up here in just a minute, But first I wanted to share a couple of important facts with you. Did you know that studies show 2/3 of people are living paycheck to paycheck, and 1/3 of high income earners ($75,000 and up) are living paycheck to paycheck too? It's a financial epidemic that has to stop if God's people as a whole want to change the world through our prosperity.
Living Paycheck to Paycheck Limits Your Freedom
Living paycheck to paycheck keeps you from experiencing the freedom that comes with financial prosperity. It limits your choices in life, keeps you enslaved to debt, and keeps you from being generous. The paycheck to paycheck cycle keeps you from living the best life that you want for yourself and your family.
But if you're living paycheck to paycheck, you probably know that already…
What You Will Learn in This Post
Below I'll show you why it's so easy to fall into the paycheck to paycheck trap and how you can get ahead.
I'll also show you why, despite a high income and all my preaching about good money habits, I'm living paycheck to paycheck too!
You might be surprised that I actually recommend living paycheck to paycheck (if you learn how to do it the right way)!
On with the show…
What Does it Mean to Live Paycheck to Paycheck?
Living paycheck to paycheck isn't always a case of poor spending habits, but it's always a case of bad math. There are tons of reasons why the majority of people have trouble making ends meet. You might have first-hand experience with some of these:
A mountain of student loans
Car payments
Lack of self-control with spending money
High housing costs
Low pay
And many more reasons…
But the real deal is that in most cases, living paycheck to paycheck boils down to the fact that you spend more than you make.
Whether you have a high income, a low income, or fall somewhere in between, you don't have to live on the edge financially.
It's just not necessary.
You Have to Learn to Think and Act Differently
I know what you're thinking.
You want to tell me you're struggling financially because of (insert reason here), and that living paycheck to paycheck is as good as you can do with what you have.
And I'll tell you there are plenty of people who are able to live within their means, save money, and have financial peace of mind even if they have a low income or other problems to deal with.
The difference is not in their circumstances, it's how they think and how they act with money. I won't go deep into the details of how to do that here. But if you like you can read the posts at the link below. They'll show you how to change your mindset and actions with money when you're living paycheck to paycheck.
The CFF Living Paycheck to Paycheck Page- A complete list of posts on how to escape the paycheck to paycheck life for good.
I'm Living Paycheck to Paycheck
Ok, so now it's time for me to fess up to the fact that even though I teach incessantly about living within your means and keeping close track of your money, my wife Angie and I are living paycheck to paycheck every month!
Yes, it's a shocker I know.
But it's not necessarily what you think…
Actually, it's a good thing.
Living Paycheck to Paycheck Can Be a Good Thing
Angie and I have been out of debt (except for the house) for quite a few years now, so how is it that we're still living paycheck to paycheck like we did back when we had a pile of debt?
It's because we intentionally choose to live that way.
Let me explain…
Living Within Our Means
I teach my readers constantly about living within their means, doing a monthly budget, saving, and spending wisely. And even though I made the confession above, Angie and I do practice what we preach.
Here's what I mean:
We make it a point to live on less than we make
We never use credit cards or loans to buy things
Angie and I do a written budget every single month
We use an envelope system to pay for frequent expenses such as gas, groceries, restaurants, etc.
If we run out of envelope money before the month is over, we do without.
We have money set aside for emergencies
We're even paying cash for our kids' college education!
Of course these are all concepts that I teach on a regular basis here at the CFF blog. So what do I mean when I say we still live paycheck to paycheck? Keep reading…
How We Earn Our Money
As a practicing dentist, my income can be extremely variable. Some months it can vary by as much as 50%, which can be a huge swing financially from month to month. Angie's income is much more steady since she is a teacher, so she gets basically the same amount every month.
I work in one office 3.5 days a week, and at another office 1 day a week.
Our Monthly Budget
So here's a very general look at how we work out our monthly budget:
All of our monthly expenses are paid using the paycheck from my 3.5 day a week job. This is what we live on.
Every dollar I make from my 1 day a week job goes into savings (minus tithe)
About 80% of Angie's monthly paycheck goes into savings, after taking out the tithe and a little spending money for her.
We Live on Less Than We Make
The net effect of all this is that we live on much less than we make. In the end, about 25-30% of our monthly pay goes into savings.
Some months, if my income is down, then it can be a real struggle to balance the budget. Sometimes we have to cut down on some expenses like restaurants, clothing, entertainment and such just to make ends meet. Of course, this is the same thing we had to do years ago when we were living paycheck to paycheck and just making ends meet.
But now, even if I have a bad month and things get tight, there is still money going into savings every single month without fail.
Want to manage your money better? Try Personal Capital (It's FREE!) and manage everything from your own customized dashboard.
We Still Live Paycheck to Paycheck
So even though we're not spending more than we make these days, we still run our finances like we live paycheck to paycheck (except now we don't use debt and we balance the budget). We make it a point to live on a specific amount of money and no more than that.
I'll have to admit, at times that can be no fun. In fact, after the 2008 crash I lost about 45% of my income for several years, and it was very difficult to deal with financially.
But through that struggle, we were still able to put money in the bank and pay cash for Angie's two college degrees; All because we made a conscious choice to do things differently.
My Income is Better Now
These days my income is much better than it once was, but we still have the occasional low month to deal with. When that happens we just cut back on expenses and deal with it while still building our savings automatically. Just because we have money to put in the bank doesn't mean we dip into it when things get a little tight.
The Net Effect of Living Paycheck to Paycheck
So now I think it's plain to see that there are two ways to live paycheck to paycheck. There's the good way, and there's the bad way.
Unfortunately, the majority of people are living paycheck to paycheck the bad way.
But as you can see, learning to live paycheck to paycheck the good way through getting total control over your finances and getting out of debt has HUGE advantages in how you get to live your life.
It's all about the choices you make.
You Can Do it Too!
Look, I know when you're living paycheck to paycheck (the bad way) it can be hard to get your head above water. It's difficult to see how you can ever get on the right track and start having an excess every month instead of digging the hole deeper.
That's why I started this blog, to help people like you do what Angie and I did. I've written hundreds of articles here over the years that will help you find your way through the paycheck to paycheck fog and manage your money better.
I also developed a highly rated course that distills it all down for you into a step by step process that takes you from wherever you are now to total debt freedom in record time.
If you're interested, you can find out more about the course here.
Freedom > Bondage
There's one thing I know for sure; debt freedom sure beats the heck out of debt bondage… every. single. time.
It doesn't matter if you have a low income or you make a lot of money.
Anyone can do it.
So if you want to stop living paycheck to paycheck the bad way, and join me in living paycheck to paycheck the good way, then keep reading the blog, invest in the course, and you'll get there sooner than you think!
Question: Does it surprise you that we live paycheck to paycheck even after we've gotten out of debt? Do you think it's a good idea or not? Leave a comment below or even better, leave one on our Facebook page