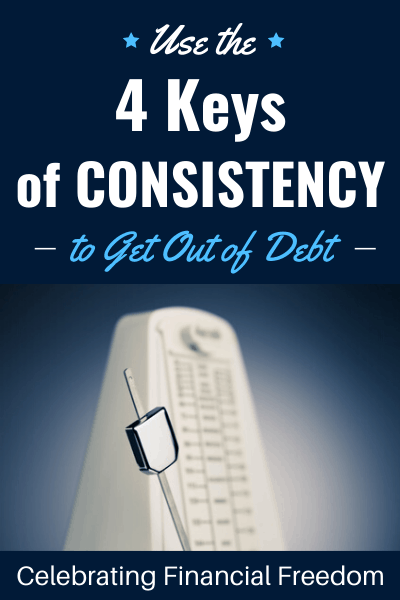 When you're getting out of debt, it can be difficult because you're doing something new. You're changing habits, changing your mindset about money, and learning a new way of living. But when you're making all these changes it can be really easy to let some of your old habits and ways of thinking creep back in.
Change is hard.
That's why you have to learn the keys of consistency when it comes to getting out of debt.
To Get Out of Debt Takes Firmness of Character
One definition of consistency is "the firmness of constitution or character".
When you finally make that life changing decision to get out of debt and stay out, you begin an exercise in character building that will take you to a new and better place in life.
You are building a firmness of character that will change more than just your financial situation. It will serve to build you up in other areas of life as well.
The 4 Keys of Consistency
So what does being consistent look like when it comes to getting out of debt? I believe there are 4 traits to consistency that result in successfully achieving freedom from the bondage of debt:
Consistency Changes Your Life
When you learn and then put into practice these keys to consistency while you're getting out of debt, you will find that that consistency will spill over into other areas of your life as well.
Consistency helps you learn to be disciplined and diligent in the completion of any goals you have for your life.
It's like the constant pressure of the Earth's tectonic plates pushing against each other for eons that eventually forms a great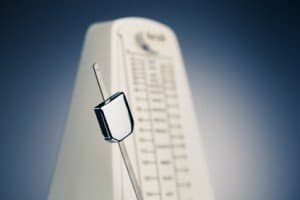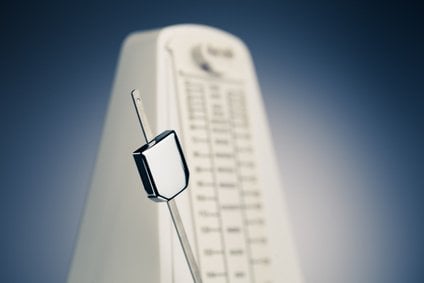 mountain range.
Or the consistent flow of the Colorado river that carved the Grandest Canyon in the world.
Just a little consistent pressure over a long period of time will change your financial life forever.
Consistency will cause you to win, period!
Question: Do you think there are any other traits of consistency that I didn't list here? Tell me what you think by leaving a comment
Resources:
The Top 10 Lies About Money That Keep You in Debt
Creating a Get Out of Debt Mindset- 4 Tips
Top 10 Money Myths That Keep You in Financial Bondage
Debt vs. Ownership- How to Create an Ownership Mentality
Eliminate Debt By Telling Yourself a New Story
How Do You Get Out of Debt Part 1- Get Mad and Naked
Relentless People Get What They Want