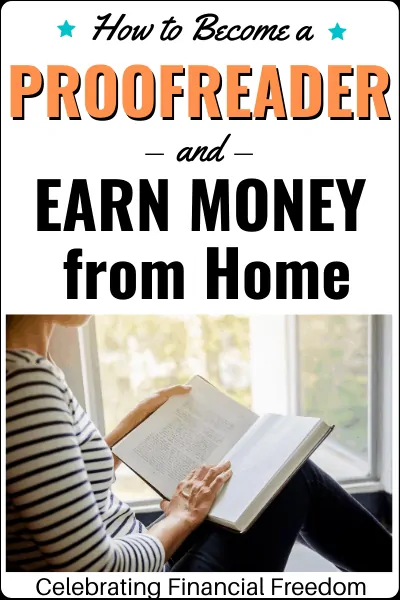 Are you looking for a great side hustle you can use to earn money from home? Are you a detail oriented person who enjoys reading and is good at spotting typos and bad grammar? Great, you're in the right place! This blog post will show you what you need to know to develop your skills and start a profitable home business making money online as a proofreader.
What is a proofreader? How is it different than an editor?
Here's the Wikipedia definition of proofreading:
"Proofreading is the reading of a galley proof or an electronic copy of a publication to find and correct production errors of text or art. Proofreading is the final step in the editorial cycle."
Before a publication goes to a proofreader, it has already been through the process of editing and copyediting. These correct big picture things like text flow, fact checking, character consistency, plot, word choices, and clarity.
A proofreader is the final person to edit a publication before it is published. They put the polish on the completed work. A proofreader corrects formatting problems, punctuation mistakes, misspelled words, inconsistencies, and grammar mistakes. Once the proofreader is finished, the publication will be perfect as it can be and ready for print.
You can proofread academic papers, books, articles, medical transcripts, emails, blog posts, magazines, advertisements, and any number of other publications. Basically, anyone who publishes anything needs a good proofreader to eliminate mistakes.
Will I Need Special Skills to be a Proofreader?
Pretty much anyone can start making money as a proofreader. You will need to learn a few simple skills to get started. Of course, knowing good grammar and having an eye for detail are two skills that a good proofreader should have. This is an especially good side hustle for teachers, as it capitalizes on your training and experience as an educator.
But if you haven't used your grammar skills in a while, that's ok. You can brush up on good grammar principles relatively quickly. Here is a short list of handy skills that will help you be successful as a proofreader:
Detail oriented personality
Committed to meeting deadlines
Good grammar skills
Familiar with Google Docs and Microsoft Word
Good communicator
You should know the English language (or your language of choice) very well
Willingness to seek out freelance proofreading jobs
You should be willing to hustle to find proofreading jobs. They don't just come to you, especially in the beginning. However, the more you build a good reputation as a reliable proofreader, the jobs will be plentiful!
How Can You Get Started with Proofreading?
If you majored (or minored) in English during college, you should have all the skills you need to get started proofreading. For most others, it's wise to have some extra training to become a proofreader.
As I said earlier, most anyone can get started with proofreading. But getting a little training is definitely beneficial if you want to do it well.
If you have no prior experience, all it takes to get started proofreading is:
A few weeks of taking an online training course
Just a few hundred dollars for the course
A commitment to completing the course, then seeking out online proofreading gigs once you're done
Training is a Must
Just getting started without any training is a recipe for disaster. You may be able to find some proofreading gigs online, but it will be difficult to build a good reputation, as your lack of training will be evident in your work. But with just a few weeks of training, you'll be well on your way to earning a great full-time or part-time income!
My favorite online proofreading course is from my friend Caitlyn Pyle, the pre-eminent work-at-home guru.
It's called Proofread Anywhere, and it's by far the best resource I've seen to get started proofreading online, and build a work-at-home business you can be proud of. Later in this post, I'll fill you in the specifics of the course.
But for now, I know you have a lot more questions…
How Quickly Can I Start Making Money Proofreading?
It usually takes about a month to get through the course. Some take longer, some get through it quicker. The point is to take your time and learn the skills thoroughly. Once you complete the course, you can start making money soon after that. Of course, as you build a reputation and improve your speed, your income will grow over time.
At that point, it's really up to you how much you make. You can really hustle and make a better than average full-time income. Or you can also use it as a lucrative side hustle to provide the extras for you and your family. The choice is yours!
The important thing to understand is that this is not some kind of get-rich-quick scheme. It's about learning a skill, then making money with your new skills in the marketplace.
How Much Can You Make Proofreading?
It's difficult to give you an exact number as to how much you can make as a proofreader. There are a lot of factors that determine exactly how much you can make.
One factor is what kind of proofreading job you're doing. For instance, if you are proofreading transcripts, those jobs are usually paid by the page, and the rate per page varies by how quickly you can get the job done.
General proofreading is usually paid by the project, or may pay a per page rate. These rates can vary quite a bit depending on your experience level, the client's budget, and the level of service you provide, among other things. Definitely, the level of service you provide is directly associated with how much you can get paid.
The amount of time and effort put into this, along with the quality of the service provided to clients, is directly linked to the amount of money someone can make.
In general, you can expect a range of $25-$45 per hour. As a freelance proofreader, you will probably start out at the low end of that range. But as you gain experience and increase your level of service, you should be able to easily get to the high end of the range and beyond over time.
Can Anyone Learn How to Make Money Proofreading?
Yes, most anyone can do it, assuming you learn the proper skills. You will need to be willing to use your spelling and grammar skills properly. Of course, it definitely helps if you naturally have an eye for finding errors.
Fortunately, these are skills that can be learned, then honed as you do more and more projects over time.
Pros and Cons of Working from Home as a Proofreader
Just like with any job, there are pros and cons to working at home as a proofreader. However, if you know what they are going in, there will be no surprises once you get started with your new profession.
Pros of Being a Proofreader
There are plenty of pros to building your own proofreading business. Depending on your specific needs, proofreading can help you earn an excellent living on your own terms. Here are some of the great advantages:
Work as much or as little as you like– You can proofread full-time or part-time, it's up to you!
Set your own hours– work after the kids go to bed, before they get up, or after they go to school. It's a great side hustle for single moms!
Location freedom– You can literally work from anywhere, as long as you have a computer and an internet connection.
Create your own destiny– You don't have to worry about a mean boss breathing down your neck, crazy office politics, or layoffs.
Be your own boss– You're the only one who gets to tell you what to do!
Stay at home with your kids– Lots of moms do proofreading from home. It's a great way to bring in income and still take great care of your family.
If you can't (or don't want to) do the 9-5 job thing, proofreading has real advantages, as you can see above. Who wouldn't want the complete time and location freedom proofreading offers while making a good living too?
Cons of Being a Proofreader
Of course, any career has its downsides. Fortunately, the pros heavily outweigh the cons. Here are some of the cons to being a proofreader that you will run into:
You'll need to find your own clients– This is not a dealbreaker for most. Fortunately, there are plenty of resources available to help you easily find your own clients. You can read more about some of those later in this post.
Pay tops out at around $50 an hour– In general, most clients don't pay more than about $50 per hour for a proofreading gig. However, you can make more money by adding additional services they need, such as editing, blogging, book cover design, and ghost writing among others.
Deadlines can be tight– Clients often want a quick turnaround. You will need to be comfortable working on a tight deadline while maintaining high accuracy.
How Do You Know if Proofreading is a Good Fit for You?
What if you're not sure that starting a proofreading business is a good fit for you? Well, there are a few things you can do to help figure it out. First, take stock of your natural abilities and tendencies:
Do you like to read?
Are you a detail-oriented person?
Are you good with grammar and spelling?
Do you have the discipline to meet deadlines for your clients?
Are you self-motivated to make clients happy and serve them well?
These are just a few of the things you should consider. Fortunately, my friend, Proofreading expert Caitlyn Pyle has a 76-minute online workshop you can attend that helps you make sure proofreading is for you.
You can access Caitlyn's workshop here.
How Do You Find Proofreading Jobs?
There are plenty of resources you can use to find proofreading jobs. Most all of them are online, so they are easily accessible from your laptop.
One great aspect is that you have the freedom to pick and choose which projects you want to take on. If a deadline doesn't work with your schedule, you can always find one that does.
Of course, you may have to take some lower paying jobs at first. But as you build a reputation, you'll be able to take on larger, higher paying jobs later.
Here are some good resources where you can find proofreading jobs online:
Google Jobs– Simply Google "proofreading jobs", and at the top of the search results you'll see a listing of available proofreading gigs from all over the internet.
Upwork– A great site for freelancers of all types, including proofreaders.
FlexJobs– There are typically hundreds of jobs available at FlexJobs. Just go to their homepage and search "proofreader"- there are tons of jobs available here! There is a $14.95 monthly fee to use it, but as you can see, it's well worth it!
Craigslist– On Craigslist you can find jobs locally or nationally that may not be listed on other sites.
LinkedIn Jobs– You will also find plenty of listings here. Just search "proofreader" and see how many pop up!
Scribendi– The world's fastest growing community of professional editors and proofreaders
Proofreading Niches
As you start your proofreading business, you should consider sticking to one or two niches to make your life easier. You don't have to choose a niche, but sticking to just a few specific types of content can help your work move faster (and make more money!).
Niching down is especially good if you have knowledge about specific subjects that you understand very well. For instance, here are some niches to consider:
Nonfiction books
Fiction books
Romance novels
Automotive publications
Court transcripts
Gardening
Agriculture
Cookbooks/food blogs
Sports
Financial publications
Fashion
Business
Fitness and nutrition
And many more…
The important thing about picking a niche is that you understand it well. If you have specialized knowledge about a subject, you have an upper hand over other proofreaders because you understand the terminology and concepts involved with that niche.
What Steps Can I Take to Start Making Money Proofreading?
The first thing you need to do is to decide this is a money-making venture you want to pursue. You need to make sure you are mentally committed to making it work for you.
You will have to carve out time to get some basic training. After that, you'll need to make time to find and complete projects in a timely fashion.
The best basic training I've seen can be found in the Proofread Anywhere course by work-at-home expert Caitlyn Pyle. She got her start as a proofreader working from home, and now she teaches others how to do it too!
Access Caitlyn's FREE workshop that has shown thousands how to get started.
Why Do You Need Training to be a Proofreader?
There's more to proofreading than just knowing good grammar and spelling. There are specific skills you will need to learn to be successful with it.
Think of it like this- would you become a nurse or a teacher without the proper training? Even though you may know some aspects of nursing or teaching, you need training in order to do it at a professional level.
Fortunately, you don't have to endure years of schooling to become a proofreader. All you need is one course that takes just a few weeks to complete!
How Much Does it Cost to Start a Freelance Proofreading Business?
Starting and running a freelance proofreading business is extremely affordable. The only real expenses are taking a course to learn the business, then once you get started, maintaining a website to advertise your business.
Starting and maintaining your website is easy, and only costs a few dollars a month to maintain. Other than these two expenses, costs are minimal to nonexistent.
Why Should I Take a Proofreading Course?
A good course teaches you every single thing you need to be successful as a proofreader. When you finish the course, you should have all the knowledge available to run your freelance proofreading business at a high level.
The top course for learning to start your own proofreading business is General Proofreading: Theory and Practice by Caitlyn Pyle.
In her comprehensive course with over 40 lessons, you will learn:
How to find clients for your business
Time management skills to increase your income
How to write proposals
Tips for servicing clients at a high level
Higher level grammar skills you didn't learn in high school
How to pitch potential clients
How to create a website to advertise your services
All the tax information you need to know as a freelancer
How to set your rates
How to communicate with clients about their specific needs
Profitable proofreading niches to grow your income
How to bill clients
How to work with special requests from your clients
Tips for figuring out difficult grammar questions you may have
How to handle unusual situations that arise occasionally
How to start building your clientele
And much more…
Included with the course is exclusive membership in the Facebook community. So if you have any questions or just want to compare notes with other freelance proofreaders, the members there are happy to help with plenty of expertise, support, and encouragement!
When it comes down to it, I believe this is easily the best course out there teaching how to make money with your own freelance proofreading business.
To find out more, check out the FREE Proofread Anywhere 76 minute workshop to get all your questions answered.
I'm Hesitant About Investing in a Course
It's totally understandable to be hesitant about investing in a course. I know because I've felt the same way before investing in some of the courses I've purchased over the years.
But here's the deal- this is truly an investment in yourself. And what do investments typically do? They increase in value over time. Anything you invest in the highly rated Proofread Anywhere course, whether it's time or money, will pay off exponentially in the long run.
What's causing you to hesitate is a scarcity mindset. I've been there before, so I know what it's like. I still have to do battle with it sometimes.
When I first started investing in online courses, I wondered if they would really be worth it. After taking plenty of online courses, some costing hundreds of dollars, I can tell you it's definitely worth it!
Of course, you should do your due diligence. But when you learn from a professional and commit to the process, your investment will pay off HUGE over time!
Access the FREE Proofread Anywhere workshop here.
Extra Bonus: Proofreading Tools to Make Your Job Easier
Grammarly Free Grammar & Spell Checker– Another great grammar checker. Excellent for catching mistakes and proposing alternatives for you automatically. Best of all, it's free!
ProWritingAid– Direct quote from their site- "ProWritingAid is the only platform that offers world-class grammar and style checking combined with more in-depth reports to help you strengthen your writing. Our unique combination of suggestions, articles, videos, and quizzes makes writing fun and interactive."
Copyediting and Proofreading for Dummies– Great for beginners!
The Blue Book of Grammar and Punctuationis a robust book with real-world examples and excellent quizzes to test your knowledge.
One Word, Two Words, Hyphenated?- A VERY good reference and learning tool to help you overcome the common confusion related to hyphenation. (Really good for general proofreading students, as well!)
McGraw Hill's Proofreading Handbook(for general proofreading): This comprehensive guide provides you with all the tools of the trade, giving you valuable sample style sheets, proofreading checklists, a list of commonly misspelled words, and a chart of proofreading symbols — everything you need to dot your I's and cross your T's.
The Best Punctuation Book, Period is easily my favorite. It's an all-in-one reference for book, magazine, online, academic, and business writers. Author June Casagrande makes it super easy to look up sticky punctuation questions for all styles including AP, MLA, APA, and the Chicago Manual of Style.
Becoming a Freelance Proofreader- You Got This!
If you're one of those people with a natural tendency to spot misspelled words and bad grammar, then making money proofreading might be a great fit for you!
Whether you need to learn the business of proofreading, brush up on your grammar, or both, Caitlyn Pyle's Proofread Anywhere course is the best way I've seen to get started.
In her first year of proofreading part-time, Caitlyn made $43,000. In the course, she shows you step-by-step everything you need. Even better, the exclusive Facebook community is there for you with support, encouragement, and answers to all your questions.
The Proofread Anywhere course helps you with:
All the ins and outs of grammar you'll need to know
How to run a successful freelance proofreading business you can be proud of
How to create a freelance lifestyle that fits you and your family
You may not be ready to invest in a course yet. But you should definitely get the FREE video training to help you know more about it and decide if proofreading is a good fit for you. Just click here to grab a seat in the free training.