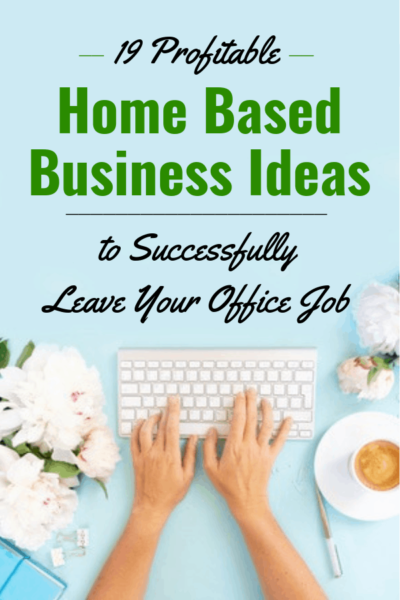 If you're anxious to leave your office job to start a home based business , you aren't alone. Statistics show that nearly one-third of the American workforce will soon be self-employed. And that number is only expected to increase in the coming years.
Many are in it for the location independence. Most just want a job that allows them the flexibility to work around their families for the rest of their lives.
According to Timedoctor.com "…people are leaving the security of full time jobs to pursue different opportunities in the form of independent work, many talented professionals are signing up on digital marketplaces like Upwork to offer their services."
The good news is that as the percentage of the workforce who are self-employed increases, so do the opportunities for those seeking to start a proven home based business that really pays well.
In this post, we'll talk about 19 of the best home business ideas to successfully leave your office job this year. Most have low start up costs, and some have no startup costs at all!
19 Successful Home Based Business Ideas You Can Start Today
1. Freelance Writing
If you are a strong writer, starting a freelance writing business is a great way to make a living online. There are opportunities available for many types of writing including blog writing, academic writing, technical writing, news writing, marketing copywriting, and much more.
Some writing experience is preferred, but there are many starter jobs available on sites like Upwork for those without much experience.
In order to grow your freelance writing business, be sure to let clients know where they can find samples of your work online.
Check out Holly Johnson's Earn More Writing Course where she shows you how she makes six-figures as a freelance writer.
You can also Check out Gina Horkey's 30 Days or Less to Freelance Writing Success course.
2. Proofreading and Editing
Like freelance writing, freelance editing is a career with a lot of earning potential. It's ideal if you have either a degree or job experience as an editor.
But even without experience, you might be able to pick up some low-paying editing jobs to gain experience.
There are jobs available for academic editing. But you can also find freelance jobs editing just about any online or printed copy. And with more professional blogs on the internet, there are always editing jobs for blogs available.
Here's an excellent online course from Caitlyn Pyle to help you start and build your own Proofreading business from home.
3. Social Media Management
Companies need to be active on social media these days to get the world out about their services, and that means hiring people to manage their social media pages.
You can get paid to consult with companies and help them create a social media strategy. On the day to day level, you can also provide companies with the management of their social media platforms so they don't have to run them on their own. This is an especially good side job for single moms, as you can do it in your spare time on your own schedule.
Gina Horkey's 30 Days or Less to Virtual Assistant Success is an awesome way to get started as a social media virtual assistant.
4. Graphic Design
Graphic design is a task that is often hired out to freelancers, rather than companies bringing on a full-time graphic designer. Because of that, there are always jobs to pick up online.
Graphic designers can help companies create logos, advertisements, flyers, magazines, etc.
And with programs like Photoshop and Illustrator being so accessible, anyone can learn graphic design with an online course and lots of practice.
5. Blogging- An Awesome Home Based Business Idea for Stay-at-Home Moms
Starting a blog is a great way to start a fun business from home with an unusually high earning potential. The startup cost is low, and you can learn many of the skills required as you go.
Depending on your dedication, you can earn anywhere from a few dollars per month, to five or six figures per month blogging.
Blogs make money in a variety of ways including selling ads on their site, affiliate marketing, and working with companies to create sponsored content.
Sign up for my FREE 7 day "How to Start a Blog" email course
Free Tutorial- How to Start a Blog in 6 Easy Steps
6. Ads Specialist
If you're experienced in running online ads, you might consider becoming an ads specialist.
Many companies are turning to Facebook and Google as the place to do their advertising, but it can be confusing for most people.
Experts in running Facebook or Google ads can work with small businesses to get paid to run their ads for them.
Below, you'll find links to two awesome courses for building a successful Facebook ads business of your own.
Bobby Hoyt and Mike Yanda's Facebook Side Hustle.
Flourish With Facebook Ads by Monica Louie.
7. Creating and Selling Digital Products
Online education is a fast growing industry, and it's a lot more than just college kids taking classes online.
If you have a particular knowledge base or skill set, you can monetize that by creating your own ebooks or online courses to sell online.
If you already have a blog, adding digital products to the mix can be a great way to monetize the traffic that comes to your website.
8. Web Development
Web development can be a successful home business idea for anyone who knows how to code. It's a skill we've all heard of, but that not many of us can do ourselves!
And because web development is in such high demand, there's a premium price tag attached to it, meaning it can be a very profitable gig for you.
You'll likely need to master several programming languages to land one of these gigs. Fortunately, the internet is a big place and there are several free (and paid) resources for you to learn them.
Codeacademy offers several such resources to help you learn many coding basics for free.
9. App Development
Another option for tech-savvy individuals is to become an app developer. If you have lots of app ideas, you can get to work developing those. But you can also develop apps for other people.
Most people with great app ideas probably don't have the technical skills to create them on their own, meaning they're contracting out that part of the job.
It's another skill that most people don't have, so you can charge a premium price.
10. Virtual Assistant as a Home Based Business
If you have a knack for organization and administrative work, then becoming a virtual assistant might be the perfect home based business that you can start today.
A virtual assistant is often pretty similar to being a traditional assistant in an office, except it's done virtually. The duties will vary, but responsibilities often include handling calls, emails and calendars.
This also might be a great way to ease into a field that interests you. For example, if you've been wanting to start your own blog, consider getting a job as a virtual assistant to a blogger to see how it works and start gaining some of the necessary skills.
Get on the fast track to becoming a VA with Gina Horkey's 30 Days or Less to Virtual Assistant Success.
11. Teaching English Online
Teaching English online is a great way to make some extra money, or even to do as a full-time job. There are plenty of companies like VIPKID who hire english teachers without requiring a teaching degree at all (Note: VIPKID specifically does require a Bachelor's degree of some kind).
25 Best Side Hustles for Teachers to Earn Extra Money
However, companies such as Cabmly, Tutoring Lab, Magic Ears, QKids and Open English, do not have a degree requirement.
By teaching English online, you get to choose your own hours. And some of the sites also allow you to set your own rates! It's a really fun way to make money that can really pay well!
12. Transcription
Transcription jobs have been around for a long time in the medical and legal fields. But with so many more online businesses turning to video and audio content, it's becoming even more popular.
Sites like Rev and TranscribeMe allow you to sign up as a transcriptionist and pick up jobs when you have time. As you become more skilled, you can start working directly with clients as a freelancer or independent contractor.
13. Start an Online Store
Whether you're crafty enough to create your own products to sell or just want to sell someone else's product, anyone can start an online store.
Popular services such as Amazon, eBay, and Shopify allow you to sell just about anything online, either on a third-party site or on your own site with a service like Shopify.
Some crafty entrepreneurs like to purchase products directly from wholesalers, and then mark them up before selling them on the above platforms for a healthy ROI.
14. Coaching
If you're an expert at something, there's a good chance someone else will pay you to teach them those skills.
Some examples of coaches include life coaches, business coaches, fitness coaches, and nutrition coaches. But there's certainly potential in even more industries than that.
Life coaching and business coaching are but two online business ideas that have become particularly popular with the increase in the number of people venturing into self-employment (because of their low start up cost).
15. Photography
These days the opportunities for photographers are a lot more vast than just booking photography gigs. With so many visual online platforms such as Instagram and Pinterest, the market for stock photography continues to grow.
Sites like iStockPhoto and Shutterstock allow you to sell your photos as stock photos. You can also use services like Etsy or Shopify to sell prints of your photos.
16. Bookkeeping as a Home Based Business
Bookkeeping is a great home business idea for anyone with a background and skills in accounting.
Many small businesses cannot afford to keep a full-time bookkeeper on staff, so it is a job that is often contracted out to freelancers and bookkeeping businesses.
You don't need to be a CPA to get started with a bookkeeping business, but you should have accounting knowledge and experience.
17. Tax Preparation
Most people cringe at the thought of having to prepare their taxes. But there are those rare (and lucky) few who actually think it's fun!
If you're one of those people, tax preparation can be a very profitable home business idea for you. Often, tax preparers are able to earn enough money just in the first four months of the year to serve as a full-time salary.
You could also offer other financial services the rest of the year, such as the bookkeeping business mentioned above.
18. Travel Planning
For people who don't travel often, the idea of planning a long vacation can seem daunting. If you're a seasoned traveler who loves planning trips, travel planning might be for you!
As a travel planner, you can help customers book their flights, hotels, and attractions, as well as pointing them toward the best restaurants and tourist sites.
A great way to get started as a travel planner is to start a travel blog to show your travel knowledge. It's an enjoyable way to make money that you can turn into a full-time career!
19. Grant Writing
Grant writing is a special skill, but many of the schools and nonprofit organizations who apply for these grants can't afford to have someone on staff full-time for this purpose.
If you have the experience and skills required for grant writing, this can be a great task to take on for those organizations. Look for freelance grant writing jobs online, or even contact local nonprofits and ask if they need your services.
The Bottom Line on These Home Based Business Ideas
These days, more and more of the workforce is leaving traditional employment behind in favor of self employment and home based businesses.
There are many home business ideas out there for anyone looking to leave their office job, you just have to dive in and try one.
By identifying your most marketable skills and the type of work you enjoy, you can find the perfect business idea for you. Better yet, the ideas on this list are really just a sample of the opportunities available! There are so many more ways to make money online. Good luck!