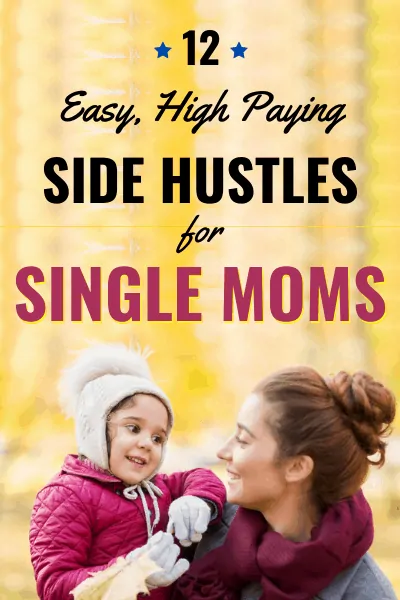 As a single mom, it can be extremely difficult to make ends meet and still have a life. Especially when you have a full-time job, childcare expenses, and everything else you need to keep your family going. Fortunately, it's now easier than ever to find a good, high paying side hustle for single moms to work from home that's flexible and fits their lifestyle.
Even better, there are plenty of side jobs available that have relatively high pay. Some are even lucrative enough to become your full-time job if you want! Imagine the benefits:
having a well-paying job that allows you to be home with your kids.
Little to no daycare expenses.
The flexibility to work the hours that suit you best.
No commute- spend less on gas and no traffic!
Less wear and tear on your vehicle.
Save money on eating lunch out.
Save money on business clothes- work in your PJ's.
Guidelines for Side Hustles for Single Moms
Whether you call it a side job, side gig, moonlighting, or a side hustle, it's important to have some guidelines to work from. When I put together this list of side hustles for single moms, my goal was to provide you with ideas that don't steal all your free time. Also, they needed to be high paying side gigs so they are worth the time you invest.
So, here are the guidelines for my list of side jobs suitable for single moms on this list:
High than average pay– minimum wage doesn't work here.
Flexible- work your own hours at your convenience.
Reputable- nothing scammy.
Suitable for stay-at-home moms or solo moms who already have a job.
Enjoyable- every person has a different idea of what's enjoyable, so this one's kind of subjective.
Relatively easy- making money is rarely easy. These side hustles are somewhat easy to start making money in a short time.
Minimal to zero up-front investment
Many single moms have discovered that using several ways to produce a little extra income is tremendously helpful financially. They can help you get the bills paid, save up for Christmas, or pay for the extras like vacations and eating out.
So, with that said, here are some of my best, easiest, high paying side hustle ideas you can start quickly, with little to no up-front investment.
12 of the Easiest, High Paying Side Hustles for Single Moms
Social Media Manager
Many companies have no clue how to manage their social media presence. That's where you come in.
This is one side hustle where you can make a few bucks managing social media for a small local company, or you can go big, managing social presence for larger companies and higher pay.
The great thing about this side job is you can work your own hours and still get paid well. Just spend a couple of hours prescheduling posts and call it a day!
You will want to focus on the top social media sites, which are Facebook, Instagram, and Pinterest.
Single Mom Pinterest Side Hustle
More and more businesses are using Pinterest as part of their marketing strategy to increase sales and traffic to their website.
Working as a Pinterest VA (virtual assistant) is a great way to help these businesses out. You will be required to create pins, do keyword research, and schedule the pins to post at certain times of day.
If you're not sure how to do this, you can always invest in a course that teaches you all you need to start this profitable side hustle.
Here's a great Pinterest VA course I recommend from my friend, Kristin Larsen
Single Mom Facebook and Instagram Side Hustle
Running Facebook ads for small businesses is one of the most popular social media management jobs for side hustlers. And since Facebook bought Instagram a few years ago, their platforms are integrated so you can easily promote businesses on both.
Your goal is to run ads for small businesses that increase sales for the business. Most business owners don't know how, or don't want to tackle this on their own.
It works so great because when you do it well, business owners will be knocking down your door to hire you! Anytime you can create sales for a business, you are a valuable asset they are willing to pay good money for.
If you don't have any knowledge about Facebook marketing, you can always take a course.
My favorite is from Facebook marketing guru Monica Louie. It's called Flourish with Facebook Ads.
You can also get her FREE Facebook Ads Starter Kit here.
In the course, you will learn:
How to create ads that convert to sales.
Targeting ads to your client's ideal customer.
How to test ads to see which one works best.
Finding clients willing to pay you good money to do their Facebook and Instagram marketing.
Lots of Single Moms Start an Etsy Shop
If you're a creative single mom, you should consider selling your creations on Etsy. No matter what you know how to create, you can sell it there.
It's really easy (and FREE) to get your shop up and running. You only pay $0.20 to post a listing, plus a 3.5% transaction fee on the sale price.
There is literally no limit to what you can sell there. Here's a link to my Etsy store as an example.
Also, I wrote a detailed post about how to start an Etsy store you can find below:
Money Making Idea #14- Sell Arts and Crafts on Etsy
Start an Amazon Business
Did you know that hundreds of thousands of people make money selling products on Amazon? Many of them are making a full-time living! You don't have to make any major investments to get started with any of them.
There are several ways to make money on Amazon, here are some of the most popular:
Work for Amazon Remotely- work directly for the company in HR, project development, IT, or a myriad of other jobs.
Self-Publish eBooks with Kindle Direct Publishing (KDP)- Self publishing books is easy. If you like writing, this one is good for you
Amazon Flex- Delivering Packages for Amazon. Easy, but takes you out of the home.
Affiliate Marketing- Sell products from your website using affiliate links
Become an Amazon FBA Seller- Amazon FBA is especially good for single moms. You can do it from home, and you don't have to handle any products. Your income has unlimited potential with Amazon FBA.
Here's a link to the #1 course for learning to make money on Amazon. It's extremely affordable and teaches you everything you need to know.
Start a Baking Business
Do people love your cakes and cookies? Do others consistently tell you you should sell your yummy baked goods? If so, you should consider starting a business baking from home.
It's extremely easy and low cost to get started. And you can make a pretty nice income on the side depending on how much you want to do. Another benefit is that you can include your kids in the business too. They can help with different tasks in the kitchen, and learn from you as you develop your baking business.
I wrote a detailed article about starting a baking business that I know you'll love! It covers everything you need to know, including food laws, marketing your business, and everything else you need to start.
Money Making Idea #18- How to Make Money Baking from Home
Become a Single Mom Freelance Writer
There is a ton of opportunity in the freelance writing space. If you like to write, this is an exceptionally good side hustle that you can turn into a full-time career if you like.
There are thousands of businesses, from huge corporations to mom and pops, that need you to write copy for their marketing materials, websites, and other forms of communication.
The jobs are relatively easy to find. Even if you're inexperienced at writing, you can still to this side gig. There are opportunities available at many different levels. As you improve your writing skills and please your clients, you can charge higher fees and take on higher paying projects.
You can read more about how to become a freelance writer at the link below. I'll tell you about my friend, Holly Porter Johnson, who makes a multiple six-figure income as a freelance writer. You'll learn how to get started, where to find writing gigs, and the different types of writing gigs you can do.
9 Ways to Make $1,000 (or More!) a Month as a Freelance Writer- Money Making Idea #22
Flipping Cars for a Profit
Some people think flipping cars is more of a guy thing. But it's an excellent way to make a side income that a single mother can do as well. It's the basic concept of buying low and selling high. You really don't have to know that much about cars to make money with this side hustle, and it pays really well!
All you need to do is find a vehicle that someone needs to get rid of that runs well. If you're not sure, have your mechanic check it out before you buy it.
The vehicle doesn't have to be pretty. In fact, you can usually get a better deal if the car is a little dirty and run down looking. Then you can clean it up and sell it for a higher price than you bought it for!
Of course, you want to get as good a deal as possible, so you'll need to do your research and know the Blue Book value of the car (it's easy to find online). Your goal is to purchase the vehicle below Blue Book value, and resell it at or above Blue Book.
You can make a few hundred to a few thousand dollars in profit for every car you flip.
Money Making Idea #2- Buy & Sell Used Cars
Photography
If you have a decent camera and enjoy photography, you can earn a nice side income taking pictures. Work as much or as little as you like, and you can earn a few hundred to a few thousand dollars a month part-time depending on how many shoots you do.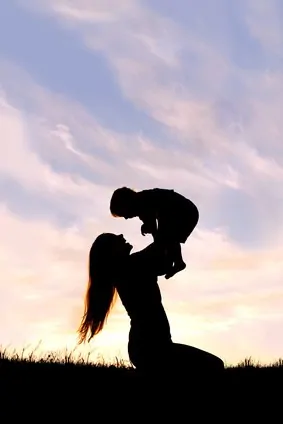 There are plenty of niches you can get into with photography. Here are a few examples:
Corporate- taking pics at corporate events, headshots for the company website, etc.
Weddings- pictures of the bride, groom, and family members.
Pets- People love their pets! They will pay good money for pics they can proudly display.
Babies- people always want pictures of their new babies. They are willing to pay a lot of money for well done, unique pictures.
Stock Photography- sell your pictures to stock photography sites, and you make money every time someone buys one of your pics.
Homes- Real estate agents need pictures of homes they are selling, especially the higher end homes that need expertly done images that make the house "pop".
Tutoring Online or In Person
If you have teaching experience, then tutoring is a great high paying side hustle you can do at home as a single mom at home.
Tutoring in person is something you can literally do from your kitchen table! My wife is a 5th grade teacher, and she charges $40-$50 per hour for tutoring sessions. She tutors anywhere from 3-10 students a week, depending on the time of the year. It's an easy side hustle, and it makes a HUGE difference in a child's life!
Online tutoring is another good way to make extra money from home as a single mother. The most popular platform is VIPKid. It's an online platform for teaching students from Korea and China how to speak English.
You don't need to know a foreign language. The lessons are full immersion English for the kids, so only English will be spoken during tutoring sessions.
According to the website, typical pay is $15-$22 per hour. You are required to sign up for a six-month commitment. However, you can do as many or as few tutoring sessions as you want during that time.
Create and Sell Lesson Plans Online
This is another good one for single moms with teaching experience. For teachers, lesson planning takes a ton of time. But there is a great way for teachers to cut down on lesson planning time by purchasing pre-made lesson plans online.
This is where you come in. You can create and sell pre-made lesson plans at TeachersPayTeachers.com. It's a nice way to build a relatively passive, consistent income stream.
Just create a lesson plan once, and you can sell it hundreds of times! Create dozens of lesson plans for different subjects and grades, and your side income increases tremendously as you build your reputation on the site.
Virtual Assistant
Virtual assistants can do a wide variety of work for business owners who need help. You can do pretty much anything from managing email, to creating documents and spreadsheets, managing social media, or anything else they need help with.
You can be a general VA, doing whatever your clients need, or you can specialize into a specific niche. For instance, you can only manage email accounts, or only do social media. Just know what your capabilities are, and what kind of VA you want to be before trying to find clients.
Here is one of my top posts on how to become a Virtual Assistant.
Accounting and Bookkeeping
Do you have bookkeeping or accounting experience? If so, there are always businesses looking for help with their financial records.
It's an excellent single mom side hustle you can easily do just a few hours a week, or even full-time if you choose. You can contact small businesses in your area directly, or check with online job platforms such as Indeed, Ziprecruiter, Backoffice, or Upwork, among others.
Pet Sitting, Dog Walking, and More
People are really busy these days. Unfortunately, sometimes they don't have enough time in the day to care for their pets as well as they would like. You can help them out with a pet care side gig!
You can limit your services to just walking dogs, if you like. As another option, you can go full service by doing pet sitting, feeding reptiles, and performing other special services clients need.
Websites like Wag, Care.com, Petsitter.com, DogVacay, and Rover are some of the more popular sites you can use to find pet-oriented side jobs. Here's how to get started:
Create a profile on the sites above.
When someone near you needs your services, you can accept or decline any job that's available.
Once you're hired, perform the service you were hired for.
Once you finish the job, alert the site and collect payment.
You can bring your kids along on dog walks for fun and exercise! Although you may not be able to set your own schedule every time, it's still a good way to earn a nice side income as a single mom. You can also earn tips when you do your job well!
Side Hustles for Single Moms
So, there they are, a dozen high paying side hustles for single moms to put some extra cash in their pocket! Relying on only one source of income can put you in a bind if you're not careful. Multiple sources of income are especially important during extraordinary times such as a pandemic.
Whether you're a single mother or not, I always recommend a side hustle to increase your number of streams of income.
You never know when your primary job will get eliminated or cut back, so the more streams of income you have coming in, the better you can weather the financial storms when they come.