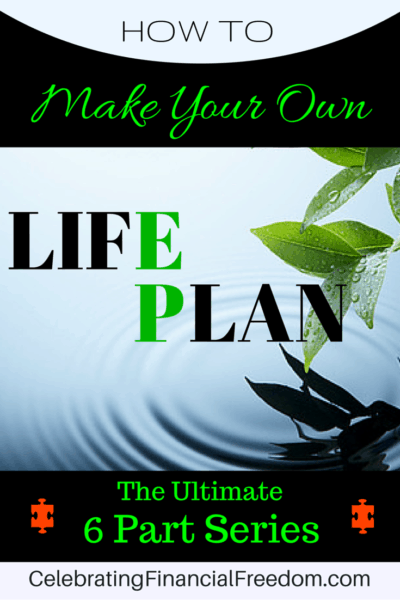 When you think about the future, what do you see? Do you have a life plan to guide you into your best future? Do you see a clear picture of what you want the future to look like? Or do you see a amorphous vision, only a general idea of what you'd like it to be?
I believe most all of us ponder and dream about the future on a regular basis. But how many of us have a clear life plan, a vision even, of what we want our future to look like?
Even more, do you have a written life plan, and are you taking specific action toward shaping the future that you want for yourself? Are you actually making your future what you want it to be?
If not, there are steps you can take to bring your nebulous vision of your future into laser sharp focus.
Below you'll find out how to put together your own life plan, complete with downloadable forms to get you started. This is the first in a 6 part series.
A Life Plan Keeps You Moving in the Right Direction
Of course, I realize you can't fully predict every aspect of what the future will look like for you.
Sometimes God has other plans.
Life can certainly throw you some curveballs over the years that will change everything, such as sickness, disaster, job loss, loss of a spouse, etc. When those things happen, you have to make an effort alter your plans and your mindset as well.
When you don't have a plan for moving forward in life, it's easy to end up twisting in the wind, never moving in any particular direction, and certainly not moving forward toward a great future.
But if you have a life plan in place for those things that are important to you, your plan will enable you to focus on where you're going, where you want to be, and how you'll get there. Then when the inevitable curveball happens, you can much more easily alter your path as needed, and proceed toward you best future with less confusion.
"For I know the plans I have for you, declares the Lord, plans for welfare and not for evil, to give you a future and a hope…"

Jeremiah 29:11
Take Time Out to Plan for the Future
When you're actively making your plans for the future, it's always a great idea to specifically set aside time to reflect on what you want out of life. Consequently, you may want to take a day, or even a few days to put together a life plan and get it on paper.
Take the time to really consider your plans, write them down, and periodically review those plans to keep up with the evolving day to day realities of your life. You may feel the need to review your plans once a year, every quarter, or even as often as once a month, and make adjustments to your life plan as necessary.
Two Great Resources
You can find a general approach in a great ebook by Michael Hyatt titled "Creating Your Personal Life Plan". You can get if for free by subscribing to his blog.
I also recommend "Blueprint for Life", an excellent and very thorough self study course that I've taken in the past that takes you step by step through putting together your own life plan.
However, I believe my series of posts on making a life plan is just as comprehensive (if not more) as these other resources, and will serve you just as well.
Nine Areas to Plan for the Future
In this " How to Make Your Own Life Plan " series, I'll be covering 9 major areas of your life that are important to living a full and fulfilling life that is intentional, on purpose, and has a lasting effect on the world.
The categories I'll be covering are:
Your Spiritual Walk– God comes first. What do you want your relationship with Him to look like? Do you want to be able to give more, serve more, or start a ministry?
Yourself– Taking care of yourself and your own needs is highly important for you to be able to take care of all the other categories properly.
Your Money– How you handle money is extremely important to your future. It is closely linked to every other item on the list.
Work– Do you want to work 'till you drop, or retire at 45? Your answer to those questions has a large impact on what your present and your future will look like.
Your Marriage– How will you feed your marriage so it will stand the test of time?
Family– How much quality time are you spending nurturing your family ties?
Health– Are you being proactive in how you take care of your physical health so you can so your future can be as long and productive as possible?
Your Friends– Are you fostering excellence in your friendships to develop a richer fuller life with people you love and who love you?
Your Legacy– What will you leave behind when you die? Will the world be a better place because you were here? Will you leave a personal and financial legacy that far outlasts your life?
How to Make Your Own Life Plan- Downloadable forms included!
Where Do You Stand?
Ok, I know this is a lot of ground to cover, so where should you start when it comes to making a solid life plan for yourself? Probably the best place to begin is with your current reality.
You can start by asking yourself this question:
Where do I stand when it comes to each of these life categories?
So if you're willing to go along for this journey, I'd like you to write down where you currently stand in each of these areas of your life.
(I've even put together a handy form for this that you can download and print to get started. As the series progresses, I'll provide more forms to write down your plans for each area of your life. At the end of the series you should have a complete plan you can refer back to periodically. Then it's up to YOU to make it happen!)
As you read each article, envision what you want your future to look like for each category.
Once you've gotten your vision of the future together, then answer this question:
"How will I get there?"
Next, come up with specific tasks for each area that will move you toward your best future.
These tasks may take months, years, or even decades to complete.
So go ahead, get started.
The best time to start is now.
What are you doing to plan for the future?
Tell me about it in the comments.
Read the entire How to Make Your Own Life Plan Series Here
Resources:
Dream- What are You Doing About Yours?
How Do You Get Out of Debt? (Part 1)- Get Mad and Naked
How to Pay Off a Mountain of Medical Debt- What You Should Do