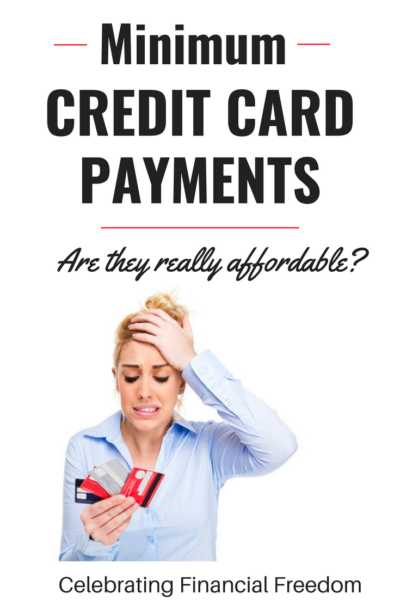 Minimum credit card payments– are they really an affordable way to pay off credit card debt? In today's article I'll show you why paying the minimum payment on your credit cards is a fool's game. It keeps you in perpetual debt for years, if not decades. Read on and get the sad scoop.
Why Use Credit Cards
If you use credit cards, you probably use them for a variety of reasons, such as:
Convenience.
Bridging the gap between paychecks.
To earn rewards like hotel points or air miles.
To help maintain a good credit score (a good credit monitoring service helps you keep track of your credit automatically).
Whatever your reasons for using the demon plastic (by the way, I HATE credit cards), I want to tell you about a little trick that the credit card companies use that seems like a great idea for managing your finances, but is designed to keep you in perpetual debt. It's called the minimum payment.
Some people see it as a nice convenience that credit card companies provides as a guideline for how much to pay each month. But when you look deeper, you understand that minimum credit card payments are a terrible deal.
Minimum Credit Card Payments Are Not Your Friend
The majority of credit card users carry a balance from month to month. Many of these people believe that the minimum payment is their friend. They believe that as long as they can afford paying the minimum, everything will be ok. But as you'll see below, it's a trick that credit card companies use to make more money from you and keep you in debt.
How Much Does Paying the Minimum Really Cost You?
Too many consumers manage their credit card debt according to the minimum payment. If the payment gets too high, they cut back on using the credit card for a while. Then they pay down the balance to get the minimum payment back to an affordable level. That brand of money management seems to make sense to a lot of people in our "how much is the payment?" society.
The better question we should be asking is "how much are my minimum credit card payments really costing me?"
So let's dig into the numbers and find out the truth about minimum payments.
Paying the Minimum by the Numbers
First, let's assume that your household is an average American household. The average credit card debt per household with credit card debt in 2018 is $9,100. Let's also assume you have an average APR (Annual Percentage Rate) of 12.78% on your credit card debt.
32 Years to Pay Off a Tank of Gas?
Now let's break out the handy dandy Credit Card Payoff Calculator in the graphic below from my friend Todd Tressider at Financial Mentor.
If you make easy, affordable, minimum credit card payments, it will take you 381 months (32 years!), to pay off your balance, assuming you NEVER use your credit cards again during that time. You would have paid off the entire $9,100 in credit card debt plus $10,113 in interest for a total of $19,213.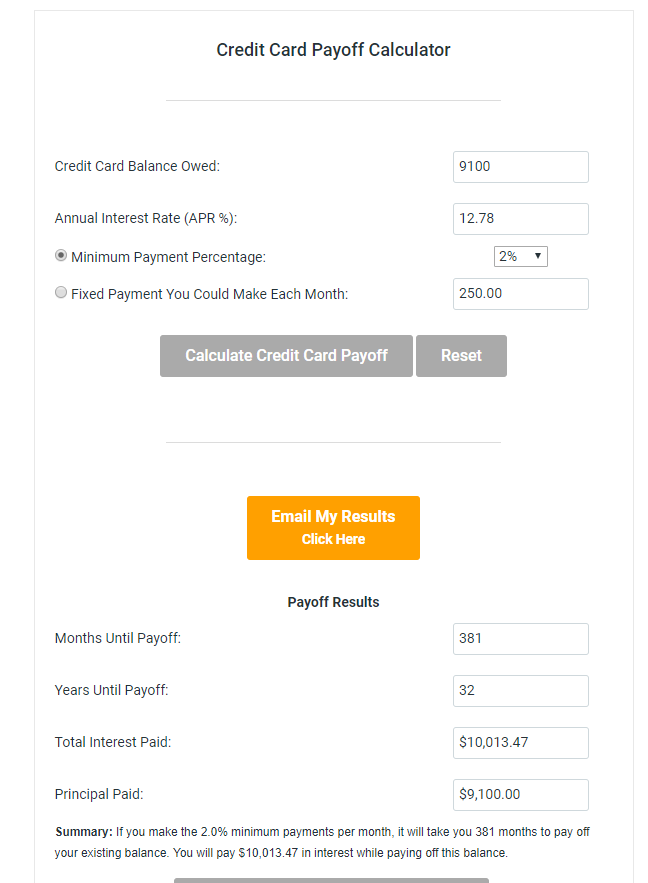 For all that stuff you paid for with those credit cards, you ended up paying more than DOUBLE the actual cost.
That's 32 years to pay off those happy meals and latte's.
32 years to pay off the cute shoes and gas for the car.
This, my friends, is STUPID!
If you're paying minimum payments on your credit card debt, or if you're using credit cards at all, you have to wake up at some point and realize the credit card companies always find a way to keep you in perpetual debt. That is their job, and they do it well.
Ask The Right Questions About Credit Cards
You have to get away from the "how much is the credit card payment?" mindset and start asking "how much is this going to cost me?". When you start realizing just how much credit costs you and the lengths credit card companies will go to to keep you in perpetual debt, you'll run away from them faster than Usain Bolt running the 100 meters!
Remember, using cash is always the best deal out there. Being debt free is the best financial plan for you to perpetually succeed with money.
If you've decided that it's time to chuck the credit cards for good, you may want to check out my Celebrating Financial Freedom online course.
You'll learn how to take control of your cashflow and put together a get out of debt plan that you can stick to. You'll never have to deal with those easy minimum payment demons ever again!
Check Out The CFF "Credit Cards" Page
Resources:
Living Without a Credit Score- Your Questions Answered
7 Huge Credit Card Lies We Tell Ourselves
The 20 Best Ways to Use Your Credit Cards Wisely
Eliminate Debt By Telling Yourself a Different Story
13 Awesome Tricks for Negotiating Credit Card Debt
Get Out of Debt and Achieve Goals One Step at a Time- Small Victories Win the War