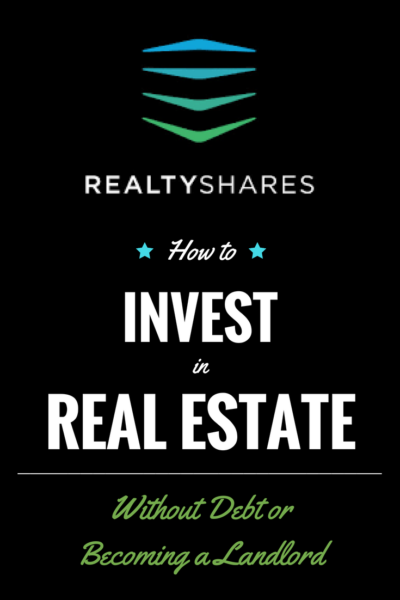 Real estate investing is by far one of the best ways there is to build life changing wealth. But investing in real estate isn't easy. It usually takes a lot of money, and it's extremely risky if you take on a lot of debt to invest in properties. Plus, in many cases you're required to be a landlord, which is time consuming and stressful. In this post I'll show you how to avoid all that using RealtyShares to invest in real estate without all the hassle.
My Experience with Real Estate Investing
I've been a real estate investor for several years now. I had wanted to get into it for several years before that, but was hesitant for a lot of reasons. Eventually I felt confident enough in my knowledge to set up a Self-Directed IRA and purchase my first property.
It was a dirt-cheap home (about $42,000) that needed a small amount of rehab. I wasn't sure if I wanted to flip the house or rent it out when I finished the rehab. My decision would be made once the rehab was complete, as the numbers would dictate the best route to making a profit.
Flipping a House is a Lot of Work!
I decided to do some of the work myself and hire out the rest. Unfortunately, the result was too many weekends away from home, and too much stress while trying to do some of the work myself.
As the rehab finished up, I decided the best route was to flip the house. After a few months, I made a nice little profit of just over 14%!
During that time, I learned that rehabbing houses is not something I wanted to do. Although I enjoy the physical work, I just don't have time to fit it into my busy life as a husband, dad, and practicing Dentist.
Even if I didn't do any of the work myself, I just don't have time to manage a rehab project without it causing massive inconvenience in my life.
Next, I Bought a Rental House
So, after that experience, I decided a much better route would be to purchase a rental house. A few months after the flip, my realtor and I spent a ton of time looking at over 30 properties before we found one that was ideal for my situation.
It needed zero work, and had reliable renter already living there. So, I signed on the dotted line and became a landlord!
I hate debt, so I paid cash for the house using $80,000 in my Self-Directed IRA and never worried with taking out a mortgage.
Also, I hired a property manager so I didn't have to deal with phone calls from tenants and collecting rent. I literally spend only a few hours every year dealing with my rental property! It's probably the most passive income you can get!
Investing in Real Estate Can Be a Hassle
I gave you all this background info on my experience to highlight a couple of things:
Finding a good investment property can be extremely time consuming.
If you don't have enough cash to buy a property outright, you have to take on debt. Many people don't want to go into debt to buy property.
If you don't mind debt, getting mortgage quotes and finding a mortgage can be a serious hassle that takes up even more of your time.
So, if you want to be a real estate investor, but you don't want to go into debt or be a landlord, what can you do?
I decided to do a little research, and I found an option available that lets you invest in real estate without taking on debt, dealing with tenants, or spending tons of time looking for just the right property.
I discovered that RealtyShares, a real estate crowdfunding platform, fits the bill for real estate investing without the usual hassles.
RealtyShares is real estate crowdfunding. If you've ever heard of peer to peer lending platforms such as Prosper or Lending Club, this is a similar concept to those, except you're investing in real estate instead of consumer debt.
There are a few other real estate crowdfunding platforms available as well, such as:
Fundrise
Crowdstreet
Realcrowd
and Diversyfund
The laws regarding real estate crowdfunding changed just a few years ago, so this kind of investment is relatively new on the scene. From what I've seen, it's a powerful way to invest in real estate without all the common problems associated with traditional real estate investing.
[tweetherder]How to invest in real estate without debt, huge piles of cash, or becoming a landlord[/tweetherder]

A Quick Overview
RealtyShares is a platform for online real estate investing. It's a place where borrowers, investors, and project sponsors can all join together in one central place online to make real estate investing easier.
The RealtyShares platform offers a variety of investments, from single family homes, to multifamily properties, to retail and office space.
The basic concept is that you, in combination with other investors, invest your money in various types of real estate across the country. Your investment allows others to do the hard work while you (and fellow investors) provide the funding!
It's Different Than a REIT
RealtyShares allows you more freedom and flexibility than investing in a REIT.
REITs (Real Estate Investment Trusts)
Typically don't allow you any input on the properties you want to invest in.
In a REIT, you can only choose a broad category of properties (such as a commercial office space REIT).
You will not be able to pick and choose the properties within a REIT.
Investing with RealtyShares is much different from a REIT.
You can choose several different categories of properties to invest in to diversify your portfolio.
You have the ability to pick and choose specific properties on your own, instead of owning a basket of properties chosen for you like you'd find in a typical REIT.
RealtyShares is dedicated to investing in non-institutional projects of less than $30 Million. The RealtyShares team investigates each opportunity to ensure they meet strict criteria they've set out for the platform.
If all the criteria are met, the investment is listed on the platform for all investors to see. The listing includes everything from general information about the project, to risk factors, and other pertinent information you can use in your decision making.
You have the option to purchase an entire investment if you like. However, you can also choose to invest in a small part of a larger investment if your funds are more limited.
You have your own dashboard to track your earnings over time and provide you with other information, including necessary year-end tax forms.
What Investments Options Can You Choose?
There are several ways you can invest using the RealtyShares platform. Specifically, there are three types of investments you can make:
Short Term Senior Debt
Medium Term Preferred Equity
Long Term Equity
Shorter Term Senior Debt
This investment option is for a 12-month duration. The target is an 8-10% return, and the minimum investment is as low as $1,000, but in general, $5,000 is the minimum for most of these deals.
These short-term deals come in two varieties:
Single family homes- You own all or part of the debt on a home. You are in first position in the event of a default.
Commercial Debt- funds the construction of a single free standing franchise location. These deals already have a franchisee who has signed a commercial lease.
Medium Term Preferred Equity
Medium term deals are 2-3 years long. The target return is 12-14%. They are usually larger loans for multifamily residential projects in the $1-3 million range. Your investment is usually in 2nd position, and the minimums are typically $10-15,000.
Long Term Joint Venture Equity
These are longer term deals lasting 3-5 years, but with a higher expected return of 16-20%. You actually take ownership with the developers of the property. You receive quarterly payments, and if the property is sold, you receive gains on appreciation of the property as well.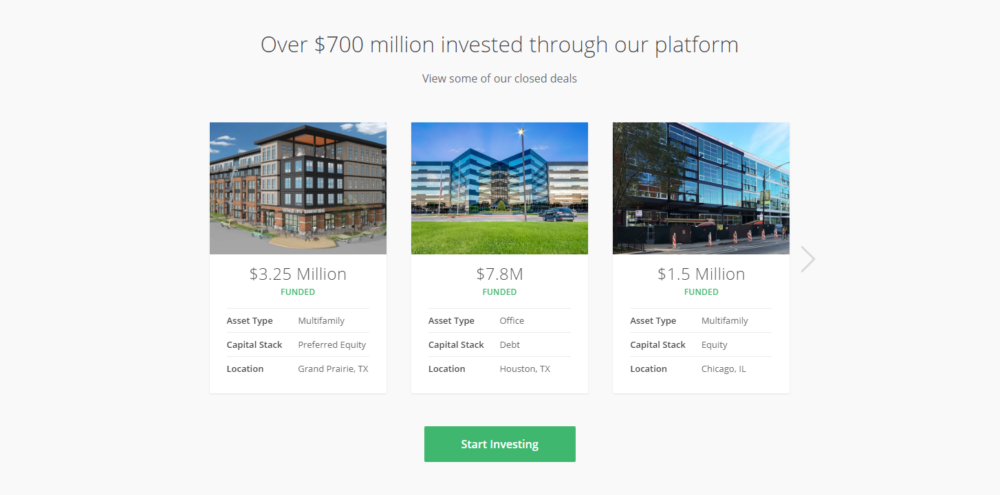 Investing with Realty Shares is limited to Accredited Investors only. Here's how Wikipedia defines an accredited investor:
"…one must have a net worth of at least $1,000,000, excluding the value of one's primary residence, or have income at least $200,000 each year for the last two years (or $300,000 combined income if married) and have the expectation to make the same amount this year."
Signing up for RealtyShares and making your first investment is easy:
If you qualify as an investor, you may check out the real estate investments available on the platform. However, you must wait out a 30 day "cooling off" period mandated by the SEC before you can make your first investment.
After the cooling off period, choose and fund your investments.
Wait for the funding goal for the investment to be met (100% funding)
Manage your investments and enjoy your returns!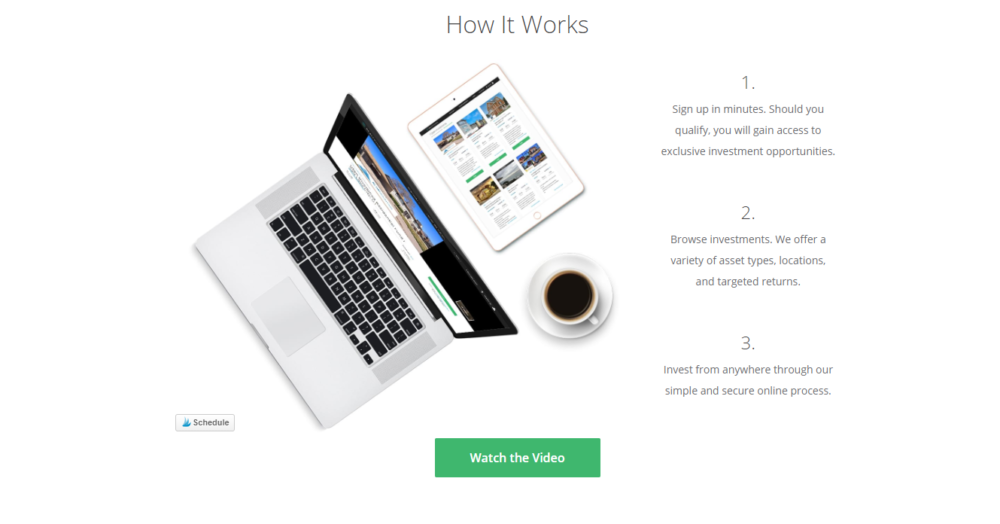 Investing with RealtyShares has quite a few advantages and disadvantages that you need to know in order to invest wisely. Here's a rundown of the pros and cons as I see them:
Investment Diversification
RealtyShares offers the opportunity to build a portfolio of diversified real estate investments. Instead of having all your money tied up in just a few properties, you can invest smaller amounts in a wide array of properties, thus diversifying your investments better than you could on your own. You can diversify in several ways:
Buy a small piece of larger properties.
Invest in several different geographic areas.
Purchase positions in retail properties.
Invest in single or multifamily residential properties.
Buy into office properties.
Purchase senior debt positions.
3 Types of Investments Available
Debt
Equity
Preferred Equity
Passive Income
The investments are extremely passive. You don't have to participate in any of the day to day management of properties.
Minimum Investment
Some investments are available for as little as $1,000. However, the general minimum for each investment is $5,000.
The people at RealtyShares do background checks on all the executives in each deal. They also dig deep into title searches, property inspections, financial statements to make sure they are in order.
Also, they check things like comparable sales and known risk factors for each deal to help you understand as much as possible every detail of your potential investment.
[tweetherder]How to invest in real estate for as little as a few thousand dollars. No debt and none of the hassles of traditional real estate investing when you use RealtyShares[/tweetherder]
Secure Platform
The RealtyShares website uses bank-level 128 bit SSL encryption. They don't store any of your banking information on site, and they employ 3rd party security firms to review and maintain their security standards on a regular basis.
Automated Tax Reporting
You are provided with all tax documents associated with your investments at the end of each year in a timely manner.
Low Fees
Signing up on the RealtyShare platform is free.
Fees for Equity Investments- there is a 1% annual fee for equity investments. There may be other fees involved depending on the investment.
Fees for Debt Investments- for debt investments, RealtyShares takes a service fee that is the difference between the interest paid by the borrower, minus the interest rate paid to investors.
If an investment ends up not closing for some reason, any money you invested will be returned back to you.
Debt Investments are FDIC Insured
If you invest in debt, your money will be deposited into an account at Wells Fargo that is FDIC insured up to $250,000.
Some Investments May Have Tax Advantages
Some taxable income from real estate investments may be reduced by mortgage interest expenses, depreciation, or other expenses incurred by owning properties.
You Must Be an Accredited Investor
Only accredited investors can invest here. This means you must have a a net worth of at least $1,000,000, excluding the value of your primary residence, or have income at least $200,000 each year for the last two years (or $300,000 combined income if married) and have the expectation to make the same amount this year.
Investments are Not Liquid
You must hold on to your investments until they mature. There is no secondary market where you can liquidate your investment, so you cannot sell anytime you please
You May Have to Pay Income Tax in Multiple States
If you own property investments in several states, you may have to file a state income tax return for each state.
Only Available to U.S. Residents
RealtyShares is only available to residents of the U.S.
Capital Calls
Sometimes, the manager of a project may request additional capital for various reasons. Therefore, an investment may end up requiring you to contribute more funds than you originally committed to. You may want to keep some extra cash on hand in case this happens.
What About Taxes?
For each investment you make, you'll receive a Form 1065 Schedule K-1 at the end of each year. This form reports all the financial details of the partnership you entered into when you made your investment.
As with any investment, there are risks involved in investing with RealtyShares. There is plenty of potential to lose money as well as gain. You will certainly need to do your due diligence for every investment you make there.
Investments could lose value if there is another huge downturn in real estate as there was after the 2008 financial crisis. Also, your returns will be dependent on factors like whether or not a developer can finish projects on time, regional economic conditions, and more.
When it comes down to it, it's up to you to make wise investment decisions. Make sure you understand real estate investments and their risks before investing in real estate, whether you use RealtyShares or not.
RealtyShares provides you with a solid alternative to traditional real estate investing. If you're an experienced investor, this might be a good fit for you. Especially if you want to invest in real estate without the hassle of being a landlord, physically looking at lots of properties, or being tied to your geographical area.
Question: Have you tried investing with RealtyShares or another real estate investing portal? What was your experience? Leave a comment and let us know.