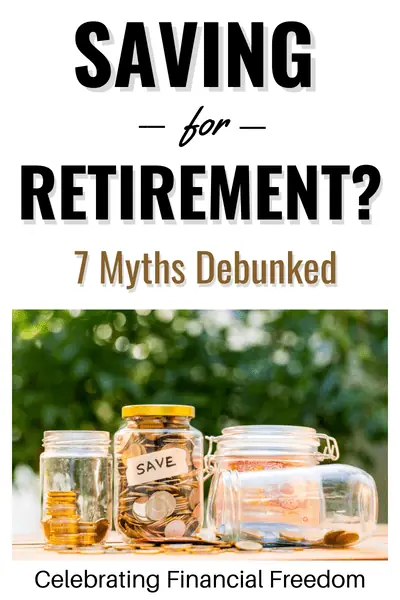 Dreaming about building wealth and creating an awesome retirement? Well, it doesn't happen on it's own. There are a ton of myths and misinformation that will get you derailed in your retirement saving journey if you're not careful. These myths are everywhere, so it's important to recognize them when you see them. In today's article, I'll show you some of the most popular myths about retirement saving. Best of all, I'll also show you how to counteract these myths and build life changing wealth!
Myth #1: Investing for Retirement in the Stock Market is too Risky
Scared of investing in the stock market because it's too risky? It's really scary when you watch the news and the sky is falling when the stock market goes down! Add to that the perception that investing is complicated and hard to understand, and you have a recipe for retirement poverty.
Here's the deal- you don't need sophisticated investing knowledge to do extremely well with retirement investing. All you need to know are a few basic concepts.
Investing in the market doesn't have to be risky. As long as you stick with a few tried and true diversified mutual funds, you WILL succeed at investing over the long term.
Yes, the market will go up and down. But the biggest risk is not being in the market at all. You will have to keep your emotions in check and leave your investments alone when the market retreats. But remember, over the long term, the market always goes up!
Myth #2: I'll Live off Social Security
Living off the government for your retirement is not smart. Presumably, you put a lot of money into the social security system during your working years. You definitely should take the money when it's your time, but relying solely on Social Security is just not a wise retirement strategy.
The Social Security system is designed as a supplement, not a retirement plan. And with the lack of younger people paying into the system vs. the number of retirees being paid, it's inevitable that benefits will be cut in the future.
Do you really want your income in retirement to be subject to government intervention? Is it wise to subject your entire income to a congressional vote?
A study by Nationwide shows that 17% of Americans expect to have no retirement income other than Social Security. Unfortunately, with the average benefit of just under $20,000 per year, this is a recipe for poverty in your golden years.
If you've been planning to live solely off Social Security for retirement, It's time to change your mindset and start saving and investing as much as you can. Your future self will thank you!
Myth #3: I'll Save Enough for Retierement if I Only Invest Enough to Get My Employer Match
Getting an employer match in your 401(k) is an awesome benefit- it's free money! Of course you should put enough in your 401(k) every year to get the match. It's a no-brainer. But if you really want to build a solid retirement, investing just enough to get the match is not enough.
Most experts (including me) recommend investing at least 15% of your income into retirement. That likely means you'll need to invest more over what it takes to get the match.
Yes, I know that sounds like a lot. But if you're diligent about how you spend your money using a written monthly budget, and you get out of debt and stay out, then it becomes much easier. Start developing good money habits now, and you'll start building wealth much faster than you think. It's not hard to wake up and discover you're a millionaire before you reach retirement age. In fact, the 401(k) is how most millionaires are made! You just have to be diligent over time to make it happen.
Myth #4: I'll Work During Retirement
If you plan on working well past retirement age, you will be tempted to slack on retirement saving. After all, why should you max out the 401k if you don't plan on retiring?
Well, there are a lot of good reasons to save and invest for retirement even if you plan to keep working. Here are some of the best ones:
Health care costs will eat up a larger percentage of your income as you age
You may plan to work during retirement now, but you might change your mind later
If you get to where you can't work, you will need savings to get by
70% of people say they plan on working past retirement age, but only 27% actually do. Even if you plan on working into your 70's or 80's, you don't know what the future will bring. It's smart to make sure you have plenty of retirement savings in place in case your priorities change or life throws you a curveball.
Working during retirement should be something you want to do, not something you have to do. Building a large nest egg ensures that you have plenty of options no matter what happens.
Myth #5: Medicare Will Pay for My Medical Bills
While Medicare is a godsend for people over age 65, it doesn't pay for everything. It will pay for things like hospitalizations, doctor visits, and medications, but there are plenty of other expenses Medicare won't cover.
Medicare will not pay for things such as dental treatment, deductibles, copays, eye exams, hearing aids, custodial care, or long-term care lasting more than 100 days, among others.
Long-term care can be especially expensive if you don't have a plan in place. About 70% of 65 year olds will need long-term care at some time during their life. The median cost for assisted living is $4,500 per month ($54,000 per year). Even if you have Medicare, the average 65 year old couple may need as much as $300,000-$400,000 in total medical expenses during their retirement years. You need to be prepared.
So what can you do to be prepared?
First, make sure you are saving plenty of money for retirement- you're going to need it!
Next, If you're eligible to save money in an HSA, do it! A Health Savings Account allows you to build up savings for future health care expenses. It pays for health care expenses that regular insurance and Medicare won't pay for. Best of all,
Get long-term care insurance once you turn 60. This will make sure you don't bankrupt your spouse, depleting your life savings if/when you need care. You can invest the money in the account and let it grow tax-free over time, so when you need to spend the money, you don't have to pay taxes on the withdrawal when you take it out.
Myth #6: I'm Too Old to Save for Retirement
No matter how old you are, it's never too late to start saving for retirement. Even if you're in your 60's and you have never saved a dime, saving for retirement is still the right thing to do. You may not be able to build a million dollar war chest at that age, but saving is always better than burying your head in the sand.
Of course, the older you are, the higher percentage of your income you'll need to save to build a significant nest egg. For instance, let's look at scenarios based on average household income (about $70,000) at various ages with a 10% annual return on your investments (using Nerdwallet's retirement calculator):
Age 30: save 15% of income to age 65 and you'll have $4.23 Million
Age 35: Save 15% of income to age 65 and you'll have $2.55 Million
Age 40: Save 17% of income to age 65 and you'll have $1.68 Million
Age 45: Save 20% of income to age 65 and you'll have $1.17 Million
Age 50: Save 25% of income to age 65 and you'll have $790,000
As you can see, you can still build significant wealth, even if you're late getting started. It's all about managing your money well. If you'll notice, these numbers assume you make the same amount of money every year. The numbers will just get better and better as your income increases over the years!
Myth #7: You Need to be a Savvy Investor
You really don't need a ton of high dollar investment knowledge to succeed at retirement investing. All you need is a good advisor and some basic knowledge of investing principles.
A great investment professional will teach you, not talk down to you. They job is to help you understand everything you need to know about investing so you can make informed decisions.
Ultimately, your investment professional should be a teacher, giving you the confidence to build massive wealth over the long haul. They will also help keep your emotions in check. There is nothing worse for your portfolio than jumping in and out of the market because you can't keep your emotions under control.
Also, keep in mind it's not a good idea to give control of your investments over to someone else. Hire a good advisor, but make all the investment decisions yourself and maintain your own accounts. Giving someone else control over your investments is a recipe for disaster!
Ditch Those Retirement Saving Myths
When it comes down to it, believing any of these common myths about saving for retirement will hurt you in the long run. Like any common money myths you should recognize these myths for what they really are: lies and excuses. It's up to you to make your retirement as comfortable and prosperous as possible. So ditch the retirement saving myths and rock your retirement!