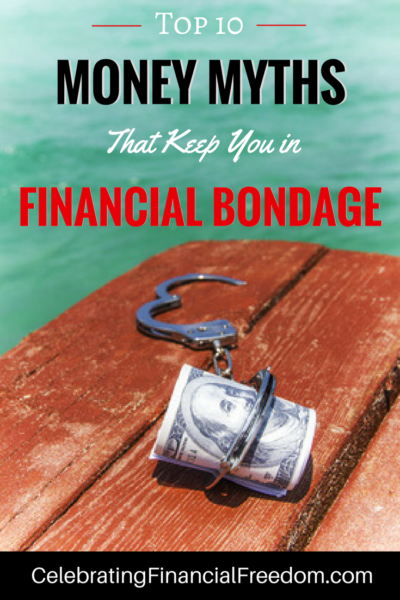 Money myths are a tricky thing. Many times they are passed down and reinforced by people we trust such as parents or friends. These people usually mean well, but they don't always have their facts straight. Unfortunately, most people who perpetuate these myths about money are broke (or close to it).
So today, I'm going to explode some of those common money myths. I'll show you why they have no basis in reality, and how avoiding these common money myths will help you manage your money better for long term financial success!
So without further ado, let's destroy some money myths!
Myth #1: You Need Loans to Pay for College
Yes, college is expensive. I know this better than most because I'm currently paying for 3 college tuitions (with cash- woot woot!). Most people believe it's impossible to afford college without taking out massive student loans. It doesn't have to be that way.
Reality: You can pay cash for college if you have the right plan.
Of course, the best route is to save for years in a 529 plan or Education Savings account. But if you haven't done that, then you should pick a state school or community college with cheaper tuition and work your way through school. Yes, people do it all the time but you don't hear about it very often. This is especially effective if the parents commit to earning a little extra while the child earns money too. When you combine forces, you can get the job done much easier.
Here's a great book to help you form a strategy to pay for college without student loans:
"Debt Free U: How I Paid for an Outstanding College Education Without Loans, Scholarships, or Mooching off My Parents"
If you're already burdened with high interest student loans, check out this post that can help you save thousands!
Myth #2: Budgeting Doesn't Work- I Tried it Already
This is one of the top money myths I've heard from people who have sought me out for help. They tell me they've tried to do a budget, but it just didn't work for them.
Reality: What I've discovered from talking to most of these people is that either they didn't do it right, or they didn't stick with it. Just writing down your bills or balancing your bank account does not constitute a budget.
A proper budget is a detailed plan for the future. It's a plan for how you will spend your money for the next month. Combine it with a cash envelope system and you'll never spend more than you make again!
You also have to make sure you don't give up after the first month or two. Budgeting takes practice. You won't get it totally right the first few times you do it. But when you completely commit to doing a budget every month, it eventually becomes easy and routine.
Check out the CFF Budgeting Page Here
Check out this post to help you organize all your financial info in one place to make money management a snap!
Myth #3: Car Payments are Necessary
Cars are expensive! Car payments are always one of the biggest items that keep people in perpetual debt. It's easy to believe that you can't own a car without taking out debt. This myth is an absolute lie!
Reality: I can tell you from personal experience that you can pay cash for your cars! Angie and I have paid cash for three cars so far, and our kids have paid cash for their own cars as well.
It's really not about your income level or how expensive cars have become. It's more about having the right plan and sticking to it. I don't have the space to show you how to do it here, but here are my top posts to help you make a plan of your own.
4 Steps to Getting Rid of Car Payments Forever and Pay Cash For Your Next Car
Is Paying Cash for a Car Worth It?- Paying Cash vs. Financing
How to Sell a Car When You're Upside Down on the Loan
Myth #4: You Need a Credit Card for Emergencies
When Angie and I were getting out of debt, we held on to one last credit card "just for emergencies".
HUGE mistake!
Like most people, we ended up using the credit card for non-emergency spending. It ended up being the credit card balance that would never go away until we finally committed to going naked with credit.
Once we finally got a clue, getting rid of that last card felt weird. We got over that real quick though.
Reality: A cash emergency fund is always better. One of the big reasons people fail at getting out of debt is because they hang on to credit cards like a security blanket.
A credit card does not represent financial security!
A fully funded cash emergency fund is so much better! It won't keep you in debt, forcing you to pay off your emergency over months or years. You'll have the cash to cover most any emergency that happens without the temptations and debt that credit cards represent.
Myth #5: Debt is a Tool to Build Wealth
This one is hotly debated amongst personal finance nerds and non-finance folks alike. Many people believe if you use debt strategically and responsibly, it helps you build a solid financial life. It enables you to do and afford things you couldn't otherwise.
Reality: Debt is a drain on your financial life. You will always pay more for things when you use debt to buy them. Debt wastes your hard-earned money, keeping you enslaved and in bondage to your financial situation instead of financially free to do as you please.
Myth #6: Investing in the Stock Market is Too Risky
Investing in the stock market is risky. Crashes happen periodically and it's easy to lose a lot of money. Besides, those people on Wall Street are greedy, they will find a way to get everything we have if we let them.
It's probably just better to stick with low risk investments so I don't lose my money.
Reality: Given a long enough time period, the stock market always moves in one direction- UP! Every investment has its risks. There is no such thing as a no-risk investment. As long as you adhere to a few basic investing principles you'll make a good return with a minimum of risk to your money.
How to Start Investing- The Ultimate Beginner's Guide to Start Investing Your Money
How to Invest Your Money Wisely -The Basics
11 Tips to Invest Your Money Wisely
Myth #7: I Can't Afford to Invest
I've heard this one a lot. People say "I can't afford to invest, it takes all my money just to live". I get it. Most people are living paycheck to paycheck and feel like investing is totally out of reach. But most people are living paycheck to paycheck not because they don't have enough money. More often than not, it's because they aren't managing their money well.
Reality: Almost anyone can set aside money for investments. To get there, it may mean you have to start doing a written budget and managing your money more efficiently. Or you may need to make a little extra money somehow and use it specifically toward investing.
Here are a couple of great tools you can use to manage your money like a pro.
Myth #8: You Need a Credit Score
This is one of the most common money myths we all hear about. Everywhere in the media, they're always telling us we need a high credit score if we want to buy or rent a house, buy a car, or even get a job.
What most people don't' realize is that a credit score is not necessary at all to live in the modern world. It's only a measure of how well you use debt to fund your lifestyle. I, for one, don't use debt anymore so why the heck would I want to borrow money to maintain a credit score?
Reality: Credit scores encourage you to stay in debt and continue the bondage that comes with it. It's corporate America's way of influencing you to continue using their financial products. You can do anything you need to do financially without using a credit score. Here are a few articles to show you how.
You Do NOT Need a Credit Score
How to Live Without Credit Cards- It's Easier Than You Think!
Living Without a Credit Score- Your Questions Answered
Myth #9: I Don't Make Enough Money to Pay Off All My Debt
Too many people believe the myth that debt is just a part of life. They buy into the lie that the average Joe making an average income or less will never be able to live debt free. They believe the system is rigged against them and they'll never be able to get ahead.
Reality: Fortunately, it's not true! With the right plan, some intestinal fortitude, and time, anyone can become debt free. Debt freedom is not just for people with a high income or some special knowledge. Anyone can achieve it if they really want it.
Read my blog series detailing every step you need to get out of debt for good.
Myth #10: Not Everybody Can Get Out of Debt
It's easy to believe the myth that debt freedom might be for some people, but not for you. Most of the time, this money lie is tied to feelings of self-worth. Too many don't believe they're worthy of achieving such a noble goal as becoming debt free.
Sometimes it's because of a general lack of self-esteem. Other times, there may be issues with financial self control. Even past failures at getting out of debt can weigh on you, holding you back from your financial goals. Whatever issues you have, you can't let them stand in the way of fixing your financial issues.
Reality: Everybody is worthy of achieving financial freedom! No matter what lies in your past, no matter how many times you've tried and failed, you are worthy of living a rich life!
It may take a change in mindset and habits that you haven't quite been able to achieve yet. But keep after your goal. Continue educating yourself and building new habits with money. Eventually, it will click and you will get the job done!
My friend Lauren Greutman wrote about her struggle in this area in her book "The Recovering Spender: How to Live a Happy, Fulfilled, Debt Free Life" – You should check it out if you struggle with these issues.
Money Myths vs. Reality
There are so many money myths in our culture that sometimes it's hard to know what to believe. So how do you figure out what's a myth and what's reality when it comes to money?
The best thing you can do is to continually educate yourself about money and how to use it. There are a ton of different perspectives out there. Some are reasonable, and some are totally misinformed.
It's best to keep a few simple principles in mind to filter out the noise. Here are some of the points I consider when deciding whether a piece of financial advice is worth my time:
Does this advice encourage staying in debt, or debt freedom?
Is there excessive risk involved (you could lose all your money)?
Is there too little risk (you won't make a good return)?
Can you easily implement the advice, or is it overly complicated?
Who is giving the advice? Are they well off financially, or broke like everybody else?
Are rich people doing this?
The ideas above are a good starting point. Eventually you will need to formulate your own set of financial principles to live by. That way, you can keep all the stupid money myths above from limiting your financial future and start succeeding with money like you never have before!
Question: Do you have any myths about money you'd like to add? Add yours by leaving a comment.