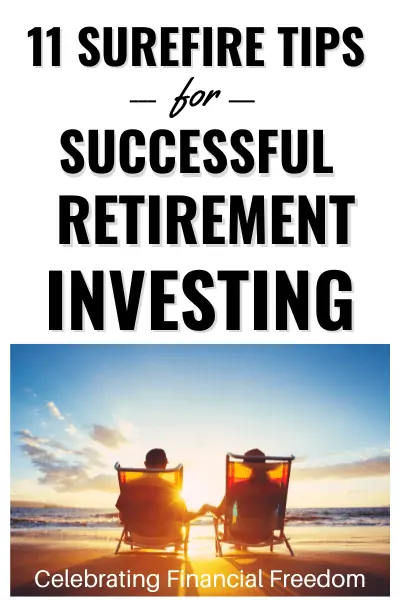 Have you ever seen one of those couples who are living their best life in a successful retirement? You know the people I'm talking about. They're always travelling, engaged in their hobbies, and spending time with family. They are relaxed, happy, and don't have to worry much about money.
Recently, Angie and I met several happy retirees on a European river cruise, and all of them told us how glorious their retirement has been because they planned well when they were younger.
It makes you wonder, "how did they do it? How can I have a successful retirement too?"
The thing is, prospering in retirement doesn't require you to have any special investing knowledge or skills. You don't have to constantly track the stock market or do anything financially complex.
The process is simple. All you really need to do is have a plan, keep your spending under control, and invest consistently over the long term. Believe it or not, that's as complicated as it gets- anyone can do it!
Successful Retirement Investing- 11 Tips
So, what does successful retirement planning look like on a daily basis? There are 11 basic things you can consistently do to make sure you will retire as a millionaire. Check them out below:
1. They Stick to a Monthly Budget
Retirement smart people keep track of their money. They know how much they spend on everything, every month. We're talking about a forward-looking monthly budget that controls where each dollar goes.
They have a name for every dollar, and if the allotted coffee money runs out, they start making coffee at home until the new budget next month. Also, they force themselves to stay within spending limits because they know small choices add up to lots of wasted money when they don't have a plan. Retirement savvy people still enjoy the things they want, but they do it within reasonable limits.
2. They Stay Out of Debt
Debt is the killer of retirement dreams. Getting out of debt and staying out allows you to stash tremendous amounts of money away for retirement.
However, if you spend all your working years servicing debt on credit cards, cars, and other forms of debt, you'll never be able to fully save for retirement. People who want to retire learn to live within their means and pay cash for everything.
3. They Invest at Least 15% of Income Toward Retirement
Successful retirees invested at least 15% of their monthly income for retirement. This includes investing in IRA's and 401k's, first. After those tax advantaged plans are maxed out, then retirement smart people invest in things like mutual funds and real estate. They have been able to save this much year in and year out because they stayed out of debt and spent less than they made.
4. They Know Their Income is The Best Tool for Building Wealth
Smart investors know their best tool for building wealth for retirement is their income. This is where budgeting and good money management really make a difference. It doesn't matter if you have a small income or you make multiple six-figures, an intentional plan for saving and investing out of your income is what matters.
Ramsey Solutions did a comprehensive study of millionaires that proves that getting out of debt and getting total control of their money with a budget are the keys to achieving millionaire status, regardless of income level.
Not only that, but being disciplined with money also allowed them to achieve other financial goals such as paying cash for cars, funding college for their kids, paying off their mortgage faster.
5. They Invest Long Term for a Rich Retirement
Smart retirement investors know investing is a long-term game. They understand that consistently investing in proven mutual funds and paid for real estate will build massive long-term wealth.
They sure as heck don't follow hot stock tips from their broke uncle. And they never sell all their investments because the stock market is in a recession. Savvy investors know that a bad stock market is a good buying opportunity!
6. They Don't Borrow from Retirement Accounts
Successful retirement investors know that borrowing from their 401k is a huge no-no. They know it's best to have a fully funded emergency fund for unexpected expenses.
Dipping into retirement plans to pay off debt or deal with an emergency just isn't worth it! Although it seems like a good way to access a large amount of cash in an emergency, there's a lot of downside.
401(k) loans will trigger taxes and penalties if you can't repay the loan. Additionally, you will lose thousands of dollars in investment growth. Of course, this puts you further behind in your plans for retirement. Building an emergency fund of 3-6 months of expenses after you get out of debt will keep you from being tempted to raid your retirement plans.
7. They Spend Less Than They Make
Retirement savvy people live below their means. They understand that spending more than they make (like most people do) is unsustainable. They stay out of debt, pay cash for vacations, cars, and everything else. Financially successful people also live in a house they can easily afford instead of stretching their budget on a large mortgage.
They don't try to keep up with the Joneses and stay focused on their financial goals. Keeping spending in check allows them to keep money flowing into retirement funds, building huge amounts of wealth.
8. Their Investments are Boring
Serious retirement investors don't take huge risks with their money. They know that risky investments are much more likely to lose money. Successful long-term investors stick with totally boring investments such as mutual funds and real estate paid for with cash.
Chasing hot stocks, the latest crypto coin, NFT's, and other get-rich-quick investments are a recipe for disaster, and they know it. They understand that putting money in their 401(k) out of every single paycheck, month after month, will make them a millionaire long before retirement age. Boring is good!
9. Successful Retirees are on the Same Page Financially with Their Spouse
Successful retirement investors don't work alone. Working as a team with their spouse is crucial to reaching their retirement goals. They don't just work together on investments, but also on the day-to-day financial decisions that cause them to win with money over the long term.
Spouses who aren't on the same page financially rarely succeed in getting ahead. Without agreed upon goals, it's difficult to make investment success happen. Winning is easier when you have two spouses pulling in the same direction.
10. They Have a Financial Plan for a Successful Retirement
Smart investors keep up with how their investments are doing. And one of the smart things they do is to have a set plan for their investing. This includes things like:
Setting money aside out of every paycheck
Checking in on their returns 3-4 times a year (not daily)
Keeping a long-term perspective
Not buying or selling investments based on emotions or what the market is doing
Working regularly with a professional
Changing their investing plan as needed to account for major life events (a new job, a new baby, a death in the family, etc.)
Successful retirement investors make a plan and stick to it. They don't buy or sell investments based on the hottest trend or what the doomsayers on TV are saying. They just plug away, year after year, growing their investments consistently over time.
11. They Work with Professionals
Lastly, the majority of successful retirement investors use an investment professional they trust. It's always a good idea to have a pro in your corner to help you make smart financial decisions.
A great financial advisor will work with your best interests at heart to make sure you maximize returns on your hard-earned money. It's definitely money well spent to ensure your investing peace of mind.