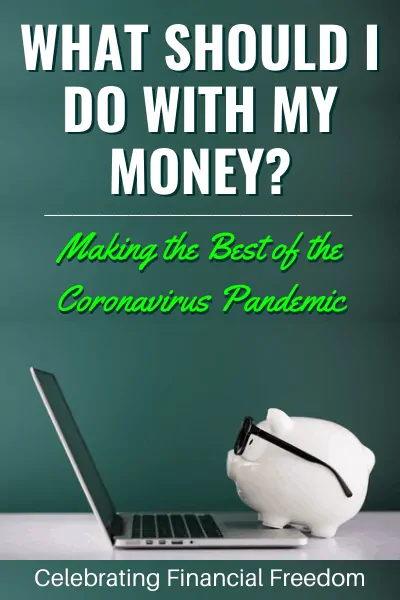 I really didn't want to write this blog post. The Coronavirus COVID-19 pandemic is causing so many people (including me) a ton of stress and anxiety, and the last thing I want to do is to add to it.
I've gone back and forth about it over the last few days. But in the end, I decided it was the best thing I could do to help you, my loyal readers, and be of service as best I could. That's what the CFF blog is all about, of course.
Instead of adding to the stress and panic of the Coronavirus, I want to be helpful to you as much as possible. In today's post I'll talk about:
What you can do with your money and investments during these uncertain times
Ideas for making the best of this bad situation, personally and financially.
First, let's start with money…
MONEY
With all the unusual happenings going on, it's inevitable that your financial situation is going to be affected in one way or another. Businesses are shutting their doors, some workers are being laid off, and some are working less hours. You will need to manage your money carefully.
Not to mention the stock market! The indexes are going up and down so much it'll give you whiplash! It's enough to make you sick at your stomach if you don't have the right perspective. Hopefully, I'll be able to help with that.
When things get tough- whether it's a Coronavirus pandemic or any other crisis- you first need to focus on what you need to survive. Forget the credit card bills, the student loans, and the Netflix membership. The necessities are the highest priority, so use your money for these categories in this order before you pay for anything else:
Food
Utilities
Housing
Transportation
These are the four basic things you need to survive and be safe in the short term. You must have your priorities straight. So if there's no food in the fridge, don't pay the credit card bill. Your bills are never more important than your well-being.
Once the basics are taken care of, if there's any money left, make a list of everything else you need to spend the remaining money on, and list them in order of importance. Work your way down the list, and when you run out of money, you're done for now.
Unfortunately, someone on the list won't be getting paid. But that's ok for now. You and your family are first priority right now.
If you're renting and don't think you'll be able to pay the rent this month, be proactive and reach out to your landlord. Be as honest as you can about your situation. They might be able to work something out with you, especially if you have a good record of paying rent on time every month.
If you have a mortgage, you should do the same thing. Contact your mortgage company if you don't think you'll be able to make the payment. They also may be willing to work with you as long as you're proactive and don't wait until you're months behind on your payments.
What should I do about my investments?
As of this writing, the stock market has plunged by at least 35%, and may continue losing as the crisis unfolds. The best thing you can do in this situation is DO NOT PANIC!
Yes, it hurts when you see your hard-earned money just disappear. The one thing I can tell you is to be patient with your investments. The economy was very strong before the Coronavirus happened, and it will recover.
It's time to buy
In fact, when you see such a historically huge drop in the market like this one, it's a perfect time to buy more investments! You've heard the old saying "buy low and sell high", right? This is exactly the kind of market that produces bargains across the board. So if you have any money on the sidelines ready to invest, this is the time to do it.
Whatever you do, be wise when investing. Don't get emotional and sell your investments. Believe me, you absolutely, positively cannot time the market. You will lose your shirt on the way down, and buy too late on the way back up. Be patient, sit tight, and the market will recover over time.
Recently, President Trump made the announcement that those with student loans will not have to make payments for the next 60 days, and possibly longer. And if you do choose to suspend your payments, you will not accrue interest or penalties during your payment hiatus.
You will need to contact your loan servicer as soon as possible. However, it may be difficult due to the number of borrowers contacting them, as well as all the disruptions caused by the Coronavirus pandemic. Thankfully, payments are automatically suspended for any borrower more than 31 days delinquent as of March 13, 2020, or who becomes than 31 days or more delinquent.
Borrowers with federal student loans from the government will automatically have their interest rate set to 0% for at least 60 days. If you elect to continue making payments, your full payment will be applied to the principal amount of your loan once all interest accrued prior to March 13 has been paid.
This does not apply to those with private loans. However, if you have private student loans, and your income is reduced or totally gone, you should contact your lender ASAP and discuss payment options. During this pandemic, many lenders are willing to work with you to get you some relief.
For the latest student loan news straight from the government, visit StudentAid.gov/coronavirus
With states shutting down borders and closing most nonessential businesses, it's extremely likely this will negatively affect your finances.
Of course, if you have an emergency fund set up, this may be a time when you will need it. Don't be afraid to use it if you need to, that's why you have it in the first place.
If you have been laid off from your job, you may be eligible to draw unemployment benefits. Contact your state's unemployment office to see if you qualify. Most states are expediting claims right now, so you may be able to get benefits relatively quickly.
For now, it's best to be conservative with your spending. We don't know how long this will last, so try to keep from spending on anything not absolutely necessary to keep you healthy, happy, and safe.
Here are some handy guidelines from the Consumer Protection Finance Bureau (CFPB) to help you Protect yourself financially from the impact of the coronavirus.
These are unprecedented times (at least in our lifetime), and you need to know how to muddle your way through the Coronavirus pandemic without going crazy. I believe this is a great opportunity to shake up your norms a little and do something different.
Whether it's being more present with family or creating new sources of income, it's important that you don't just sit at home going stir crazy watching all the news on TV.
Family
While you're spending a lot more time at home, it's a great time to connect with your family. You can treat this time together kind of like a staycation. Here are a few simple activities you can do together to stay busy and connect:
Take a walk or a hike
Play board games or video games together
Watch a favorite movie together
Do arts and crafts
Have the kids help with projects around the house
Take a bike ride together
Teach your kids about a subject they are interested in
There are tons of things you can do to connect with your family on a deeper level. Use your creativity and imagination to find something fun. If you're just not sure, ask your kids. They will always have something in mind!
Get Outdoors
This is also a great time to get outdoors and get some fresh air. Whether you go on a nature hike, cycling, running, camping, or whatever, getting out into nature always makes you feel better. The sunlight also gives you a nice shot of Vitamin D that will boost your mood!
Get a New Skill
If you have down time from work because of the Coronavirus, it's also a perfect time to add new skills to your repertoire. Take an online course or two and learn the skills you've been wanting to advance your career or enhance your personal life. For instance, you can learn things like:
Coding
Improved writing skills
Accounting/bookkeeping
Video editing
Podcasting
Public speaking
Social media marketing
Photography
Learn to play a musical instrument
And anything else you can think of…
You can find some awesome courses on just about any subject at Udemy and Teachable, among others.
Start a Side Hustle
If your income is severely curtailed or nonexistent right now, a good side hustle just might be the ticket. There are tons of things you can do to earn extra money. Many of them require little or no startup money, and you can start most of them relatively quickly.
Who knows, if you do well with it, you can make your side hustle your new full-time gig! Below you'll find a complete list of all the side hustles I've written about, along with a few other helpful blog posts about side hustles.
The CFF Money Making Ideas page
10 Creative Ways to Make Money on the Side, Even in a Bad Economy
19 Profitable Home Based Business Ideas to Successfully Leave Your Office Job
How to Start a home business with Amazon- 5 Profitable Ways to do it
Work at Home Scams- How to Spot Them and How to Avoid Them
10 Proven, Nontraditional Ways to Make a Six-Figure Income
What online jobs can I do?
There are literally hundreds of jobs you can do online. During these times especially, this is the ticket to making an income in a way you may not have tried before. You can find plenty of online work ideas in the links I just shared above. You can also find hundreds more on my Making Money Online Pinterest board.
Do you have any tips for working from home?
A lot of you are having to work from home for the next few weeks. That presents its own set of problems that many have never had to navigate before. Below you'll find some practical tips for working from home to help you be as productive as possible.
If you're not used to working at home, distractions can make it difficult to get anything done if you don't have a good plan in place.
Here are a few good tips for being productive while working from home:
Eliminate distractions
TV and social media are huge distractions, especially during a crisis like this. You need to make sure these distractions aren't keeping you from doing your work efficiently.
Since you're not in your usual work environment, it's easy to leave on the TV, and not mute social media notifications while you're working. Your best bet is to turn it all off while you're in work mode. Later you can check up on the news and social media after you're done with work tasks.
Create a dedicated work area
Having a dedicated work area helps you work more efficiently. When you have an area set up for work only, you can minimize distractions and not feel like you're constantly at work. You will more easily be able to separate work from everyday life, be better organized, and be better able to focus when you need to.
Keep a consistent work schedule
Creating designated work hours helps you be more consistent. Sometimes a lack of structure has the effect of putting off work tasks for other things. When you keep to a regular schedule, it's easier to get in the zone and concentrate on the tasks you need to complete. A schedule helps your mind get ready even before you start work, because you know you're starting work soon.
Also, you should set designated break times during your work schedule for "lunch", as well as mini-breaks to clear your head with a little exercise, a 20 minute power nap, or some other way to refresh.
Get some excercise
It's easy to sit in one spot all day long when you work from home. You tend to move less when you're not physically interacting with others, and that's unhealthy. Get up and move at least once an hour. Also, you should get some good aerobic exercise 3-5 days per week. Not only does it help you stay healthy, it helps you keep your mind clear so you can work more efficiently.
This Too Shall Pass
I realize these are unusual times. The good thing is that the Covid-19 pandemic won't last forever. However, there is one thing I'd like to leave you with.
Sometimes the most positive, life changing events come from difficult circumstances.
Even though times are tough right now, focus on positivity and improvement. You've been given a special opportunity for growth, even though the world has slowed to a stop in many ways.
The best thing you can do is find every way you can to turn this down time into a major positive change for your career, family, spiritual life, or any other area you desire. How you respond is up to you!
Want to chat? Leave a comment below- I'm here to help!