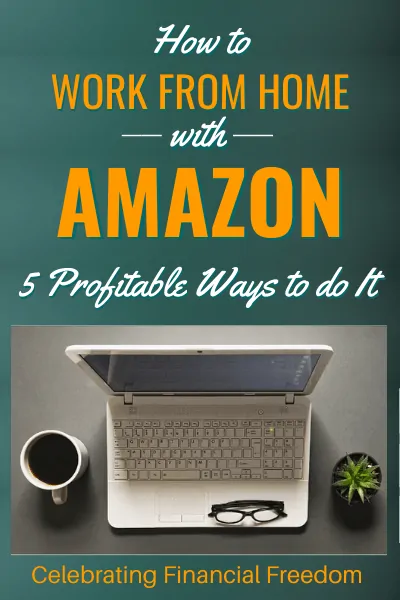 In today's post, I'll show you 5 options for how to work from home with Amazon. Some are relatively easy, and others take more time and effort. But if you're dedicated, you can start making a lot of money working from home with the variety of moneymaking opportunities Amazon offers.
One great thing is that all these jobs can be done part time or full time, depending on your preference.
Not only will I show you 5 ways to make money from home with Amazon, I'll show you all the details of how to get started with each opportunity.
So, if you want a scam free, home-based job with the support of a large, profitable, reliable company, you're in the right place!
5 Profitable Ways to Work from Home with Amazon
Below is the quick list of work at home options with Amazon. I believe #5 has the greatest potential profit for most people. But tell me in the comments which one you like the best. Here's the list:
#1 Work for Amazon Remotely
#2 Self-Publish eBooks with Kindle Direct Publishing (KDP)
#3 Amazon Flex- Deliver Packages for Amazon
#4 Affiliate Marketing
#5 Become an Amazon Seller
#1 Work for Amazon Remotely
Amazon is a HUGE company that employs a ton of people. Did you know that they have many full and part-time traditional jobs you can do from home?
As of this writing, there are well over 1,000 home-based jobs available at Amazon waiting to be filled.
How to find Amazon Work-from-Home Jobs
All you have to do is go to their virtual locations job page to find interesting jobs that are a good fit for your skillset.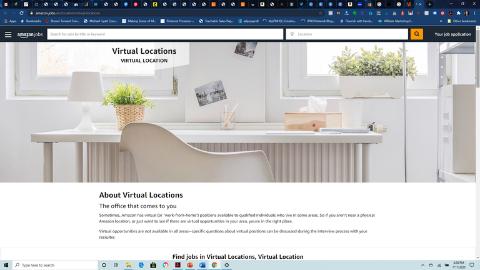 How to Get Hired to Work for Amazon in 8 Steps
Step #1– Go to the Amazon Virtual Locations job page.
Step #2– Use the search bar to find the type of job you want. Or, you can use the filters on the left side of the page to narrow down as to job type, job category, cities, countries, and business category.
Step #3– Under the Category tab, select "work from home".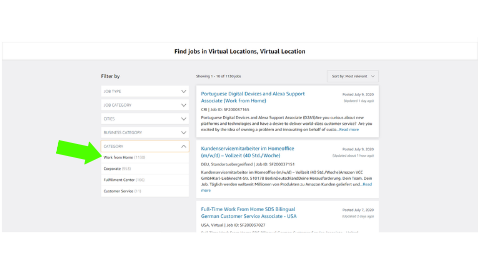 Step#4– Narrow your search further using the "job category" tab to find jobs that fit what you're looking for. Thoroughly read the detailed description for each one to find the best match.
Step #5– Click the orange "Apply Now" button to start filling out your application.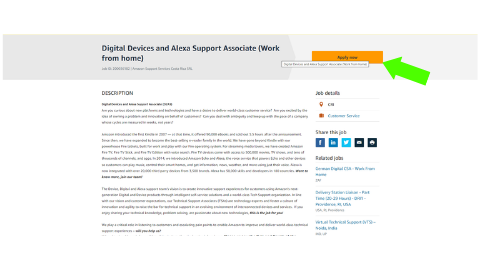 Step #6– You will be asked to create an Amazon Jobs account. Fill out your personal information and upload your resume'.
Step #7– Wait for Amazon to review your resume' to see if you are a good candidate for the job.
Step #8– While you're waiting for a reply, start preparing for your online interview. The better job you can do articulating your past experiences and how you can be an asset to Amazon's organization, the more likely you are to land the job!
#2 Self-Publish eBooks with Kindle Direct Publishing (KDP)
Did you know you can self-publish and sell books on Amazon? Kindle Direct Publishing (KDP) is Amazon's book platform where you can work from home with Amazon creating and self-publishing your own titles. You can literally start making money within 24 hours!
The platform is free to use, and you can publish as many books as you like as an ebook, paperback, or even a hardback book.
You can easily market your titles to millions of people on Amazon, and if your titles do well, you can make a pretty good income, especially if you build a solid stable of titles over time.
How to make money with Amazon Direct Publishing
Of course, the first thing you should do is write your book. Don't worry, it's not as hard as it sounds.
If you're creative, write a neat story or some poems. If you have a special skill you like to teach, write a "how to" book about it.
It doesn't have to be an epic 300 page doorstop of a book. It can be as short or as long as you like, just make sure you provide value to the reader and you'll do well.
Republishing Public Domain Books
You can also find older works that are in the public domain and republish them on Amazon. It's an easy way to publish if you're just not a writer, and it's perfectly legal and ethical to do so.
I won't go into all the details here, but I wrote an extensive post about how to publish public domain books which you can read here.
Follow These Steps to Publish Your Book on Amazon
Once you have the content of your book ready, then you can get started publishing on Amazon. Here's a list of the steps straight from Amazon's website:
First, create a new account on KDP or log in to your existing account.
Next, prepare your content and book cover. Amazon has content creation and cover creation tools you can use.
Make sure your book meets Amazon's quality and content guidelines, which you will find in the help section.
In your dashboard, click "create a new title".
Enter your title, description, keywords, categories, etc.
Upload your manuscript and cover.
See a preview of your eBook.
Choose the territories where you hold distribution rights. Choose a royalty plan and set your list price.
After entering your information, click "Publish Your Kindle eBook".
It's as simple as that! If you already have content ready to go, you can literally be up and up and running with your new book in just a few minutes.
#3 Amazon Flex- Deliver Packages for Amazon
You can earn from $18.00- $25.00 an hour delivering packages, food, and other orders to customers with Amazon Flex . You'll need a car to deliver the orders, and you will deliver only in a pre-selected area.
Amazon Flex offers plenty of flexibility (thus the name), allowing you to create your own schedule and work from home with Amazon. This can be an especially helpful gig during strange economic times such as the COVID-19 pandemic.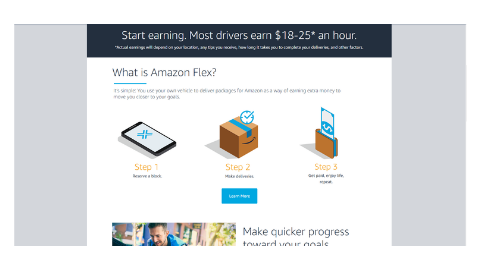 Amazon Flex offers several different delivery opportunities:
Instant Offers: Only available in some ares. Make deliveries starting close to your current location that typically only take a few minutes.
Prime Now and AmazonFresh: Pick up groceries or other items from an Amazon delivery station and deliver directly to customers.
Amazon.com orders: Pick up packages directly from Amazon and deliver them to the customers.
Store Orders: Pick up orders from local stores in your area, and deliver them to customers.
How to Get Started with Amazon Flex
The first thing you'll need to do is download the Amazon Flex app to your smart phone. Then click the yellow GET STARTED button and follow the directions.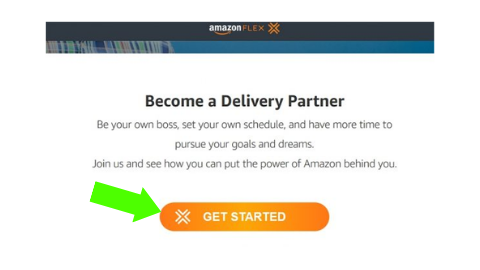 One thing to keep in mind, Amazon Flex is not available everywhere yet. According to the site, it's available in 50 cities right now, and they are constantly adding more over time.
If your city is not available right now, you can join a wait list to be contacted when your area becomes available in the future.
Getting Approved with Amazon Flex
Once you select your location, you will provide your personal info and answer a few questions. Then Amazon will do a background check, which might take a few days. They will notify you as soon as you are approved.
Scheduling Deliveries
Then, you can set up times to work in "blocks". You must be available to perform deliveries during your scheduled time block.
During your scheduled time block, you will pick up items from a nearby Amazon warehouse and make the deliveries. Of course, the more you work, the more you get paid!
#4 Affiliate Marketing
If you own a blog or any kind of website, you can use affiliate marketing to work from home with Amazon making passive income.
What is Affiliate Marketing?
Have you ever seen a link to a recommended product on a blog? Most of the time that is an affiliate link. Here's how it works:
The website owner recommends a product they think you would like.
You click the link, which takes you to Amazon where you purchase the product.
The website owner gets a small cut of the purchase price for referring the sale to Amazon.
Everybody wins! You get the product you want, Amazon gets a sale, and the website owner makes a little money too.
How Do You Sign Up as an Amazon Affiliate?
To sign up as an Amazon affiliate, go to the Amazon.com home page and scroll all the way to the bottom of the page, where you will click "Become an Affiliate".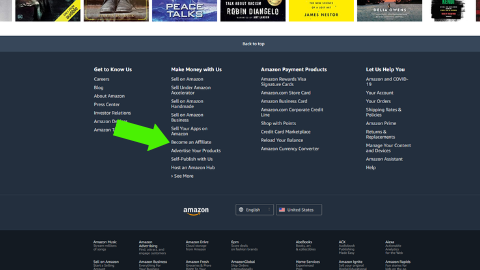 You will be taken to the signup page, where you fill in your personal info. When you're finished, then you can start creating customized affiliate links for any product Amazon sells.
Here's how to get your affiliate links:
Inside your dashboard, use the search tool to search for any product, and click "Go".
I'm using Nike Air Jordans as an example: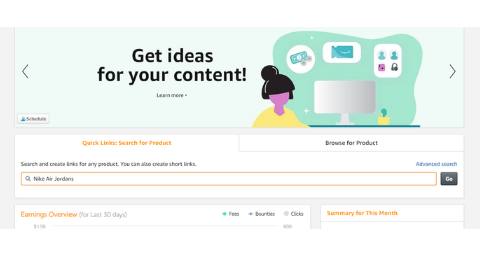 You will be shown a list of products fitting your search. Click the small down arrow next to "Get Link" to generate your affiliate link.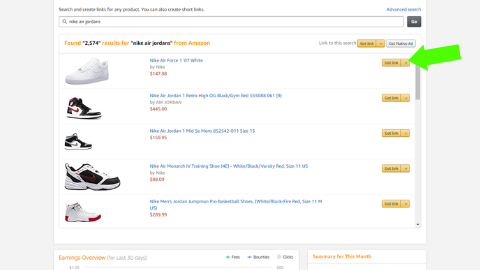 This is what your link will look like below.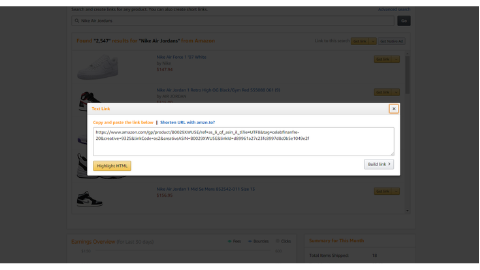 You can also generate a shorter link by clicking "Shorten URL with amzn.to?"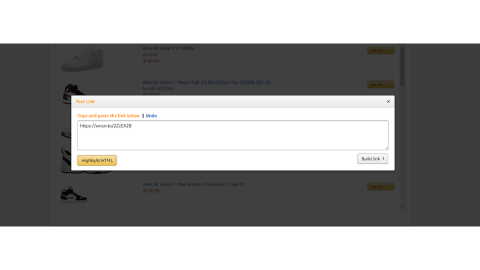 Copy and paste your affiliate link, and insert it in your blog or website to promote products you recommend, then start making passive income!
How Much Money Can You Make on Amazon with Affiliate Marketing?
Making money with Amazon affiliate links can be a good addition to the other income you make from your blog or website. It's highly unlikely you will ever make a full-time income from it though.
Even if you have a tremendous amount of traffic to your site, the affiliate income percentages from most items are very low.
However, I believe affiliate income from Amazon is a valuable part of an overall moneymaking strategy for an established website. I make a steady income on my blog this way. It's an extremely easy way to earn passive income.
#5 Become an Amazon Seller
Becoming an Amazon seller has the largest potential paycheck of any Amazon opportunity. The really is no limit to how much you can make! Whether you're employed full-time, a single mom, or have other time constraints, you can still build an Amazon business to be proud of.
There are a couple of ways you can sell on Amazon that are different from one another. I'll discuss the differences below.
How to Sell on Amazon- Merchant Fulfilled
A traditional Amazon seller account is sort of like having your own store on Amazon's website. You list your merchandise, make sales, then ship items to your customers yourself. This is a pretty good setup, but there are a few disadvantages:
You stock your own physical inventory, so you will need a place to put it.
You do the shipping for each sale. If you sell a lot of items, this will keep you really busy.
You do your own customer service, which will also take up more of your time as you sell more items.
Your merchandise is not available in Amazon Prime.
Amazon doesn't allow individual sellers to appear on the front page of their search results.
What is Amazon FBA?
Fulfillment By Amazon, also called Amazon FBA, is a setup that makes selling on Amazon much more easy and convenient.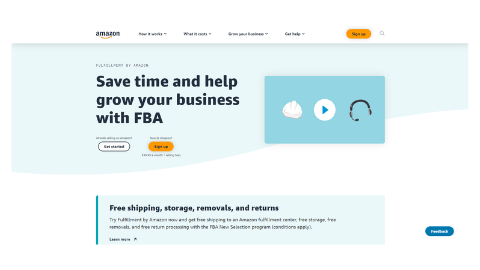 FBA allows you to set up an online store without keeping physical inventory or dealing with customer service hassles. There are several clear advantages to selling with Amazon FBA:
You ship all your inventory to Amazon's warehouse, instead of each individual customer.
If you set it up properly, you can have your inventory shipped to Amazon straight from the manufacturer or wholesaler. You never have to ship anything!
Amazon packs and ships each order for you from their warehouse.
Amazon takes care of all the customer service associated with each order.
Your products will be featured in Amazon Prime, which means more exposure and more sales.
I definitely recommend Amazon FBA as the best, most convenient way to sell on Amazon.
How to Get Started as an Amazon FBA seller
Of course, you will need to sign up for a sellers account first. Then, you need products to sell. There are a few ways you can do this:
Retail Arbitrage- buy deeply discounted items from retailers and resell them on Amazon at a higher price
Buy inventory from manufacturers and wholesalers and sell them at retail prices on Amazon.
Sell used items- buy low priced items at garage/estate sales and resell them.
Overstock- purchase overstock and closeouts from retailers at a deep discount and sell them retail markups.
Sell Handmade Arts and Crafts- Handmade at Amazon is an Etsy alternative that takes advantage of Amazon's huge customer base and efficient delivery channels.
Once you know what you want to sell, follow these steps:
Go to the Fulfillment by Amazon page and read it to learn everything you need to know about how FBA works.
There are a few steps involved here:

Make sure your merchandise is prepped properly. You'll find out the details of how to do this in your seller's account.
Create a listing for each type of item you'll be selling.
Create a shipping plan. Amazon will walk you through this inside your account.
Purchase shipping labels to ship your goods to Amazon's warehouse.
Ship your inventory to Amazon.

Wait a few days. Once Amazon receives your inventory, it will be added to their system. Once your items are added, your listings go live.
Make some money! Amazon ships each order when a purchase is made. They take care of all the customer service, returns, etc. for you!
Amazon FBA Seller Fees
Here's a quick screenshot list of FBA seller fees straight from their website: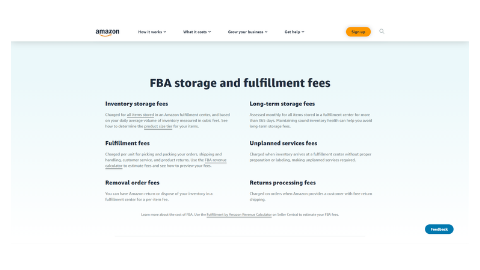 Where Can I Learn More About Amazon FBA?
There are a lot of ins and outs to selling with Amazon FBA. Fortunately there is an excellent (and extremely affordable) course you can take that includes access to an incredibly helpful community of Amazon sellers.
It's called The Proven Amazon Course, and it is by far the most complete course teaching you step-by-step every aspect of selling on Amazon to make you as successful as possible. Here's an excerpt from their website:
"What is the Proven Amazon Course?
Since our 2009 launch we've come a long way. We've been continually updating the course, adding creative new strategies, adding new support staff and most importantly, turning our students into success stories. This is the most comprehensive, creative and up-to-date "selling on Amazon" course in the world supported by the largest team of successful Amazon selling moderators.
Our active, professionally-moderated 50,000 member Facebook group is there for one reason — to ensure you have the help you need when you need it."
If you are interested in selling on Amazon in any way, go to the Proven Amazon Course home page and check out the details. I know you will be impressed with the incredible value you will find there.
Check out the Proven Amazon Course here.

How Much Money Can You Make with Amazon FBA?
You can easily make a nice side income with Amazon FBA if you like. But if you want to put in more time and effort, the sky's the limit!
There are literally many thousands of people making a great living selling on Amazon. Once you get some experience, you can even scale up to a seven-figure business with some hard work and a good product selection!
Is Amazon FBA Worth it?
It all comes down to what you want. If you want to make money with little to no effort, Amazon FBA won't work for you.
However, if you're willing to put in some work, it's a really great opportunity to build a business that can scale to incredible heights over time. As in any business, your success is really up to you, but I believe Amazon FBA has much less risk for downside, and much more upside potential than any brick and mortar business.
I did a Google search for Amazon FBA success stories- you can check them out here
Start Working at Home with Amazon Today
So that's it. These are 5 of the most popular ways to make money from home with Amazon.
Have you tried any of them before?
Which one do you like the best?
Leave a comment and let me know.