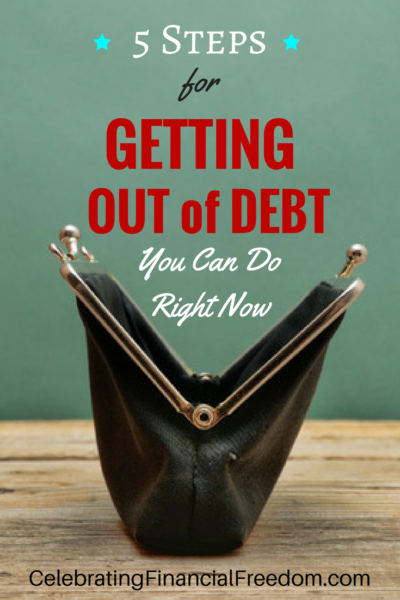 Ever tried getting out of debt but don't know the first steps to get started? It's easy to want to get out of debt, but for many people that never translates to actually taking the right steps to begin the process. In this article, I'll show you the best first steps you can take right now to start getting out of debt. These are steps anyone can do, and they'll help you get the ball rolling so you can start getting out of debt for good!
Getting Out of Debt Isn't Always a Piece of Cake
One of the first things you should realize is that it's not always easy to get out of debt. Now, with that said, it's definitely not impossible. Anyone can do it when they're totally committed to the process!
The first time Angie and I tried getting out of debt was a half-hearted attempt. In fact, we ended up failing miserably. But once we decided that failure was not an option and we completely committed to paying of our debt for good, that's when the good stuff started happening!
Since then we've paid cash for all our vacations, four five cars, four college degrees, and our daughter's wedding!
It takes work, time, and patience to get the job done, but the debt free results are definitely well worth the effort!
5 Steps for Getting Out of Debt You Can Do Right Now
Before you start these 5 simple steps, the first thing you have to do is get your mind and attitude right. You have to decide you won't be denied in achieving your goal of debt freedom.
That means you have to get mad and naked (find out more about that here).
Once you've gotten mad and naked, there are 5 simple steps you can do right now to start getting out of debt:
1. Make a List
Write down a detailed list of every single debt you owe. No matter how small or large, write each one down and be totally honest with yourself. You'll never get out of debt until you stop living in denial about how much you owe.
2. Find Out The Details
Beside each debt, write down how much each payment is, and how often the payment is (weekly, monthly, quarterly, etc.)
3. Add 'em Up
Add up all your debts to get a grand total of how much you owe. Then add up all your monthly payments to figure out how much you're paying toward your debt every month.
4. Make a Plan
Once you know how much you owe, then you can make a plan. It's absolutely essential to have written a plan if you want to succeed at getting out of debt. The first step is to fill out a "Debt Rocket" plan (some people call it a "debt snowball") that shows you everything you need to pay off your debt in a systematic way.
You can download free Debt Rocket forms here. They include complete instructions on how to fill them out and how the Debt Rocket plan works.
5. Make a Budget
Learning the habit of making a monthly budget is one of the most important things you can do to get total control over your money. A consistent monthly budget helps you do 3 things:
It frees up mon

ey you didn't know you had because you haven't been keeping track effectively.

A budget helps you figure out if you need to earn more, spend less, or both.
A budget gives a name and a place for every single dollar, so you never spend more than you make.
If you've tried budgeting before and failed, read this post to figure out why that happened. This one is helpful too.
To learn more about how to start a budget, read this post on how to make a budget, and download the free budgeting forms you'll find there.
I also wrote a great book on how to start budgeting that's easy to follow and can get you up and running quickly. You can find out more about it here.
Taking the First Steps is Tough
Of course, doing the five steps above won't get you completely out of debt. There's definitely more to it than that. As I said before, getting out of debt isn't always easy. It takes plenty of time, patience, and commitment to get the job done. Usually the hardest part is just getting started.
I can tell you from personal experience, taking that first step is always tough. Angie and I were resistant to change because we didn't want to get out of our comfort zone. Eventually though, we realized our "comfort zone" was much more uncomfortable than changing our ways with consumer debt.
Changing habits and mindsets usually doesn't come easy. In fact, our mind, body, and spirit all have a tendency to be resistant to change. But when you're trying to change your life and finances for the better, it's always worth it!
Get Out of Debt Permanently
So I'm encouraging you to get mad and naked. Decide you've had enough of all that debt dragging you down, making you feel stressed and worried. Then proceed with these 5 simple steps for getting out of debt and bring permanent change to your life.
If you've decided it's time for you to commit to getting out of debt, these 5 steps will get you a quick start. You can also get a deeper teaching by taking my CFF online get out of debt course. Find out more about it here.
Question: Have you ever wanted to out of debt but never took the first step? What held you back? Leave a comment and tell me about it.