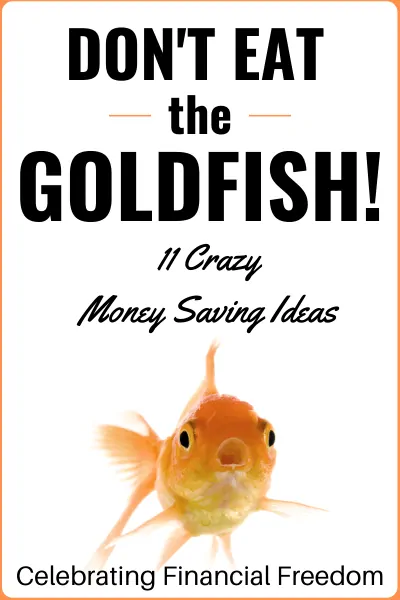 I was trolling the internet yesterday looking for some of the crazy and stupid things people do to save money. Oh my Lord, the craziness! People will engage in some serious strangeness when it comes to money saving ideas.
Of course, saving money wherever you can is a good thing, especially when you're trying to get out of debt and stay out. But as we all know there are some seriously crazy people in this world, and some of them have spent way too much time coming up with money saving "ideas".
There's the person that separates the two ply toilet paper. Then there's the one that travels 20 miles out of her way to save a nickel on gas. And of course, the single guy who buys in bulk at Costco and ends up with a lot of food going to waste.
11 Crazy Money Saving Ideas
Those are some pretty run of the mill crazy ways to save money. But what about those people who are way out there, beyond left field, living in the woods at the edge of town? How do they save money? Here are the eleven best (or worst) crazy money saving tips I could find:
Bringing home flowers to your wife, fresh from the cemetery.
Save your fast food cups and stop in for a free drink on a different day.
How about the guy who only lets his turn signal blink twice so the bulb will last longer.
Take a bath once a year to save on hot water. You can save twice as much if you get your spouse to do it too!
Teach your cat to use the toilet.
Unscrew the light bulb in your refrigerator to save energy.
Turn your underwear inside out so you can wear it twice (or more!) before washing.
Train one cat to sit on your lap, and the other around your neck so you can save money on heating bills.
How about the guy who saves his "detritus" in sealed milk containers to save money on fertilizer for his garden (EEEEEWW!)
Learn the iffy science of harvesting roadkill (It's legal here in Tennessee!)
Stop using toilet paper and use a handheld portable bidet (The "Biffy Squirt"- Travel with confidence $59.95- no longer available).
That is so wrong.
These are all off the wall weird, but I think my new favorite is the crazy money saving tip you can find here in this Geico commercial.
Saving Money Doesn't Have To Be Crazy
Some people have some pretty extreme ways of saving money. But we have to remember that becoming debt free, saving, and living on less than you make is not about deprivation, it's about achieving freedom. The freedom that comes with leaving the bondage of debt behind for good.
Sometimes extreme saving can be a type of bondage as well, so remember to be intense and intentional about managing your finances, but not crazy.
"Whoever loves money never has money enough…"- Ecclesiastes 5:10
Have you ever done anything dumb or crazy to save money?
Question: What's the craziest thing you've heard someone do to save money?
Let me know in the comments
26 Inspiring Financial Freedom Quotes to Reach Your Money Goals