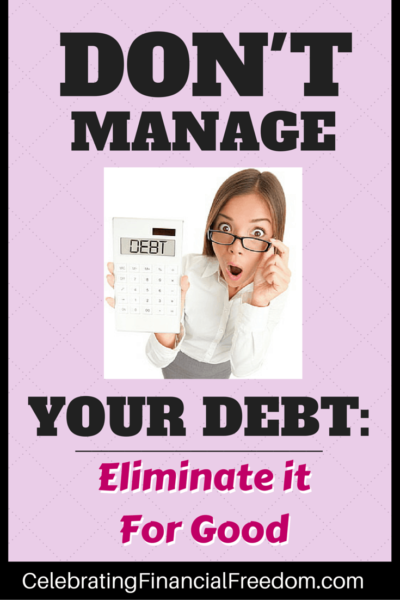 Being a personal finance blogger and a money geek, I like to read personal finance blogs, watch shows about money, and read tons of books on money, business, and finance. I even listen to podcasts and radio shows about money when I get a chance. Most of the personal finance experts I listen to are very knowledgeable (some more than others). But when it comes to what they teach, I don't always agree with what many of them have to say on the subject of managing your debt.
Is There An Acceptable Level of Debt?
The problem that I have with what many of the experts teach is that they usually want to teach you things like how to maximize your credit score and how to manage your debt to keep it at an "acceptable" level so you don't overextend yourself.
I guess that's fine if you want to be perpetually in debt. But who really wants to do that?
I certainly don't, and I bet you don't either.
Manage Debt, or Get Rid Of It?
The average American family is well over $15,000 in debt on credit cards alone. Add car payments and other types of consumer debt and you quickly understand that the average American is swimming, or to put it more accurately, drowning in debt. If that's being average, I want no part of it.
I believe most people would agree that having no debt is preferable to having the debt load of the average American. So why do so many experts give short shrift to getting completely out of debt and talk much more about how to manage the debt you have?
It's because most people don't want to hear the get out of debt speech. It makes them uncomfortable because so many people subscribe to the idea that you need debt to get by in modern life.
That's a lie.
I Won't Teach You How to Manage Debt
That's why I teach things in a much different way than most finance bloggers and teachers you'll run across. Don't get me wrong, most of the personal finance experts out there are good people, and they are doing their best to be of good service to others. But I truly believe they are doing people a disservice by teaching them to manage debt and never completely get rid of it.
They rarely address the elephant in the room, which is the fact that being out of debt is always better than being in debt, and that learning how to get rid of debt instead of how to manage your debt is the only way to truly achieve financial freedom.
They teach as if debt is a disease without a cure.
The Cure For Managing Your Debt
Here's the deal: there is a cure, and it's not learning how to manage debt to keep it at a comfortable level. The cure for debt is to adopt a scorched earth philosophy, born of a change in mindset that says "I refuse to be in bondage anymore, and I'm going to do something about it!"
3 Things You Can Do Right Now
So what are some of the things you can do instead of managing your debt to eliminate it for good? Here are three things to help you get started:
Understand That Debt Equals Bondage- Having debt in your life limits your freedom and your ability to live your best life. When you understand that even a moderate level of debt is a limiting factor in your life, and that true financial freedom means not being in financial bondage, then you can truly start down the path to financial freedom.
Change Your Definition of Debt Management- Decide that your definition of debt management means that you're working a plan to get out of debt instead of keeping it at an acceptable level. Instead of "debt management", start using the term "debt elimination".
Make a Plan to Get Out of Debt- I know I talk about this a lot. But when it comes down to it, if you want to eliminate your debt for good, you gotta have a plan. Getting out of debt is a straightforward, step by step process that anyone can do. It will take some discipline, effort, and time, but the end result is the total elimination of debt bondage in your life.
Here are a few great resources to get you started with a plan of your own:
The CFF "How Do You Get Out of Debt?" Series
The Divine Art of Money- 21 Days to Manage Your Money Like a Pro!
"The Total Money Makeover" by Dave Ramsey
"Balance- The Quick and Easy Guide to Financial Stability Using a Budget" by Dr. Jason Cabler
Free Downloadable Budgeting Forms
Free Downloadable Debt Rocket Forms
Debt Elimination Moves You Forward
When you finally begin to understand that debt management is not a path to financial freedom, and that debt elimination is the only way to get out of debt for good, your financial life will start to take a turn for the better. You will finally be able to move forward financially where before there was only stagnation and a lack of hope that anything would ever change.
Don't believe the false hope of managing your debt.
Make a plan and eliminate it for good!
Question: Do you think I'm right or wrong about eliminating debt instead of managing your debt? Let's start a discussion, leave a comment
Some of the above links are affiliate links