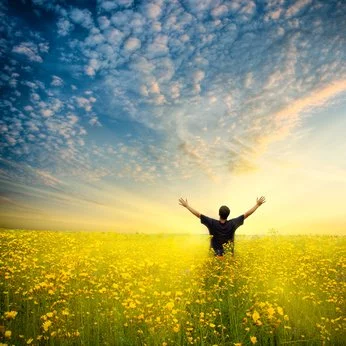 Yes, this is the final installment of the "How Do You Get Out of Debt?" series. If you followed all the steps and accomplished everything I've written about how to get out of debt in the previous posts in the series, you are now CRUSHING IT!!!
No Debt, What's Next?
But once you've gotten out of debt and you have started building wealth, what's next? Obviously you're becoming more financially secure, building wealth indpendence to secure your future, and that's great. That's the result you signed up for when you started the get out of debt process.
But one thing you should realize is that getting out of debt and building wealth serves a greater purpose than just filling your retirement account. Your debt freedom can actually make the rest of the world a better place.
Really?
Yes, really!
How?
Lemme throw it down for ya:
Debt Freedom Changes Your Family Tree
When you have no debt and you're building wealth, you become an example to your kids. They are observant about how you handle money. If you teach them about how and why you're getting rid of debt, they are more likely to follow in your footsteps. They will get a great start in life because they know how to avoid falling into debt in the first place.
You'll also be more able to send your kids to college debt free. Also, when your time comes to leave this Earth, you can leave your kids money and assets instead of a pile of bills with claims against your estate. You will build generational wealth and leave a positive financial legacy.
You're Able to Give More
When you are out of debt, you can give more to others because you're not worried about how to pay the bills. You are unencumbered financially so you can more freely give when you're led to do so, and you can give more when you do. Debt freedom also frees up time that you can use to volunteer, rather than working overtime or extra jobs to feed the debt monster you created
You Can Teach and Inspire Others
You're debt free life is a sum of the knowledge and experience you've gained along the journey to debt freedom. Once you've attained the awesomeness of debt freedom, you'll be excited to share what you know. You can show others who want that holy grail as well.
Showing and inspiring others will always have a positive impact beyond just you and your bank account. Teaching and inspiring others changes the world.
When You Get Out of Debt, it Has Far Reaching Effects
I'd like to take the world changing theme a little further by sharing a story that I use in my Celebrating Financial Freedom Course.
It illustrates just how your individual decision to get out of debt can result in a cascade of events that literally changes the world for the better for generations to come.
Here goes:
You made the decision and took the action to get out of debt. Now that you're debt free, you have a different outlook on life and it shows. Your friend Tom sees this and is encouraged by your debt free example. Tom commits himself to the process and achieves debt freedom as well.
He gives the same help and encouragement to his friend Jenny, who also commits herself to the process and becomes debt free over time.
Not bad.
Your decision to get out of debt has changed two lives for the better so far.
But now it goes even deeper.
More Changed Lives
Jenny is now able to do something she has always wanted to do. Jenny grew up in a very poor household, and because of that, she's always had a heart for feeding hungry children. But when she was so deep in debt, she felt like she couldn't do much to help because she was living paycheck to paycheck, and had no extra money to help hungry children.
Now that she's improved her financial situation, she sponsors a very intelligent young boy named Tomas in Central America. Now that Tomas has enough to eat, he can better concentrate on his schoolwork and excel academically.
As Tomas progresses through school, his academic abilities are recognized with scholarships that allow him to attend college.
Tomas has always had an affinity for science and grows up to be an important medical researcher, performing research that eventually saves thousands of lives.
This unforeseen sequence of events only happened because you chose to change your life and get out of debt.
Never Underestimate What Debt Freedom Can Do
Does this sound farfetched? It's really not. These are the kinds of effects we have on the world every day. But we rarely think about how our decisions affect anyone other than us and the people immediately around us.
When you begin to realize that your actions have much more far reaching effects, then maybe you'll be more considerate of the decisions (or non-decisions) we make in our lives.
I want to end this series by challenging you to never underestimate.
Never underestimate your power to change your life and your finances for the better.
Never underestimate what your decisions and your actions mean to the rest of the world.
To reiterate the title of this article, always remember that what you do matters, and that you are a very important part of the big picture.
Cheers!
P.S. I ended up writing one more post in the series that will show you one thing you will have to overcome in order to make this "get out of debt" process work. You can find it here.
Click Here to read the rest of the articles in the series
Resources:
Teach Your Kids to Manage Money (6 Tips)
Eliminate Your Financial Frustration
4 Habits to Create True Wealth and Financial Independence
We're Debt Free! 13 Tips to Complete Your Debt Free Journey