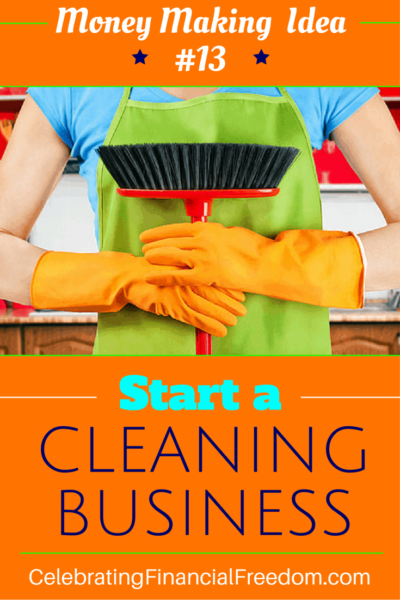 My latest money making idea is about how to start a cleaning business. Whether at work or home, we all need a clean environment. Let's face it, houses and offices can get dirty very quickly if there is not someone willing to do the work of cleaning those spaces. There are countless homeowners and business owners who count on people just like you to keep the dirt and dust from overwhelming them. They especially need someone who is dependable and can do a great job so they don't have to worry about cleaning themselves.
Who Needs You to Clean
Homes and offices are in need of constant clean up, and many people don't want to do it themselves. A lot of them just don't have the time and would much rather pay someone like you to clean for them.
Business owners would rather pay someone to clean up than depend on their workers to take time away from business activity to keep the workplace clean.
Busy moms also need help. It can be extremely difficult to keep a clean house when you have kids. Especially if you have several of them. So that's where you come in. You can be a huge help to busy moms who want to keep a clean house, but would rather spend the money for a service to clean their house so they can spend more time with their kids.
Who Can Start a Cleaning Business
A cleaning business requires little to no startup costs and you can set your own schedule. This can be an especially good business for single moms. You'll work as much or as little as you like, depending on how much money you want to make. You don't have to have a college education or any kind of special training. You just need a willingness to work and do an excellent job.
Speaking from personal experience, the best cleaners are the ones that the client doesn't have to constantly communicate with. They show up on time, do their work as expected, and get paid gladly when expectations are met. The reliable ones don't need a lot of direction, they just get the job done and do it well.
You Can Clean Homes and/or Offices
There are several ways you can make money with a cleaning business depending on what kind of environment you prefer to work in, and how much work you're willing to take on:
Cleaning Houses
You can get started sprucing up houses for people you know. Then branch out from there as you build a reputation for doing good work. Good word of mouth is how most house cleaners build their clientele. When you do a good job, you will get positive word of mouth that eventually results in more jobs. Angie and I have had several people clean our house over the years. Each one has been hired because a friend recommended them.
Cleaning Offices
You can usually charge more to clean an office or business, depending on the square footage and the type of space that needs cleaning. You may even need to be able to do a few specialty types of cleaning services such as cleaning and waxing tile floors.
Cleaning offices can be a little more competitive. You're less likely to get cleaning jobs simply by word of mouth. Because of this, you'll need to contact businesses directly and pitch them on your cleaning services. You can also give them a free estimate once you've had a chance to look at their space and find out their specific cleaning needs.
How Much Can You Make With a Cleaning Business?
The amount of money you can make with this side hustle varies widely. Mostly it depends on the region you live in and the type of clientele you have. A good starting point is probably $10 per hour. However, it can go much higher to $30 per hour or more if you're in a high demand area and develop a reputation for excellence.
A Great Way to Make Extra Money
As you can see, cleaning homes and offices can be a great way to make extra money. You can pay off debt, save for college, invest, save for a house, or supplement your income. You just need to be willing to work, do a good job, and be dependable.
Who knows, if you really enjoy cleaning homes and businesses as a side hustle, you could transition into making a full time income from it. Even better, if you're willing to hire others and run a larger cleaning business, you can make even more money running a crew of cleaners while you rake in the profits. The sky's the limit!
Question: Have you ever made money cleaning houses or businesses? Leave a comment and tell me how it