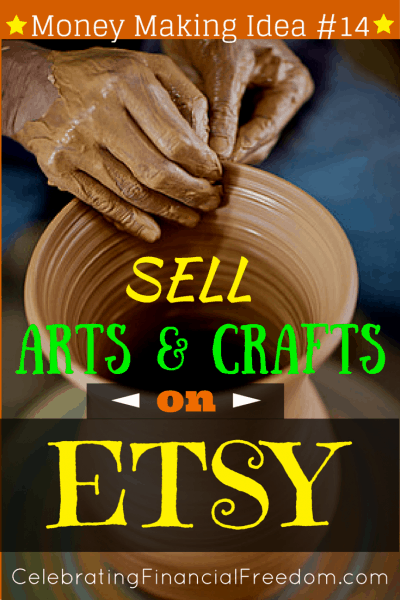 Time for another money making idea for all you go getters out there! This idea for making money is one that a lot of creative people are using to supplement their income. Some have even turned their passion for creating and selling goods on Etsy into a full time career!
What is Etsy?
Etsy is a worldwide online marketplace full of creative people selling goods that you just can't find anywhere else. These people are located all over the world, and they sell their goods to other people all over the world. You could look at it as sort of an Amazon.com for unique handmade, vintage, or craft items.
The company was founded in 2005 in Brooklyn, NY. Its main mission is the "reimagination of commerce", transforming the way goods are created, bought and sold across borders, languages, and devices.
One of the great things about selling your goods in this marketplace is that your market is worldwide. You can sell to anyone in the world, instead of limiting yourself to a local boutique or flea market.
Etsy is also unique because it opens up the world of ecommerce to people in developing countries. Many of these people have the ability to create all kinds of wonderful items, and their lives can be fundamentally changed when they start selling on Etsy. This unique platform allows these people to connect with buyers across the world who love their unique items and can afford to pay a fair price, unlike many of their peers in these developing markets.
What Could I Sell on Etsy?
There are literally millions of unique items for sale here. If you know how to create anything- whether it be art, practical items for daily use, crafts, or anything else, you can sell it on Etsy. Here is just a sample of what you can find for sale there right now:
Furniture
And plenty more…
How Do I Get Started With Etsy?
Getting started is as easy as signing up. Just go to their Open an Etsy Shop page and fill in your vital information. You can also choose how you will get paid as well as payment methods that your customers can use, such as credit cards and Paypal.
As an example, here's an excellent (and quick) tutorial on how to open your own shop: How To Open An Etsy Store: A Step-By-Step Guide
Does Etsy Charge Fees?
The company only charges $.20 to list an item for 4 months or until it sells. Once you sell an item, they take a 3.5% cut for their service. The payment processor also takes a cut of the transaction fee on the sale.
Overall fees are typically in the neighborhood of 10% of the transaction total. That's not too bad considering you don't have to go to the trouble of building and maintaining your own website. You also don't have the headache of setting up a shopping cart, which can be a huge hassle with a do it yourself website.
Advantages of Etsy
Etsy has some great advantages that will help your store run smoothly. Here are a few that stand out:
They have a built-in interface to easily manage your inventory and orders. This backend system works great and is very intuitive.
Joining the Etsy community helps to build connections and generate sales. You can connect with customers and other sellers to find out what works and what doesn't.
There is also has built-in shipping integration with the US Postal Service that makes printing your shipping labels fast and easy.
Also, buyers worldwide can use Etsy's Direct Checkout to pay in their local currency, and you get paid in your local currency. It's truly a worldwide marketplace!
They even have a blog to keep sellers up to date on trends, marketing tips, and everything else related to selling on the Etsy platform.
How Much Can I Make on Etsy.com?
Of course, how much money you make selling your goods depends on you. You can open up a small shop as a side hustle to make a little extra income. Or you can make selling on their platform your full time career. Just like on Ebay and Amazon, there are scores of people who make their living selling their creations using Etsy as their primary sales platform.
If you find out that your items are particularly popular, you might even be able to grow your business beyond their platform into a much larger business. Just like with any business, the sky is the limit!
Etsy.com- A Great Money Making Idea
If you're a creative person with items to sell, I believe using Etsy.com to sell your creations is a great way to do it. Whether you want to supplement your income, pay off debt, or escape the 9 to 5 and be your own boss, Etsy can help you make the extra money you need to succeed!
Question: Have you ever bought or sold anything on Etsy.com? Leave a comment and tell me about it!
Check out all my Money Making Ideas posts
How to Start a Home-Based Business on Amazon- 5 Profitable Ways to Do It
12 Easy, High Paying Side Hustles for Single Moms